Mount Dora Rating:
Mount Dora Fl Rating - Read customer reviews, click to read
Mount Dora is a Central Florida city in Lake County known for its annual festivals, shops, and proximity to the state's top bass fishing destinations. Mount Dora, located next to Tavares, northwest of Orlando, and less than an hour from The Villages, is a great place to catch all of Florida's most popular game and panfish species.
Mount Dora is close to the Harris Chain of Lakes, which ranks as one of the top freshwater fishing destinations for largemouth bass and crappie. The Harris Chain of Lakes is a natural wonder that attracts anglers worldwide throughout the year to experience its trophy largemouth bass.
The city of Mount Dora, surrounding Lake Dora, has a mild climate and a vibrant cultural life, making it a unique and wonderful Florida destination to both live and fish. Central Florida is one of the best places in the world to experience authentic, action-packed bass charters.

Instant Confirmation
  Angler's Top Choice
FREE Cancellation
Freshwater Fishing
Freshwater fishing in Mount Dora is excellent throughout the year and fun for all members of the family. There are numerous healthy bass lakes throughout Lake County, making it a top place for anglers to visit for diversity and endless fishing opportunities.
The top fishing destinations to experience bass charters in Mount Dora Fl are The Harris Chain of Lakes, Lake Toho, Apopka, Lake Griffin, and The Butler Chain of Lakes. Lake Apopka is Florida's fourth-largest lake and forms the headwaters of the Ocklawaha River and the Harris Chain of Lakes. The fishery covers over 30,000 acres and has a drainage basin of 119,773 acres; its western part is situated in Lake County, while most of it is in Orange County.
The Central Florida bass lakes near Mount Dora Fl have hosted numerous tournaments and hold many records. There are endless great fisheries in the area, but the top two near Mount Dora, Fl are Lake Toho and the Harris Chain of Lakes. These lakes are part of what has made Central Florida one of the most sought-after bass fishing areas in the country.
Best Bass Fishing Spots
Lake Toho
Lake Tohopekaliga, commonly known as Lake Toho, is one of the top bass fishing destinations in the state and a prime spot for bass tournaments. It's a consistent fishery full of scenic beauty and year-round trophy bass. Lake Toho is located about an hour from Mount Dora Fl but is always a favorite spot among visiting anglers to experience true Florida big bass fishing.
Lake Toho covers 22,700 acres and is one of the most famous bass lakes in the country for constantly producing more trophy bass than any other lake. The Florida Wildlife Commission biologists state that one bass exceeds ten pounds for every ten acres of lake. Bassmaster magazine called Toho "the most consistent lake in the country for producing both numbers and Trophy sized bass."
This lake holds many records, but its most famous one is the heaviest five-bass limit in B.A.S.S history, caught by Bassmaster Elite Series pro-Dean Rojas in 2004.
The Harris Chain of Lakes
Eight primary lakes throughout Orange and Lake County make up the Harris Chain of Lakes. The chain covers about 75,000 acres and consists of Lake Eustis, Apopka, Harris, Dora, Griffin, Beauclair, Carlton, and Lake Yale. Numerous professional fishing tournaments occur on the Harris Chain of Lakes throughout the year.
The bass fishing on the Harris Chain of Lakes has been better than ever in recent years. Local anglers regularly produce quality catches here. Anglers visiting the area have the highest chances at catching a trophy fish with a local bass fishing guide to help learn the site and the local fish's habits.
The Harris Chain is one of the country's top fishing destinations because it is incredibly fertile and covered in vegetation. Its water is primarily dark stained, and its primary cover includes Kissimmee grass, lily pads, eelgrass, and bulrushes.
Mount Dora Fl Fishing Reviews
Great time!
★★★★★
"
Mount Dora was a special place, we stay overnight while taking a fishing trip on Harris Chain and we enjoyed both tremendously.
"
Great trip
★★★★★
"
Mount Dora was a wonderful place to visit. The many lakes and wildlife did not disappoint. If you want a small quiet town that offer friendly environment and great fishing we recommend Mount Dora Fl.
"
Overall Good Experience
★★★★★
"
I really like Mount Dora. The people are very friendly and it is so peaceful, quiet and fishing is great. It is the perfect place to enjoy an outing with the family.
"
CLICK HERE TO WRITE A MOUNT DORA REVIEW
Bass Fishing Techniques
Wild shiners are the most effective at catching quality and quantity bass while on Central Florida bass charters. Live bait will almost always provide a higher chance at a trophy bass throughout the year. Mount Dora Fl fishing is especially popular for using shiners during spring to target the spawning bass near topped-out hydrilla and native vegetation. Artificial lures such as worms, crawfish, and lizard baits are also used along the grass edges of hydrilla and bulrush to land quality largemouth bass.
Other productive lures used on Central Florida bass charters are spinnerbaits, chugging baits, and soft jerk baits. The top used lures on bass charters in the warmer months are texas rigged and Carolina-rigged rattling crankbaits and plastic worms.
Crappie Fishing Mount Dora, Fl
The Harris Chain is famous for its top-notch crappie fishing during the cooler time of year. The Black Crappie fishing generally starts picking up starting in late Fall. Anglers can catch crappie while fishing charters throughout the chain; however, Lakes Dora, Carlton, and Beauclair are usually the best crappie lakes on the Harris Chain. Lake Toho also produces quality crappie fishing.
The peak months for a crappie fishing charter are January, February, April, and November. The typical method to catch crappie is to troll the open water during peak months using live minnows or small jigs.
Top Targeted Fish Species
Saltwater Fishing
Mount Dora Fl fishing is about an hour from New Smyrna to experience some incredible saltwater fishing in the Atlantic.
New Smyrna has over 30 miles of fishable shoreline, has plenty of fishing piers, and direct access to the Gulf Stream, making it a top saltwater destination. This part of Florida is home to Mosquito Lagoon, the Indian River Lagoon, and the Atlantic Ocean, making it an excellent spot for both inshore and offshore fishing charters.
Book an inshore fishing charter where your professional captain will take you out to explore the shallow backwaters of the local lagoons to target some of the most sought-after inshore sport fish in Florida, such as tarpon, redfish, spotted seatrout, snook, and more.
Book a deep-sea fishing charter to explore the reefs for bottom feeders such as Grouper, Snapper, and Triggerfish. Or book an all-day trip to travel miles out at sea into the Gulf Stream for pelagic fish species such as Mahi Mahi, Sailfish, and Wahoo.
Meet the team of local
Mount Dora Fl fishing guides
, we know the best spots, baits, and techniques to give you the greatest fishing experience in Eustis.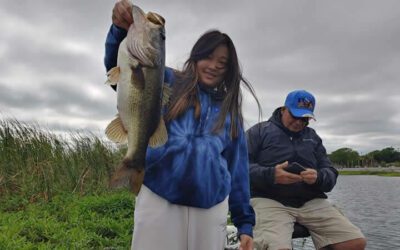 The Best Guided Bass Fishing in Florida Maybe you have done guided bass fishing in Florida, and perhaps you haven't. Perhaps you are a seasoned angler, or maybe you fish...
read more
Area Things To Do
Mount Dora Fl is conveniently located between the Atlantic and Gulf coasts of Florida. She is close to various historical and natural attractions and theme parks, making it a perfect place for the whole family to visit. Along with its endless list of attractions, there's almost always a festival or fair happening in Mount Dora Fl fishing town, earning its nickname as the "Festival City."
Popular Attractions
The main focus points for Mount Dora attractions are lighthouses, natural wonders, and historical sites. Some of the most popular fishing spots to visit in Mount Dora, Fl fishing are Grantham Point Park, The Donnelly House, Renningers, Mount Dora Golf Club, King's Landing, and Rock Springs Run State Preserve.
Food and Drink
Mount Dora, Fl is full of unique dining experiences and tours. A few of the most popular places are the Cellar Door, Mount Dora Olive Oil Company, Village Coffee Pot, Windsor Rose Tea Room and Restaurant, and Mount Dora Taste of our Town tours.
Festivals
Some of the popular Mount Dora festivals include Mount Dora Spring Festival of Arts and Crafts, Mount Dora Blueberry Festival, Mount Dora Seafood Festival, and Mount Dora Craft Fair.
Questions? Feel free to call us, Email us or use the chat us to speak to one of our specialists.
Questions? Feel free to call us, Email us or use the chat us to speak to one of our specialists.
Questions? Feel free to call us, Email us or use the chat us to speak to one of our specialists.
What are you waiting for?
While looking at Mount Dora Fl Fishing, we also have great deals available in the following cities that match your search criteria.