Lake Rating:
Lake Rating - Read customer reviews of lake, click to read
Only Local Experts
Led by locals who love where they're from and what they do.
Private Groups
With intimate group sizes, you'll never get lost in the crowd.
Highest Standards
Every experience is reviewed for quality, uniqueness and is completely private.
BASS FISHING BUTLER CHAIN OF LAKES
Searching Availability...
Butler Chain Pontoon Fishing Trips
4-HR PONTOON FISHING CHARTER
A 4-hour private fishing charter will allow you to get a taste of what Butler Chain of Lakes Bass Fishing is all about in Orlando Florida
Pricing4hr Trip Pricing
1 Angler $274.99
2 Anglers $299.99 - $149.99 pp
3 Anglers $374.99 - $124.99 pp
4 Anglers $449.99 - $112.50 pp
5 Anglers $524.99 - $104.99 pp
6 Anglers $599.99 - $99.99 pp
7 Anglers $674.99 - $96.45 pp
8 Anglers $749.99 - $93.75 pp
*pp - per-person
6-HR PONTOON FISHING CHARTER
This 6-hour private fishing charter will provide you a more in-depth experience of bass fishing on the Butler Chain of lakes for trophy bass
Pricing6hr Trip Pricing
1 Angler $349.99
2 Anglers $374.99 - $187.50 pp
3 Anglers $449.99 - $149.99 pp
4 Anglers $524.99 - $131.25 pp
5 Anglers $599.99 - $119.99 pp
6 Anglers $674.99 - $112.50 pp
7 Anglers $749.99 - $107.15 pp
8 Anglers $824.99 - $102.99 pp
*pp - per-person
8-HR PONTOON FISHING CHARTER
Our 8-hour private fishing charter is the ultimate experience when looking to catch a 10lb largemouth bass anywhere in Orlando
Pricing8hr Trip Pricing
1 Angler $399.99
2 Anglers $424.99 - $212.49 pp
3 Anglers $524.99 - $174.99 pp
4 Anglers $624.99 - $156.25 pp
5 Anglers $724.99 - $144.99 pp
6 Anglers $824.99 - $137.50 pp
7 Anglers $874.99 - $124.99 pp
8 Anglers $924.99 - $115.65 pp
*pp - per-person
About Butler Chain of Lakes Fishing Tour Details
 The Butler Chains of lakes (4,927 acres) are all very similar in that they are relatively deep for Florida lakes (20 – 40-foot holes), have abundant submerge vegetation and good largemouth bass fisheries. This 4,720-acre chain is made up of 11 interconnected lakes. Boat access is available only at a couple of city and county ramps and public bank access is almost non-existent. Orange County charges a launch fee at some local lake ramps and all ramps are not open after dark. Read More
Trip Core Details
Region: Orlando Florida
Duration: 4, 6, 8, & 12 hrs
Cancellation: 8 hrs in adv.
Weather-Related: Full refund
Instant Online Confirmation
Includes All State Taxes
What's Included:
All Fishing Equipment
Professional Captain
Boat & Fuel
Cooler & Ice
Bottled water
Photos
What's NOT Included:
Florida Freshwater Fishing License for those ages 16+
Live bait if desired is also additional and is purchased the morning of the trip. (optional)
Food or Specialty beverages
Fishing Chairs
GPS & Fishfinder
Life Jackets
Catch and Release Allowed
Keep Fish Allowed within Laws
Boat Specs: 20+ ft
Boat Capacity: 4 People
All Fishing Equipment
Boat & Fuel
Photos
Light Tackle
Heavy Tackle
Livebait
Artificial Lures
Spinning Rods
Baitcasting Rods
Left & Right Handed
Fly Rods (request only)
Braid & Mono Line
Experience the stunning fishing opportunities in Central Florida aboard a fully equipped boat, complete with high-quality rods, reels, hooks, and artificial lures.

Venture out onto the renowned Butler Chain of Lakes, a top-ranked destination, in pursuit of trophy largemouth bass, hard-fighting black crappie (speck), and various other species.

Your guided fishing expedition will be led by a knowledgeable USCG professional fishing captain with expertise in North Florida's diverse waters.

Don't forget to capture memories of your impressive catch with souvenir-worthy photos taken by your guide, ready to be shared on your social media.
Local Operator Information:
For comprehensive Operator information, including local contact numbers specific to your destination, please refer to your Confirmation email. Our Trip Managers meticulously select guides with extensive experience and unwavering reliability in each location, ensuring a worry-free experience for you.
To maximize your enjoyment, we recommend bringing comfortable footwear, a light-colored shirt, a hat, sunglasses, and sunscreen. Be well-prepared for an unforgettable day on the water.
Butler Chain of Lakes Reviews
So happy!
★★★★★
"
Wow!!! What an experience! My grandson and I had a blast! Can't wait to do it again!
"
Pontoon fishing trip
★★★★★
"
Cyle H. recommends Lake Toho Guides – Pontoon
"
Lake Toho on 8/28
★★★★★
"
CAPT Steve Niemoeller was fantastic and put us on the bass right away in the morning. Great guide with good stories. My 13 year old son said the trip was one of the coolest things he has ever done.
"
CLICK TO WRITE A BUTLER CHAIN REVIEW
Top Captains for Orlando Fishing
Current Butler Chain of Lakes Fishing Reports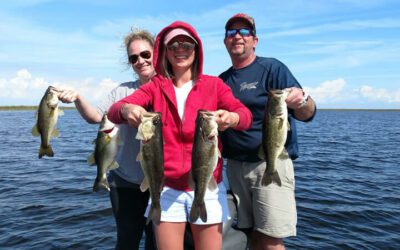 What is Fishing in Orlando, Florida, like? Central Florida and Orlando areas have a sum of 5000 lakes or bodies of water to fish. When planning an excursion, make an Orlando bass fishing guides checklist. Wounder, why fishing is so popular is the ability to be fishing...
read more
BUTLER CHAIN OF LAKES FLORIDA
This 4,720-acre chain is made up of 11 interconnected lakes. The Butler Chain of Lakes was formed as a result of a typical Florida occurrence which is known as "karst topography". In this occurrence, limestone (found under the majority of Florida soil) is slowly dissolved by water to form sinkholes.  A series of sinkholes formed over time created what is now called the Butler Chain of Lakes (aka. Windermere Chain). There are areas on these lakes that reaches depths of 50 feet and is believed to be the remnants of those old sinkholes which helped form this beautiful chain of lakes.
Many celebrities call the Butler Chain of Lakes their home. Such people include the likes of Shaquille O'Neal, Ken Griffey Jr., and Tiger Woods, just to name a few sport stars. It is a nice place to fish where you can catch big numbers of bass with an occasional big fish, though just being on this Chain for the day is worth the trip.
Contour and Aquatics
Submerged vegetation including hydrilla, eelgrass, and coontail are common in pool sections. Every three to four years, water management and FWC conduct a survey. This helps for fish and wildlife enhancement and aquatic plant control. It also creates an incredible bass fishing experience that every outdoor angler should want to explore.
Butler Chain in Florida is an outdoor activity that must be experienced. You will be targeting several areas. Both floating cover including water dollar weed mats and Lilly pads are key areas. Underneath these shaded areas, you will find some unsuspecting prey. Lots of Eelgrass, lily pads, and some hydrilla are several other great options when searching to land fish. This beautiful crystal clear waterway is a truly unique fishery to explore with many natural wonders and abundant wildlife viewing.
Fishing the Butler Chain of Lakes alongside a local expert is essential for two primary reasons: ensuring safe navigation and substantially increasing your chances of landing a trophy largemouth bass.
All our local experts and Orlando fishing guides adhere to the stringent requirements set by the United States Coast Guard. Their years of professional experience in this fishery guarantee you an exceptional outdoor adventure, replete with opportunities to learn novel techniques and methods for catching trophy largemouth bass.
Exploring this fishery, be it in the morning or afternoon, they possess a profound understanding of where to go and what to do. On weekends, while you could either have a fantastic or lackluster fishing day, the difference often hinges on your ability to navigate through boat traffic. Our local experts are here to guide you through this, drawing upon their extensive experience in handling various conditions.
If you're seeking an exceptional outdoor experience in Orlando, the Butler Chain of Lakes deserves a top spot on your list. This premier bass fishing destination is celebrated for its extraordinary catches. When embarking on a trophy bass hunting expedition, it's advisable to book multiple days on the water with one of our local experts. They are your best bet at making the dream of landing that prized fish a reality.
Boat access is available only at a couple of locations,  county ramp (Lake Isleworth just south of Windermere), and public bank access is almost non-existent. Orange County charges a launch fee at the Lake Isleworth ramp and the ramp is not open after dark.
The R.D. Keene Park ramp at Lake Isleworth (Butler Chain) costs per day or a year for use of the ramp. Windermere Chain of lakes is known for its excellent largemouth bass fishing. Most successful bass anglers pay attention to the bottom contours of the lakes offshore structure where 4- to 9-pound bass are commonly produced. Live shiners free-lined over grass edges, humps, ledges, and drop‑offs adjacent to spawning flats is one method to consistently catch quality bass in the winter/spring (Try Lake Butler). Jigging spoons fished over deep-water humps can produce 50-fish days when the water gets cold and fish congregate tightly (Try Little Lake Down). Windermere chain also have relatively unknown and unstudied black crappie (speck), bluegill and redear sunfish (shellcracker) populations, but anecdotal angler reports and field observations indicate a fishery exists for all three species.
Fishing Techniques
The best times to fish the Butler Chain of lakes are from June – November. This time of the year offers quality size fish in the 3-8lb range and good numbers of bass caught per day. Weekends, boat traffic can be a problem, so weekdays are always suggest if recreational boating on these lakes.
 This Butler Chain is legendary for the number of bass it produces year after year. It is ranked consistently as one of the top ten best bass fishing lakes in the country. You can enjoy fishing with both artificial lures and live bait. Wild-caught live shiners is ultimately the bait of choice when looking to catch that trophy bass you have been after.  Bass anglers can have success using not only live bait but also deep-diving crankbaits and Carolina-rigged worms in deep river channels. Early morning and late evening topwater bites can be good near the flats along the creek channels. Black crappie or speck fisherman can enjoy catching on live minnows or jigs along the edges of the dropoffs. The action is red hot almost all year round. 
EMBRACE LOCAL CULTURE AND CONNECT WITH LOCALS
Orlando caters to a diverse range of visitors, whether you're embarking on a family vacation, a romantic getaway, a solo adventure, or a group trip with friends. Regardless of your place of stay, be it near International Drive, close to the Orange County Convention Center, or within proximity of the Orlando International Airport, you'll find the Butler Chain of Lakes easily accessible. The vast array of clientele we serve ensures that every excursion with us is a memorable one.
Perhaps your vacation revolves around enchanting experiences at Walt Disney World, Sea World, or Universal Studios, and for those adrenaline junkies, the region offers an array of exhilarating water parks and attractions. However, Orlando has much more to offer, and our fishing trips can be tailored to your preferences, and scheduled during the morning or afternoon to accommodate your needs. So, venture out and savor it all.
There's only one way to truly appreciate Orlando, and that's by indulging in fishing and boating adventures!
Butler Chain of Lakes Map
What are you waiting for?
We also have great deals available on the following lakes that match your search criteria.