About Lake Tohopekaliga
Welcome to West Lake Tohopekaliga, known to the locals as Lake Toho, is a 22,700-acre lake located in the City of Kissimmee. The Lake Tohopekaliga comes from the Seminole Indians who lived nearby, and it means "we will gather together here." The lake is one of the most famous trophy bass fishing lakes in the entire country and spectacular, redear sunfish, birdwatching, and wildlife sightseeing. Osceola County, Florida, is home to Lake Tohopekaliga, the largest lake in the area.
An introduction of Lake Tohopekaliga Park
Lake Tohopekaliga park at the north end of the lake. It offers walking trails, barbeques or grills, pavilions, restrooms, covered picnic areas, a splash pad and playground for children, a fishing pier, a miniature lighthouse, picnic pavilions, and extremely lovely vessel ramps and docks, all well maintained by the City of Kissimmee.
Named and recognized as "The lakefront park" has a walking scenic trail, guests can observe wildlife such as alligators, waterfowl, otters, redear sunfish, turtles, and many more while sitting on park benches. The lake population of Florida-strain largemouth bass is the draw for most visitors.
Lake Tohopekaliga is Legendary
Know as a constant producing more big bass than any other fishing lake. The Florida Wildlife Commissions' biologists have indicated that Lake Tohopekaliga, in every ten acres of lake, has one bass over ten pounds. Even the fame, which has increases fishing pressure, Lake Toho continues to produce. Bassmaster magazine, in their issue of top 100 lakes calling Lake Toho bass fishing "the most consistent lake in the country for producing both numbers and trophy bass" by pro Dean Rojas. Many big tournaments are on Toho yearly, with the most significant events.
In 2004, Elite Pro Dean Rojas set the Bassmaster record for the heaviest five-bass limit ever caught, right on West Lake Tohopekaliga. Trophy bass fishing limit, totaling 45 pounds and two ounces, the five fish set a new high that remains unmatched today.
Ed Chancey set the unofficial West Lake Tohopekaliga record for the biggest Toho bass. Chancey's trophy bass tipped the scales just over 16 pounds. The leading woman angler weighed 14 pounds and five ounces bass on Lake Tohopekaliga.
Lake Toho a Revered Spot For Trophy Bass Fishing
Known for its revere spot for trophy bass fishing. Let's not forget about the great panfish as well. Not to mention all the bycatch species like redear sunfish, black crappie, chain pickerel, longnose gar, and channel catfish, all caught on a fishing trip on Florida Lake Tohopekaliga.
Searching Availability...

4-HR PONTOON FISHING CHARTER
A 4-hour private fishing charter will allow you to get a taste of what Toho Bass Fishing is all about in Kissimmee Florida
Pricing4hr Trip Pricing
1 Angler $274.99
2 Anglers $299.99 - $149.99 pp
3 Anglers $374.99 - $124.99 pp
4 Anglers $449.99 - $112.50 pp
5 Anglers $524.99 - $104.99 pp
6 Anglers $599.99 - $99.99 pp
7 Anglers $674.99 - $96.45 pp
8 Anglers $749.99 - $93.75 pp
*pp - per-person

6-HR PONTOON FISHING CHARTER
Pricing6hr Trip Pricing
1 Angler $349.99
2 Anglers $374.99 - $187.50 pp
3 Anglers $449.99 - $149.99 pp
4 Anglers $524.99 - $131.25 pp
5 Anglers $599.99 - $119.99 pp
6 Anglers $674.99 - $112.50 pp
7 Anglers $749.99 - $107.15 pp
8 Anglers $824.99 - $102.99 pp
*pp - per-person

8-HR PONTOON FISHING CHARTER
Pricing8hr Trip Pricing
1 Angler $399.99
2 Anglers $424.99 - $212.49 pp
3 Anglers $524.99 - $174.99 pp
4 Anglers $624.99 - $156.25 pp
5 Anglers $724.99 - $144.99 pp
6 Anglers $824.99 - $137.50 pp
7 Anglers $874.99 - $124.99 pp
8 Anglers $924.99 - $115.65 pp
*pp - per-person
Lake Tohopekaliga Habitat
Lake Tohopekaliga is like most Florida lakes, consisting of shallow grass flats, natural bullrush, maidencane, and hydrilla that help to entrench the largest part of the lake. The local population of wildlife, baitfish, and Lake Toho bass depend on it. In addition to local vegetation, the bottom of Toho improved by allowing extreme drawdowns to the lake's water level. The St Cloud Canal, which comes from East Lake Tohopekaliga, is the main water source feed.
Florida Fish and Wildlife Commission has placed fish attractors in Lake Tohopekaliga, which are prevalent areas for wildlife and fish. To view a map with coordinates, click the FWC website.
Largemouth Bass Fishing Tips
Anglers targeting trophy bass fishing for Largemouth bass may want to direct their time on the water around the mouth of Shingle Creek, enhanced shorelines east and west of South Port Park, Lanier Point, Goblets Cove, and Brown s Point. Offshore hydrilla patches near channel marker 24, Little Grassy Island, and Goblets Cove will also hold many bass on artificial lures or shiners.
Additionally, anglers who can find moving water associated with rainfall-runoff should give these areas a cast or two. Very effectively utilized both live and artificial baits in all the areas mentioned above. Golden shiners are the live bait of choice by most anglers, although spinner-baits (white, white/Chartreuse or yellow skirted), lip-less crank-baits (chrome or shad colored) and plastic worms (black, black grape, black/blue, and June bug colored) will account for a fair share of the catches.
Top Targeted Fish Species
Best Times to Fish Lake Tohopekaliga
You should always factor in weather conditions; the time of day and weather can affect your trophy bass fishing success. Most of the bass population on Lake Tohopekaliga likes to spawn in February and March. They move away from shallow areas and into the Kissimmee grass or hydrilla throughout the lake after living in shallow. Excellent summer fishing spots include Big Grassy, Browns Point, and Lanier Point. The lake's north shore is replete with tall grasses, often concealing large bass populations ready to bite.
Panfish Fishing Tips
If black crappie fishing is your thing, get your fishing boat and hit Canoe Creek in Lake Cypree or Southport Canal. Primetime on West Lake Tohopekaliga is February for black crappie; Missouri minnows are best, but long-lining jigs in white, green, and yellow around Marker 29. The jigs and minnows can be purchased at any website or fish camps around the lake.
Typically from May to June, you will find spawning activity by bluegill, redear sunfish, and chain pickerel in full force in Lake Tohopekaliga. Anglers targeting redear sunfish or bluegill should try to schedule time on the water around the new and complete moon phases and concentrate their efforts on fishing areas having sandy bottoms associated with vegetation. Brown's Point and North Steer Beach are two lake areas produced over the years.
Live bait (crickets and red wigglers) will be the bait of choice by many bluegill anglers, but small artificial jigs (tube lure or curly-tailed) or beetle spins (white or yellow-colored) will also account for some good stringers of fish.
A morning on Lake Toho
★★★★★
"
Captain Steve provides excellent service! We started off slow. Water was smooth. Steve said we need some wind and when the wind came bam! For the next two and a half hours it was non stop. We caught 24 between 1.5 and 5lbs. His patience with the little ones is amazing. Take the kids. He teaches them well. Grand daughter caught a 5 pounder. We will ask for Captain Steve again on our next trip.
"
June Fishing
★★★★★
"
Had a great morning with John. His expertise and knowledge made the trip. I would recommend to anyone that was looking to go bass fishing in Florida.
"
Capt Steve
★★★★★
"
Great day bass fishing with captain Steve! Best guide around.
"
Wheelchair Accessible Fishing!
★★★★★
"
Excellent charter who was able to accommodate a disabled person in our party. Our captain met us with a pontoon boat which allowed a wheelchair to roll right on/off without needing to transfer to another seat. Highly recommend if anyone in your party has mobility issues and cannot board a typical bass boat.
"
Fishing Lake Toho with Capt
★★★★★
"
I did a 4 hour morning trip with Cpt Devin. I found him to be personable and professional and we caught fish. It was a great morning on the water.
"
Half day. With Paul
★★★★★
"
Had an amazing half day. It started early and slow. Paul kept adjusting the boat or moving locations until the catching begin. He was very friendly and very knowledgeable.
"
CLICK TO WRITE A TOHO REVIEW
Bass Fishing Trip Planning Phase
When planning a fishing trip to the Central Fl area, consider taking a guided trophy bass fishing trip with the area's largest and most respected fishing guide service. Our guides are full-time bass fishing guides and professional tournament fishermen who know how to provide our customers' perfect fishing experience. Maybe you prefer redear sunfish, black crappie, channel catfish, alligator gar, or longnose gar to use there for you. But catching trophy bass and creating memories on Lake Tohopekaliga is what our guide service persistently achieves daily!
Our no fish, no pay guarantee on the Chain of lakes bass fishing trips leaves us consistently rated #1, standing alone at the top regarding credibility and reliability in the Orlando bass fishing industry, proven by our reviews. BASS Online specializes in catching trophy bass fishing, with artificial lures, fly fishing gear and live bait; it's your choice. Our Lake Tohopekaliga fishing guides will teach you proven techniques to catch trophy Florida bass and help improve your bass fishing skills. You search our website for additional information.
Your Lake Toho Bass Fishing Trip
We have only U.S. Coast Guard-licensed Kissimmee bass fishing guides; we maintain a high safety standard to ensure you have a relaxing day while fishing with us. The one thing that remains the same in Florida is the abundance of trophy bass fishing opportunities and the chance to see exotic plants and watch native Florida wildlife. Book your fishing charter above if you're seeking that once-in-a-lifetime fishing trip or want to experience more of what Florida's beautiful fishing lake has to offer.
We offer the widest variety of fishing charters and vacation packages specifically for Central Florida and Lake Toho at competitive pricing and custom-designed for your needs. Remember you are getting the area's best Lake Toho guide, unlike Big Toho Marina!
We genuinely hope that our list of clientele, accomplishments, and overall experience will help make choosing us your next redear sunfish, chain pickerel, channel catfish, or largemouth bass experience while in Orlando bass fishing. Thanks for reading and visiting!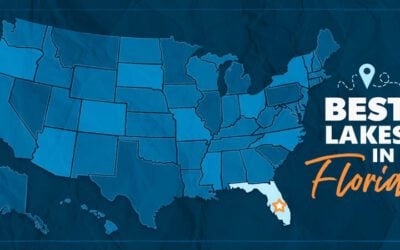 Ranked #1 Best Lakes in Florida BASSMASTER >> Rodman Reservoirs' reputation as one of the best lakes in Florida stood out in the...
read more
Lake Toho Boat Ramps
Chain of lakes has several boat ramps available around Lake Tohopekaliga, with the newest being the ramps at Kissimmee Lakefront Park via the website.
Final Comments
If you're looking for a peaceful nature getaway where there is something for everyone, Lake Tohopekaliga is a great place. The local area's easygoing, laidback atmosphere will help you relax, whether enjoying a family get-a-way, engaging in one of the water activities. Trying your luck in trophy bass fishing or thoroughly enjoying nature, you will make those extraordinary memories. Lake Toho is 20 minutes from Disney World and only 30 minutes from Orlando. Men, Women, children, your best friend, or business client are all great for your trip to this beautiful destination today!
What are you waiting for?
We also have great deals available on the following lakes that match your search criteria.