Lake Rating:
Lake Rating - Read customer reviews of lake, click to read
Searching Availability...
About East Lake Tohopekaliga Details
East Lake Tohopekaliga, also usually known as `Toho'). Not as popular as its more famous sister lake, West Lake Tohopekalgia or Big Lake Toho. In contrast, they are located almost adjacent to one another and connected by one canal and is considered a chain of lakes in Central Florida. 
Like most lakes, each of these two lakes is very different and have their hotspots. West Lake Tohopekaliga is different due to the islands, flowing feeder creeks, and big coves with naturally clear water and tremendous vegetation.
On the other hand, East Lake Tohopekaliga is more apparent because of the house and urban development. East Toho contains much fewer vegetation results than West Lake Toho. Except for its northwest corner, the existing growths are a narrow band of perimeter reeds and Kissimmee grass. In comparison, water levels and color are still the same tannic acid rain color common to most lakes, rivers, and canals in Florida. 
Trip Core Details
Region: St Cloud Florida
Duration: 4, 6, 8, & 12 hrs
Cancellation: 8 hrs in adv.
Weather-Related: Full refund
Instant Online Confirmation
Includes All State Taxes
What's Included:
All Fishing Equipment
Professional Captain
Boat & Fuel
Cooler & Ice
Bottled water
Photos
What's NOT Included:
Florida Freshwater Fishing License for those ages 16+
Live bait if desired is also additional and is purchased the morning of the trip. (optional)
Food or Specialty beverages
Fishing Chairs
GPS & Fishfinder
Life Jackets
Catch and Release Allowed
Keep Fish Allowed within Laws
Boat Specs: 20+ ft
Boat Capacity: 4 People
All Fishing Equipment
Boat & Fuel
Photos
Light Tackle
Heavy Tackle
Livebait
Artificial Lures
Spinning Rods
Baitcasting Rods
Left & Right Handed
Fly Rods (request only)
Braid & Mono Line
East Lake Tohopekaliga fishing
Northeast Corner
Florida East Lake Tohopekaliga has a couple of these rock areas found in the single fish attractor's proximity located in the Lake's northeast corner. Forget using the fish attractor as an indicator of artificially placed brush tops. The Boggy Cove location provides a boat ramp and a large concentration of reeds, pads, and grasses for the shallow water purist who desires to `fish the cover.' The lake, not only has largemouth bass fishing, but black crappie, bluegill, redear sunfish, chain pickerel, channel catfish, and others.
The better lake waters for these panfish will be within the interior of the Boggy Cove cover. East Lake's northern shoreline can be suitable for bass fishing angling and has the advantage of warming. More rapidly in the early Spring, which means that spawn will usually begin earlier than in other places of the Lake.
With an average depth of 10-14 feet and a maximum of 18 in one remote location, the East Lake Tohopekaliga bottom is predominately clean and hard. A few good shell beds exist, as well as some bottom rock structures. The latter is somewhat difficult to find but is well worth the effort when you do go fishing.
St Cloud canal Entrance
Another place for largemouth bass fishing with small gravel or shell beds lies directly in front of the St. Cloud channel and approximately 300 yards out into the chain of lakes. There is no reasonable way to locate this open pattern consistently, short of a right depth finder unit.
You can use a heavy, one-ounce slip sinker and a Carolina rig worm and `feel' the bottom until I locate the hard, rough bottom. This particular fishing place has always produced, so it worth the effort to discover each time.
West Side
This fishing area of East Lake Tohopekaliga by Fells Cove is often located on hard bottom sites or shell beds in the open portion of the Lake, generally in the Westside's deeper sections depending on lake levels.
Since the Lake is relatively small, a quick way to locate the largemouth bass has been to troll. For control purposes, we like to use only a short line and a reasonably deep-running plug. A Bagley DB-I will run approximately 10-11 feet deep on 60-70 feet of a 12-pound test line, which is the general depth we want to work for largemouth bass.
Once we locate the largemouth bass school, we drop a reference marker buoy and cast it to the spot. Remember not to place the marker directly on the school location, as you may spook the school or take the chance of tangling a lure in it later. When fishing a largemouth bass school, such as found here, do not return any fish to the water until you are ready to move off the school location. Otherwise, the released bass may return to the school, and his nervousness causes it to spook the others away.
Southeast Corner
The East Lake Tohopekaliga shoreline on the east side should be approached the same as the others, in that the angler would be wise to the key to the small pockets and protrusions of the reed line and grass. Little Runnymede lies just in the southeast corner of East Lake Tohopekaliga and has a connecting canal.
The reeds and grass on both sides of the canal mouth are fairly productive bass locations. The deeper water drop-off, out in front of the canal mouth, can be even better. Watch for a few surface schooling bass on East Lake Tohopekaliga.
South End
At the very South end of East Lake Tohopekaliga lies a public launch area, boat ramp, beach area, and parking area. It is protected from the winds by a dike which helps with boat ramp launching and often produces a few catches fishing from the shoreline.
East Lake Toho Tips
A tip worth its weight in 10-pound bass is that the plastic worm also has an excellent application in this open water location. Once the surface action has ceased, try tossing a lightly weighted plastic worm into the same area. Typically, the bass is still there and has just settled to the bottom in wait for the next baitfish school to happen.
Moving up the West shoreline, there is a little deviation of any significance. All we note are the standard East Lake reed band and minor grasses along the shore. However, experience has shown that any indentation or protrusion of the reed-line, no matter how slight, has the potential to produce a bite. Be particularly attuned to the clumps of reeds out towards the open water, as bass like to set up ambush points at these type of locations.
Fish it on weekends
★★★★★
"
Great lake, close to my house. Caught fish up to 6 pounds. I enjoy fishing it very much!
"
CLICK TO WRITE A EAST LAKE REVIEW
Top St Could Fishing Guides
There are two main reasons why you should fish the East Lake Toho with a local expert: firstly, safe navigation, and secondly, a local expert provides you with the best opportunity to guaranty you landing a trophy largemouth bass. 
All of our local experts and Lake Toho fishing guides come with full requirements from the United States Coast Guard. Years of professional experience in this fishery will provide you with an outstanding outdoor experience. Enjoy learning new techniques and methods of catching trophy largemouth bass from a local expert. 
When exploring the fishery, whether during morning or afternoon, they understand what to do and where to go. When fishing the weekend, you can have a good day or the best day of fishing but it also can be a big zero if you don't know how to get away from all the boats. So, hop on board with one of our local experts and they would love to show you around. They have years of experience when it comes to navigating this fishery during all conditions.
If there is one Thing to do in Kissimmee, you should consider, getting outdoors on East lake Toho should be very high on that list. This premier bass fishing destination is known for its incredible catches. When visiting for your trophy bass trip, be sure to dine in the great East Lake Toho marina on the waterfront to cap off your dream trip.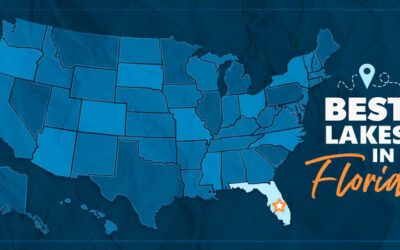 Ranked #1 Best Lakes in Florida BASSMASTER >> Rodman Reservoirs' reputation as one of the best lakes in Florida stood out in the nation...
read more
What are you waiting for?
We also have great deals available on the following lakes that match your search criteria.