Captain Rating:
Top Rated Captains - Rated by REAL customer reviews, click to read

Instant Confirmation
No Waiting - Get an instant online confirmation that your trip is scheduled!

  Angler's Top Choice
Our Captains are NOT available anywhere else, only Top Choice Guides work here!

FREE Cancellation
Canceled due to bad weather or bad health? We'll help reschedule or refund.
USCG Credentials

This captain has successfully passed an enhanced check by US CoastGuard and is Bass Online verified legal
Child Friendly

We look forward to the opportunity to teach children to fish. We carry all of the appropriate safety gear and ensure that our boats are a clean and safe environment for children all ages.
Disability FriendlyProvides Fishing Access for Anglers with Disabilities. Select an area below to book you next trip!
Do you want to catch the biggest largemouth bass of your life with a friendly and knowledgeable guide? Then Bass Fishing with Captain Gino Losi is the right guide for you. Based just outside of Eustis, FL, you'll explore the synonymous Harris Chain of lakes for this great fish, putting your angling skills to the test.
Captain Gino Losi is a 2nd generation local guide with more than 30 years behind him fishing this stunning lake. He promises to use all his experience to put you in the best spots that world-class Florida largemouth bass calls home. Whether a newbie or a pro, Capt Gino will ensure that you reel in plenty of fish, and you can even bring the kids along!
Step aboard the 22' Nitro Z9 bass boat, and enter a world of exciting fishing. As the name suggests, she was built explicitly for this fishing, so you'll quickly reach all the best spots. Boasting a shallow hull, she'll cut across the water tops in no time, keeping you afloat in even the shallowest spots.
Get ready for an action-packed day as you cast lures to attract the bite of these beauties using the latest industry fishing equipment.
The average catch on Harris Chain weighs in at 3-4 pounds, with trophies of up to 10 pounds recorded weekly. You'll have to be on your best to reel in any of these beauties, including the stripers, as they promise an intense battle to come aboard, even leaping out of the water to get off the end of your line!
Capt Gino guides seven days a week and 365 days a year; you'll have the chance to get out on the water and battle with these beauties. Come in early or stay out late for the hottest action, anywhere from 4hrs up to 12 hours on the water, and see for yourself the beauty of the local lakes.
All you need to do is grab your FL fishing license, bring some drinks and snacks aboard, and get ready for the fishing trip of a lifetime!
Species Capt Gino catches
Fishing Chairs
GPS & Fishfinder
Life Jackets
Catch and Release Allowed
Cooler, Ice, Bottled Water
Boat Specs: 22+ ft
Boat Capacity: 4 People
All Fishing Equipment
Boat & Fuel
Photos
Spinning Rods
Baitcasting Rods
Left & Right Handed
Fly Rods (request only)
Braid & Mono Line
Capt Gino's Fishing Options – Book Online
WHAT CUSTOMERS ARE SAYING ABOUT CAPT GINO
Very Unproffesional
★☆☆☆☆
"
Gino has now missed 2 charter appointments with me. After promising a "free" trip to make up for the second stiffing, he has failed to communicate with me after numerous attempts to contact him. He may be able to find bass but his follow-up and follow through suck. FYI to our readers - Harry, at the time of this review, Capt Gino does not work for us for the same reasons. But we post reviews good or bad, so thanks for submitting.
"
Best of the Best
★★★★★
"
Review Title sez it all. Professional, experienced, VERY knowledgeable, laid back, willing to share any and everything. Highly recommend to anyone.
"
OMG
★★★★★
"
Today I had a great day fishing and learned a lot about bass fishing. Gino is an exceptional teacher and very personable to be around. Now I can take what I've learned and hopefully catch more then just one fish a day! Highly recommended if your really interested in fishing or even just for something fun to do for a day.
"
Gino Losi
★★★★★
"
Gino Losi is the best guide in Central Florida. Really knows his stuff and on multiple lakes.
"
Passionate fisherman
★★★★★
"
I would start off by saying I have hired a lot of guides in many different parts of the country. I am a very passionate fisherman and I think I finally met my match. Capt Gino has a Professional Tournament Grade Boat, Top of the line gear, and will work his butt off to put you on fish. You can clearly tell he is the kind of guy who goes fishing on his day off for fun and that is the kind of guy I want to spend 8 hours in a boat with.
"
Best Guide
★★★★★
"
Gino Losi is the best guide in Central Florida. Really knows his stuff and on multiple lakes.
"
CLICK HERE TO WRITE CAPT GINO A REVIEW
Current Captain Gino Fishing Reports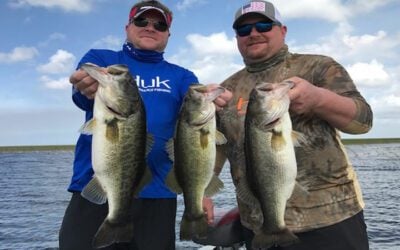 There's no better place to bass fish than the "bass fishing capital of the world," also known as the state of Florida....
read more
What are you waiting for?
Other Nearby Local Experts