Lake Rating:
Lake Rating - Read customer reviews of lake, click to read
About
Lake Monroe is a 9406-acre lake part of the St. Johns River System. It's located halfway between Orlando and Daytona Beach. Along the southern shore of Lake Monroe is Sanford's port city and along the northern coast are Debary and Deltona.
Monroe is one of the St. John River's main lakes and a hot spot for anglers looking to catch a Florida trophy bass along with quality panfish.
Lake Monroe Fishing
Lake Monroe is considered one of the best fishing spots in the St John's system. Bass fishing on Lake Monroe is good all year but offers incredible Spring bass catches. The other popular thriving species are black crappies, bluegill, and redear sunfish. The St. Johns River and all of its lakes are known for producing tournament-winning largemouths, but it's also a top area for these other panfish, most of them growing larger than anywhere else in Florida.
Fishing from the Sanford part of the lake is your best chance at catching a nice bass that's received minimal pressure.
Eelgrass is the essential aquatic plant in the St. Johns River, and it's the most important to establish a great fishery like Monroe. You can find over 100,000 individual eelgrass plants throughout the fishery that hold fish.
Searching Availability...
Fishing Chairs
GPS & Fishfinder
Life Jackets
Catch and Release Allowed
Keep Fish Allowed within Laws
Boat Specs: 20+ ft
Boat Capacity: 4 People
All Fishing Equipment
Boat & Fuel
Photos
Light Tackle
Heavy Tackle
Livebait
Spinning Rods
Baitcasting Rods
Left & Right Handed
Fly Rods (request only)
Braid & Mono Line
Top Species
Largemouth Bass
The Sanford side of the lake offers the best spawning areas. The spawning season is from late November through April, but the peak months of consistent spawning activity in the shallow water are January, February, and March. The post-spawn months are still full of action. Using a wild shiner as bait is the best way to catch a Florida trophy.
Other productive techniques are with weedless soft plastic baits, such as flukes or plastic worms. Topwater lures are often effective on aggressive spawning fish. Underwater structures, drop off areas, and docks are known to hold quality largemouths.
Black Crappie
Lake Monroe is known for having large crappie, especially during the cooler months. They typically move into shallow waters to spawn near brush piles, cypress trees, and other covers. It's not uncommon to catch one over 12 inches and two pounds. The best methods to find the schools are by trolling or drifting near the river channel or off the northwest shore near the power plant. Anglers can also try using a jighead spinner on ultra-light tackle. In late winter into early spring, they usually move more inshore to spawn.
Bluegill and Redear Sunfish
Both the bluegill and sunfish spawn in the spring months near vegetation and structure. The best time to fish for them near shore is earlier in the day before the sun heats up; otherwise, they are in deeper, cooler locations.
Top Targeted Fish Species
Fishing With A Local Expert
Your Lake Monroe guide knows where all the best spots are holding fish and the techniques to catch them. Lake Monroe is one of the best fisheries to catch a Central Florida trophy. A guided charter is ideal for anglers of all ages, groups, or solo to experience catching Florida fish and seeing the local wildlife.
Your captain will have everything you need for a successful trip, including all gear and tackle. Your guide is a local expert who knows the lakes, surrounding areas, fish habits, and all the top methods to catch your targeted species any time of year. Going on a guided charter on the St. Johns system's productive lakes provides fishers with their highest chances at catching a trophy bass.
Top Monroe
 Fishing Guides
Surrounding Area
There are many things to do close to Monroe. There is no swimming in the lake because of alligators; however, there are plenty of biking paths, walking trails, a dog park, and a playground around the lake. The area surrounding Monroe is full of shopping, restaurants, nightlife, and fun activities for the whole family. The historic downtown Sanford has numerous antique shops, books, music, and tasty cuisine.
Popular Attractions
Some of the more popular attractions in the area include the Central Florida Zoo, the St Johns Rivership Company, the Wayne Densch Performing Arts Center, and the Museum. Ft. Mellon Park, on the east side of town, offers a view of the lake, a splash pad and playhouse for the kids, picnic tables, and basketball courts.
Current Central Fl Articles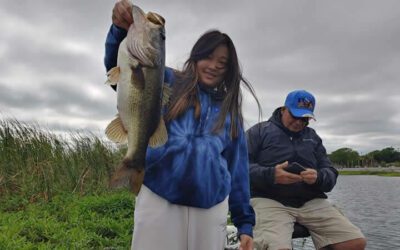 The Best Guided Bass Fishing in Florida Maybe you have done guided bass fishing in Florida, and perhaps you haven't. Perhaps you are a...
read more
Boat Ramps
There are two boat ramps at the lake. One is in the southwest corner north of the intersection of U.S. 17/92 and I-4. The other ramp is in the northeast corner of Enterprise Road, south of the Enterprise town.
Love this area and lake!
★★★★★
"
Lake Monroe is a jewel in the concrete jungle of Orlando. Great lake with an incredible river going through it. One of the best crappie and bass locations in Florida.
"
CLICK TO WRITE Lake Monroe REVIEWS
What are you waiting for?
We also have great deals available on the following lakes that match your search criteria.