Daytona Rating: Daytona Beach Rating - Read customer reviews, click to read
Daytona Beach is famous for its NASCAR, motorcycle, and racing. But beaches, shopping, culture, and significant events are second to none. From white sandy beaches to connecting with a Cruise out of Cape Canaveral or traveling west to Disney World, it's all within a stone's throw distance.
Known by the locals, Daytona is recognized for world-class inshore fishing, having some of the most fantastic fishing on the east coast…

Instant Confirmation
  Angler's Top Choice
FREE Cancellation
Business Trip
★★★★★
"
In town for a few days, had a half day to kill and I love fishing. Got Bass Online recommended to me from the folks at Bass Pro Shops in town and I know why. What a top notch company and great guides, highly recommend if you're in the area.
"
St Johns River!
★★★★★
"
We did a trip on the St Johns River while at Bike Week, it was awesome. Quite, beautiful and very relaxing...yes we caught a lot of fish too.
"
CLICK HERE TO WRITE A DAYTONA REVIEW
Top Targeted Fish Species
Local Daytona Bass Fishing Guides
WHY HIRE A DAYTONA BEACH FISHING GUIDE
There are several reasons you should fish Daytona Beach with a local expert: firstly, navigation is crazy hard, and secondly, our local expert provides you with the best opportunity to land a trophy largemouth bass.
Our local experts and Daytona fishing guides come with complete United States Coast Guard requirements. Years of professional experience in this fishery will provide an outstanding outdoor experience. Enjoy learning new techniques and methods of catching trophy fish; those are a few, and here are a few more for you to consider.
Your learning curve will be cut in half.
Guide supplies all the gear.
No boat needed, maintenance or fuel.
Go for fun; make it an adventure by sharing the experience.
Safety, it's hard to learn new waters.
No local pressure, and good guides have great spots.
Establish a relationship with your guide so you can text for info.
Relax and go to Daytona Beach fishing quickly.
RULES & REGULATIONS
If you are fishing aboard a freshwater charter, the captain's license will NOT cover everybody on board. However, you will be covered under the captain's license on Saltwater trips.
So you will need to pick up a fishing license for all anglers between the ages of 16–64, regardless of whether you're heading out with a captain.
This means even if you are fishing in a local pond, it requires a Florida fishing license. Some species of fish are subject to tight regulations; consult with your captain.
If fishing on your own, goes to the FWC website before heading out.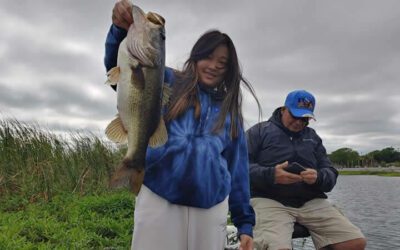 The Best Guided Bass Fishing in Florida Maybe you have done guided bass fishing in Florida, and perhaps you haven't. Perhaps you are a...
read more
Can you fish on Daytona Beach?
The Ins and Outs of Fishing on Daytona Beach. Florida boasts some of the best fishing in the world, and the Daytona Beach fishing area is no exception. … There is the option to fish from the Beach, the areas have clearly marked no fishing in the heavily populated areas. But there are plenty of areas you can.
What's the best bait for Daytona beach bass fishing?
This is depended on the watercolor and time of year. The hotter month the fish seem to slow down, so you need to as well and plastic worms are a great way to do this. In the spring and winter months, the fish are more active, which allows you to be as well. So topwater, spinnerbaits, all those moving baits that are so much fun.
What is the best month to fish in Florida?
This is because summer is when the lakes and rivers are the warmest, so the fish seek cooler water temp which means they typically go deeper. More specifically, the months from July to September. So that leaves November to June to get out and fish why if at its best.
Do you need a fishing license to fish in Daytona beach Florida?
Out-of-state fishing and hunting licenses are not valid in Florida. A fishing license is required to attempt to take fish. If you cast a line or catch and release, you need a license. … Non-residents using beach or haul seines for recreational purposes must have a commercial saltwater products license.
Do senior citizens need a license to fish in Florida?
Florida residents age 65 or older only need a Florida Driver's License or Identification Card to prove residency and age. They are not required to purchase the following recreational licenses and permits: Saltwater fishing, freshwater fishing, and hunting licenses.
Can you bring coolers on Daytona Beach fishing trip?
You may bring your own Daytona Beach fishing equipment and cooler with drinks and food and that's okay! … Absolutely, you can bring whatever you are most comfortable with and also your own drinks and food.
Questions about Daytona Beach fishing? Feel free to call us, Email us, or use the chat us to speak to one of our specialists.
Questions? Feel free to call us, Email us or use the chat us to speak to one of our specialists.
Questions? Feel free to call us, Email us or use the chat us to speak to one of our specialists.
What are you waiting for?
If you enjoyed Daytona Beach fishing. We also have great deals available in the following cities that match your search criteria.