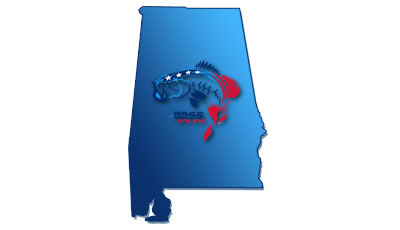 The
Alabama outdoors
offers plenty of opportunities for fishing. Ranked as the 14
th
out of 50 states when it comes to top-grade fishing, Alabama anglers have nothing to complain about!
Alabama fishing
is very versatile and one of the most ecologically diverse in the US, with tons of lakes, rivers, streams, and ponds to fish from! 
Besides gorgeous scenery, fishing in Alabama results in many different species like bass, speckled trout, flounder, redfish, and even sharks on some coasts! If you are an eager angler hoping to experience the legendary bass fishing Alabama has to offer, plus some more, read below! 
We narrow down the best sites to catch amazing species of fish in Alabama and some of the most picturesque locations to ease up your next fishing journey!
Fishing in Alabama
: Overview
Situated in the heart of the South, Alabama is famous for its natural scenery, cuisine, and sportfishing. With some of the finest reef fishing possibilities on the planet, Alabama attracts tons of anglers every year. Alamaba is so popular because fishermen have an abundance of freshwater and saltwater sources to choose from for their next catch. 
Because there are numerous lakes and rivers to fish from, some of the best places to fish in Alabama are Lake Guntersville, Logan Marting, Lay Lake, and Pickwick, shared with Tenessee and Mississippi. From these lakes, anglers whip out picture-worthy, high-pound basses, trouts, and redfish. 
Regarding offshore examples, anglers enjoy catching a wide range of fish from the Gulf of Mexico, Orange Beach, Dauphin Island, and the Alabama coastline.  The warm climate makes Alabama the perfect home for saltwater baddies like the Mangrove and Lane snapper.
The state of Alabama has been so connected to fishing forever there's an official saltwater fish symbol with the Alamaba tarpon. The official freshwater symbol of Alabama is the sought-after largemouth bass. 
The best part about Alabama fishing is that there is no low season for anglers, meaning that most Alabama fish are present year-round. Inshore species like trout, drum, and redfish don't migrate, while others like sheepshead are easiest to catch in winter. 
Besides some regulations regarding Red Snapper or Amberjack, Alabama allows freshwater fishing from spring through fall.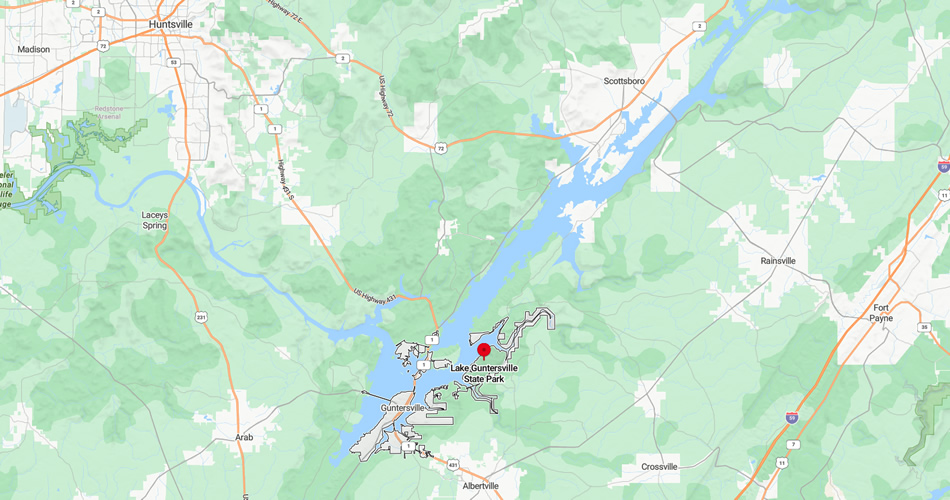 1. Lake Guntersville

– Map

Lake Guntersville is like an angler's right of passage, and historically two-thirds of the anglers on the lake come for bass fishing and competitions. The best fishing spots in Guntersville are in the creeks, like Siebold Creek, Town Creek, the South Sauty, Brown Creek, etc. Besides bass, Guntersville offers plenty of bluegills, sunfish, crappie, catfish, sauger, bream, etc.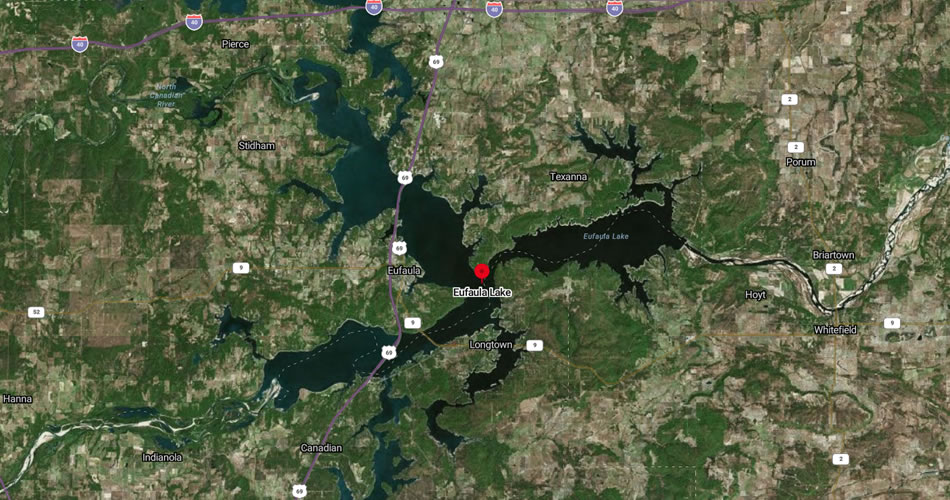 2. Lake Eufaula

–

Map

Excellent Alabama fishing for crappies, white bass, and catfish, Lake Eufaula is a fertile 45.000-acre lake that's an angler's and kayakers' paradise. The lake has some rare gems too, like the flathead, blue, and channel catfish and lots of sunfish. Fishermen from all over visit the lake to catch enormous specimens of bass and practice their deep-water fishing techniques.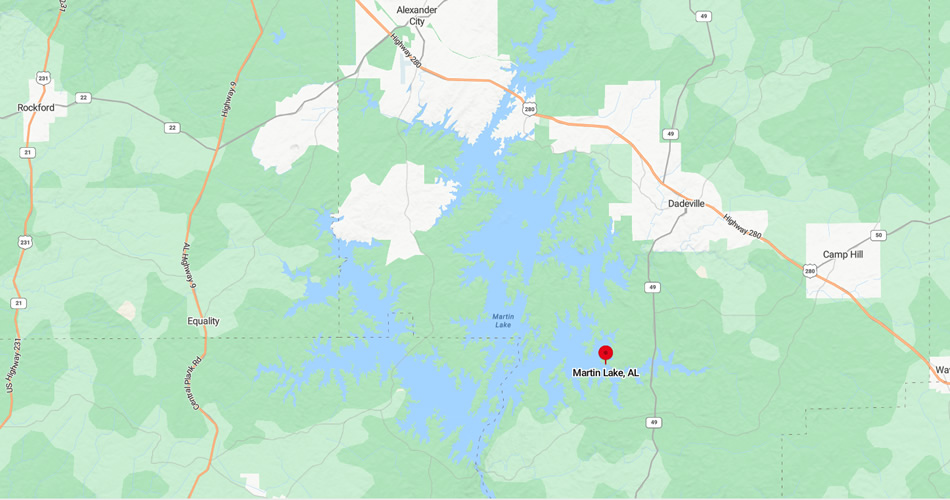 3. Lake Martin

–

Map

Although it's referred to as a lake, Lake Martin is a reservoir with a limited amount of both baitfish and sportfish. Anglers can try Lake Martin because there's a healthy population of sunfish, crappies, stripers, bass, and catfish. Because Martin is a reservoir, the water is very clear, making it easy for the fish to spot fishermen and get spooked. The reservoir is an idyllic destination for those who enjoy fishing with long casts!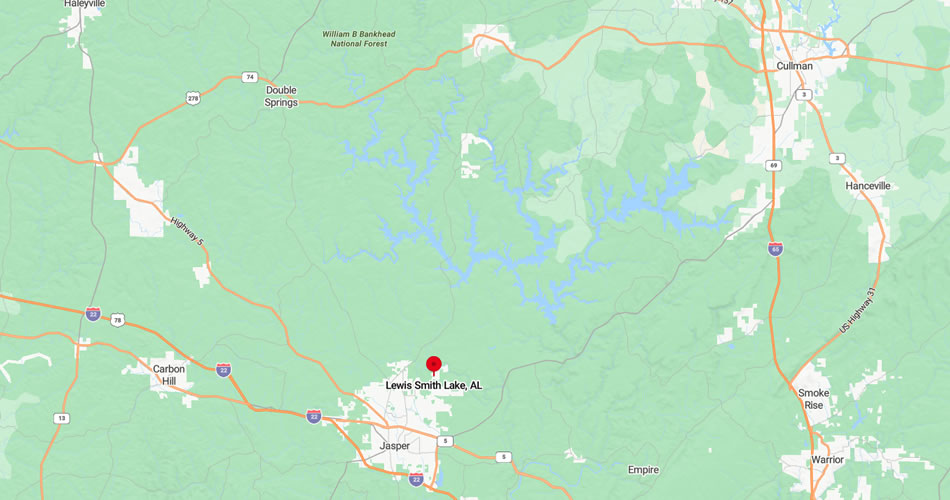 4. Smith Lake

– Map

Smith Lake is the go-to for trophy-sized bass and other chunky fish like the crappie. This lake has the most 40+ pound fish present in its waters, and anglers travel from all across, hoping to set a new record with their catch one day. Fishermen often come to Smith Lake to catch a monstrous 50+ pounds striped bass or any of the gold-medal like the Guadalupe bass.
Alabama Fish
The best fishing in Alabama is reserved for freshwater fishing, and various destinations offer some of the tastiest and record-breaking species you can find. The most targeted fish in freshwater Alabama are the large and smallmouth bass, spotted bass, bluegill, striped and white bass, hybrids, catfish, crappie, and more. 
Alabama is known more for its big reservoirs and rivers that dominate the freshwater fishing landscape, but you can find fan favorites like walleye in ponds, creeks, and smaller streams. Regarding deep sea fishing, Alabama has hundreds of offshore waters to fish from, like the Perdio Bays and the Gulf of Mexico, the Mobile Bay near Orange Beach, etc. 
Freshwater Fish in Alabama 
There's plenty of freshwater fish in the Alabama waters. Here's how to recognize some of them.  
Bass 
Alabama bass fishing is the number one attraction in the state because it has all bass hybrids. The most delicious and biggest freshwater predator is the state's totem fish, the largemouth bass. Fishermen can expect to find a plethora of largemouth bass at impressive sizes in Guntersville Lake. 
The destination is filled with feisty largemouth basses, so it's almost impossible not to catch one. This is why Alabama's Guntersville is preferred for rookie anglers looking for an amazing habitat to start their journey. A recommended period to catch the best bass fishing in Alabama is spring, when they spawn, or summer, when they feed near the surface. 
Smallies 
Besides the largemouth bass, Alabama is native to the smallmouth bass, which thrives downstream of the Tenessee River.  Commonly fished out near dams, the smallies are bass species related to the largemouth. However, unlike with the spotted, you can't find smallmouth bass in the same waters as the largemouth. The best time to fish for smallies is the start of spring through the summer months. 
Catfish 
Anglers love Alabama for its gigantic catfish. Often caught through the fun sport of noodling, catfish are not for novice anglers. Because they put up a fight, a fisherman should attempt to catch a catfish with help from a specialist guide or by using many of the Alabama fishing charters. 
Crappies 
Crappie fishing in Alabama is a great attraction for adults and children who could practice with lightweight fish. The state is home to the black and white crappie, with tons of hybrids from mixing between lakes like Weiss Lake and Eufaula. Crappies are the easiest to catch because they are present throughout the year and thrive in cold water, especially from November to February.
Although they are small, crappies cannot be fished in extremely large quantities. Due to the crappie limit in Alabama, fishermen cannot go home with more than 30 crappies. 
Best Places to Fish in Alabama
Alabama attracts loads of fishing enthusiasts from across the country and worldwide. With its scenic lakes, splashing streams, and many fish, Alabama offers a haven for anglers! 
Here are several Alabama lakes and rivers scattered throughout the state that see the most tourists: 
Birmingham is the most well-known town in Alabama and fishermen love this place because there are plenty of reservoirs nearby in Shelby County. The biggest reservoir in Birmingham is called Lake Purdy and you can fish for plenty of carp, catfish, bluegill, bullhead, stripped and largemouth bass, crappies, etc. Fly fishing in Alabama is also popular in Birmingham, where other anglers practice casting, spinning, and other techniques to get their catch. 
Fishing in Alabama is picturesque in Huntsville as well. There, anglers fish on the Madison County Lake that's just 15 miles north of Huntsville. Besides plenty of fish like the bluegill, redear sunfish, rainbow trout, largemouth bass, and catfish, fishermen can enjoy the lake's picnic facilities, grills, bait shops, rentals, fishing charters, and more. 
Located near Huntsville, Gadsden is right at the foot of the Appalachian mountains. Gadsden is known as one of the towns in Alabama that are filled with incredible natural points like the Noccalula Falls and Gilliand-Reese Covered Bridge, Coosa River, and numerous other wildlife parks. Fishermen get their catch from the Coosa Rives or the H. Neely Henry Lake, and the most usual reeled-in examples are the crappie, catfish, striped, spotted, and largemouth bass.
Montgomery has many breathtaking locations for fishermen, but the top-chosen destinations include the Alabama River, Prattville Airport Lakes, Cane Creek Reservoir, Martin Lake, and more. Anglers can reel in a flounder, redfish, crappie, weakfish, bluegill, catfish, largemouth bass, and snappers from March to June or August until October!
Lake Tuscaloosa is one of the biggest in the US, spanning nearly 6,000 acres of great angling resources. If you are also looking for the best fly fishing Alabama offers, try Lake Tuscaloosa. Besides being a staple of bass fishing tournaments, Tuscaloosa offers sport fish like classic Alabama spotted bass, bluegill, sunfish, white crappies, largemouth bass, and more.
Saltwater Fish in Alabama 
If you prefer saltwater fishing, Alabama has plenty to offer. Here are some of the fish species you can find in saltwater across Alabama. 
Redfish 
Redfish can be located all over the Mexican Gulf, and because of the location, they can grow to monstrous sizes. Anglers adore redfish because there are tons of them, they are easy to catch, and you can find them through the seasons. 
The best time to fish for a redfish is spring through summer, and the best way to catch them is to sneak up on them. 
Flounder 
As one of Alabama's few inshore fishing staples, the flounder is an all-time family favorite. Although a typical flounder cannot reach the size of a largemouth, flounders are the fish you may encounter after a long day of no catch! 
Since they mingle at night, flounders don't see what they consume, so getting a bite is easy. The hard thing is lifting them from the bottom of the sea, but expect a nibble near the Mobile Bay or Gulf Coast.  
Tarpon
As the state's saltwater mascot, the Tarpon is not a fish for the faint of heart. Newbie anglers should avoid the tarpon as the silver king fights back tirelessly, making it one of the hardest contenders to catch. 
Tarpon fishing takes lots of skill to accomplish, and sports activities are held from June until the end of July. The best places for tarpon include beaches like Perdido Pass or Mobile Bay, a little into August. 
Speckled Trout 
A speckled trout always shares its habitat with redfish, and the best way to catch them is with crankbaits, bottom rings, and sometimes topwater lures. The most popular fishing charters Alabama has to offer fish for speckled, with trips to Orange Beach, Fort Morgan, Mobile Bay, and the Gulf Shores. Anglers can expect to find the best trout in two seasons, from March to mid-May and mid-October to December. Trout's very easy to catch because they swim in shallow water and move all day. 
Other Worthy Alabama Fish 
Alabama has famous bays and streams overflowing with the Black drum, a redfish variant, and Bluefish in the center of the bay. There are also the delicious Tuna, Spanish Mackerel, Greater Amberjack, snappers, etc.
Based on the Overall Satisfaction rating from Actual Customers!
4.95 Overall Satisfaction rating
Join us in Alabama, interested in a Career as a Fishing Captain?
Full-time or Part-time
We have a 98.5% Success Record
Fishing Regulations in Alabama
There's a valid fishing license Alabama requires anglers to carry. This license refers to fishing residents between the ages of 16 and 64 that use rods, reels, and artificial bait. Most states have different rules and regulations regarding licenses, but the general rule is to fish with a hook and line if you are outside your legal residence. Other rules in Alabama concerning fishing include that all public streams, ponds, and lakes are open for fishing throughout the year except for the managed Public Fishing Lakes. 
Also, it's against the law to possess more fish than the daily limit or a fish that's either smaller or bigger than the size restrictions. The size restrictions are different for some towns in Alabama, but they are usually done by measuring the total length of the fish from the front of the mouth to the end of the tail, or approximately 16 inches for heavy bass. 
For instance, you can't possess more than two white bass samples while fishing in Lake Martin. The same goes for yellow, saltwater striped, and hybrid bass. 
Some places in Alabama have bag limits, especially for bass types. The limit for Alabama crappie fishing is 30, while saltwater bass is only 15. Redfish is also carefully plucked, and anglers can only take a bag of three fish. Other fish don't have a limit, like the yellow perch and catfish. 
Alabama fishermen can purchase their fishing permits, and there are a few types: the one-day or seasonal fishing license, the non-resident permit, the freshwater fishing family trip license, the spearfishing license, and more. 
Tips & Techniques for
Alabama Fishing
Before you get to reel in your next big catch, we have some additional beneficial tips that will make your next fishing trip one for the books! 
Evaluate what types of fish are predominant in the habit you are going to fish at. 

Once you know your candidates, consider what those fish eat and select your bait. 

For freshwater catches, you can use alive or recently deceased fresh bait like worms, leeches, crayfish, grasshoppers, crickets, and minnows. 

Good saltwater baits are crabs, shrimp, sea worms, eels, chum buckets, and strips of squid. 

If you are using artificial bait, try spinners, jigs, flies, poppers, and more. 

Alabama is great for fly fishing, spinning, and casting fishing techniques. 

Try going fishing when the temperatures get warm, 

Springtime is the best season for bass fishing. 

Prepare a tackle box with diverse baits. 

Choose a sturdy and longer pole so you can pull out heavier samples. 

The bigger the hook, the bigger fish you will catch. 

Make sure your hook is always sharp. 

Choose quality and affordable gear. 

Spinning wheels are the most practical when it comes to novice fishermen. 

Watch out for catfish and their taste for all baits. 

Use shrimp as bait in warm salt water, while squid in cold saltwater 

Bass types like the minnow the most. 

Remain patient and calm while expecting a bite. 

You can expect the most and largest fish if you do it between dusk and dawn. 
Alabama Fishing Charters
If you are looking for the best fishing adventure where the waters are blue, and the fish are plentiful, try Alabama's fishing charters! With this fancy-boat excursion, a fisherman and his family are taken to open waters for angling as they have never done before. Besides catching tons of diverse fish and soaking in the currents, fishermen can cook, steer and perform different fishing techniques with the help of a guide! Anglers also get the well-known souvenirs picture where they pose with their impressive catch! 
All services are customizable according to the angler's needs and wants so make sure to visit Alabama's fishing charters today!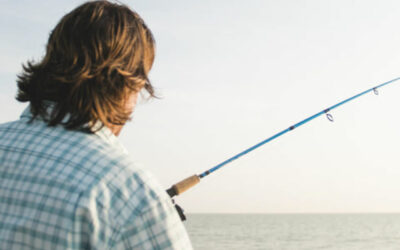 Are you the type of angler that is always searching for a new fishing adventure? Look no further than Lake Guntersville, a renowned fishing destination in the heart of Alabama, with a surface area of 69,100 acres of high-quality fishing waters. To make the most of...
read more
Final Words
Alabama and fishing culture go hand in hand. Because of the rich environment, Alabama has plenty of both saltwater and freshwater sources. The country is blessed with so many diverse fishing types because of the temperate climate. Comfortable in any season, fishing in Alabama is permitted throughout the year, depending on the spawning season. 
Apart from a large network of rivers, lakes, springs, and streams, Alabama has tons of history, making it a top tourist attraction for curious fishermen. If you are looking for colorful landscapes with loads of fish, give Alabama's Gulf lakes and The Alabama River a try! 
FAQs
Does Alabama have good fishing?
Alabama has many impeccable fishing sites, like Lake Guntersville, Alabama River, Huntsville, Pickwick, Lay Lake, Birmingham, and many more. 
What kinds of fish are in Alabama?
Alabama is home to all kinds of bass, crappies, catfish, grass carp, redfish, snappers, sunfish, speckled trout, sand seatrout, bluegills, red snapper, tarpon, etc. 
What is the most common fish in Alabama?
Alabama is most filled with fish like the sea trout, while other close seconds are largemouth basses and crappies. 
People Also Ask
Can I fish in Alabama year-round?
Every public lake, stream, and pond is available to fishermen throughout the year. The rule does not apply to state-owned and managed public fishing lakes. 
Are there any fishing tournaments in Alabama?
Alabama offers many tournaments for bass fishing, fly fishing, crappie fishing, etc.