Lake Rating:
Lake Rating - Read customer reviews of lake, click to read
Only Local Experts
Led by locals who love where they're from and what they do.
Private Groups
With intimate group sizes, you'll never get lost in the crowd.
Highest Standards
Every experience is reviewed for quality, uniqueness and is completely private.
Pricing?To get current pricing. Click on the INSTANT BOOK button on the pictures below. Then adjust the number of people going, choose the date, and time slot, and it will display the total price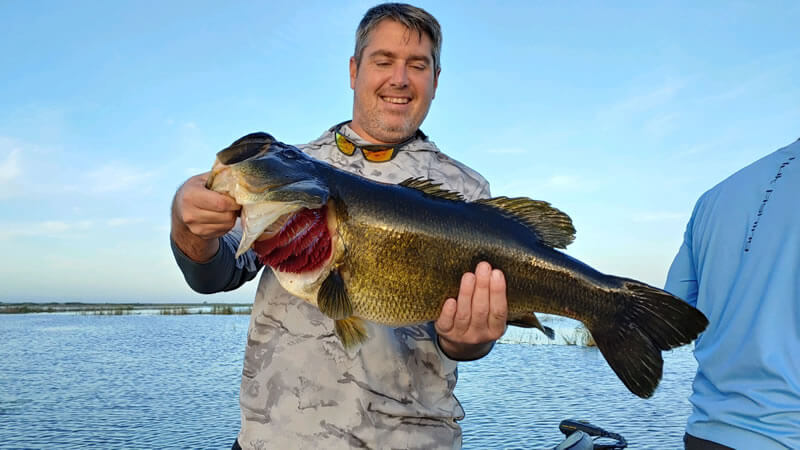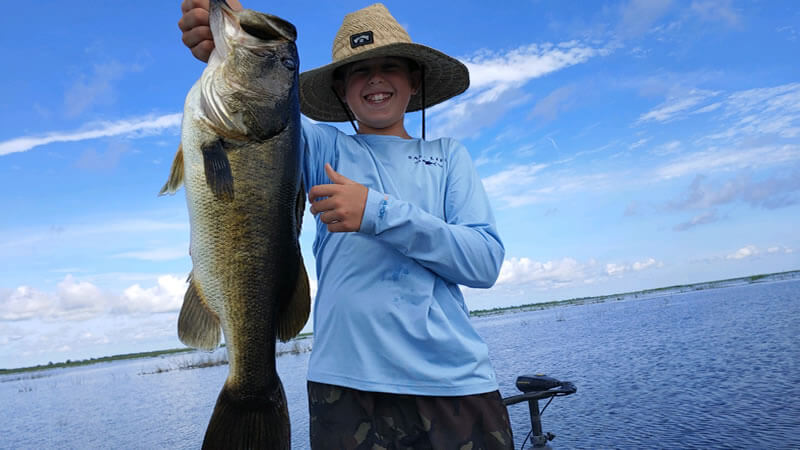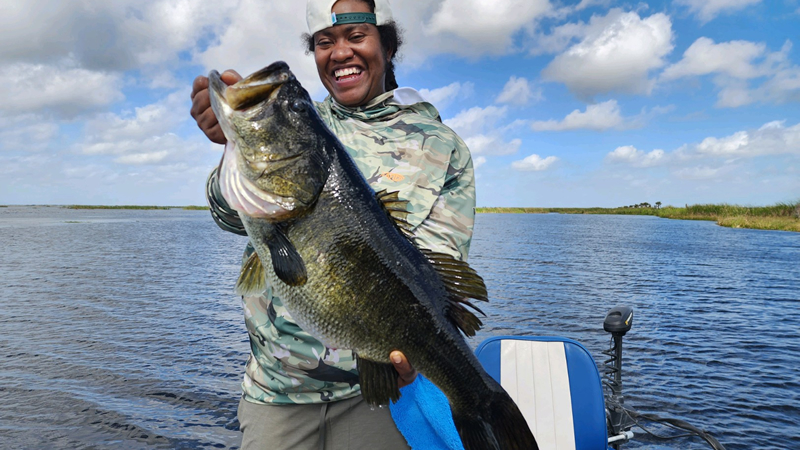 About Fellsmere
Fellsmere grade recreation area, also known as Fellsmere Reservior, Lake Eden, Headwaters Lake, and Lake Headwaters, is a 10 000 acre humanmade world class lake in Indian River county bordering Farm 13, Stick Marsh, Blue Cypress Lake, and Lake Garica. FWC and SJRWMD conducted extensive habitat work before flooding and making this a bass fishery. The structural habitat and numerous underwater features are designed to provide a once-in-a-lifetime bass fishing experience with many sport fishing opportunities.
Once the reservoir flooded, FWC stocked nearly 1,000,000 sport fish, along with crappie, bluegill, and redear sunfish. It took years to open the fishery; management actions and fish population sampling have shown the bass population has flourished in this habitat rich environment. Continue to read more to understand the structure, fishing patterns, boat ramp, maps, and why anglers think it's world class!  Read More
Trip Core Details
Region: Florida, Palm Bay
Duration: 4, 6, 8, & 12 hrs
Cancellation: 12 hrs in advance
Weather-Related: Full refund
Instant Online Confirmation
Includes All State Taxes
What's Included:
All Fishing Equipment
Professional Captain
Boat & Fuel
Cooler & Ice
Bottled water
Photos
What's NOT Included:
Florida Freshwater Fishing License for those ages 16+
Live bait if desired is also additional and is purchased the morning of the trip. (optional)
Food or Specialty beverages
Fishing Chairs
GPS & Fishfinder
Life Jackets
Catch and Release Allowed
Keep Fish Allowed within Laws
Boat Specs: 20+ ft
Boat Capacity: 4 People
All Fishing Equipment
Boat & Fuel
Photos
Light Tackle
Heavy Tackle
Livebait
Artificial Lures
Spinning Rods
Baitcasting Rods
Left & Right Handed
Fly Rods (request only)
Braid & Mono Line
headwaters lake Fishing Guides
Best Fishing Experience
★★★★★
"
I never have used a fishing guide service before, being a former guide at wilderness lodge in Montana and Idaho, I'm very glad I choose Capt Paul Dampier he is not only a guide, but after fishing with him a friend and he did a unbelievable job putting me on fish "alot of fish" and caught my PB , He's honest down to earth and no BS fish story telling fisherman. Much respect <
"
Capt. Paul Dampier ROCKS!!
★★★★★
"
4 hours. Caught 22 bass. Amazing fun day with Capt Paul Dampier on Headwaters Lake. Capt Paul knows the spots.
"
Bass Fishing Headwaters
★★★★★
"
This is our 2nd year fishing with Captain Bill. Would highly recommend! Me and my son had a blast! Looking forward to 2 more days this week. My son caught his personal best bass today!
"
Awesome Day
★★★★★
"
Had a great day with Capt. Steve on a day with 25 mph winds. He made it a fun day catching lots of fish even with the tough conditions. I highly recommend Capt. Steve and will definitely book another trip with him!
"
Headwaters
★★★★★
"
Capt. Steve Knows how and where to put you on to the big ones.. great guy to fish with… you'll enjoy the trip all day
"
Caught Bass in a Cold Front
★★★★★
"
Capt. Bill knows his stuff. I was in Florida in Dec '22 and booked a trip with him. The entire souther US was blanketed by an extreme cold snap and it was in low 30's the day of the trip. Capt Bill took me to Headwater's Lake and we still caught them. Had 40 fish that morning with two over 5lbs and 2 over 4lbs. You definitely need to book a trip with Capt Bill because you can catch nice bass in any conditions.
"
CLICK HERE TO WRITE FELLSMERE REVIEW
MORE INFORMATION ON HEADWATERS LAKE FISHING
12 Reasons Why Headwaters is Unquie
Flooding began in 2015, has been fished till 2020 by the mass public.
Access to 10,000 acres total, 7,000 is considered fishable, the rest is Marsh
Native Florida fish populations in ditches keep original stain dominant
A million bass stocked, 500,000 in 2015 and 500,000 in 2016
Florida hatchery confirm DNA test of 100% Florida strain bass
Statewide bag and length limits apply, not Catch and Release only
Stocked with Largemouth Bass, Redear sunfish, Bluegill and Crappie
FWC state regulations on Panfish and Catfish
The expected water level is 19.5 feet above sea level
Average depth 6′, deepest water 30′ plus
Just under 7 miles North to South, and 3 miles wide
Indian burial mounds, 3 exist on the lake & protected
Recreational Outdoor Activities
Of course, fishing also provides seasonal hunting, hiking, bicycling areas along levees, wildlife viewing, canoeing, kayaking, and boating. The access canals are narrow with blind corners; boating speeds shall not exceed 25 mph and enforced by FWC. These speed limits are within designated portions of channels marked "idle speed," no wake.
Wildlife viewing
Let's all respect wildlife and use caution while visiting the Fellsmere reservoir and the surrounding area. These are dedicated wilderness areas with wild animals. For the safety of the animals, please do not feed them or antagonize any wild animals. It contains a foraging and nesting habitat for snail kites and other birds on the property's eastern corner. It's not uncommon to see great blue herons, white ibis, snowy egrets, limpkins, and night herons in these wetlands. Other species include wood storks, ospreys, and bald eagles are common as well.
Kayaking Opportunities
Canoeing, Kayaking, and Paddle craft users come in countless shapes, sizes, and colors. Whether it is a paddle version or powered version, they are a popular freshwater fishing attraction in this area and have their launch ramp. Thinking of visiting Headwaters lake Fellsmere Fl, don't hesitate, it's an outstanding experience. Vegetation is very visible, but there are many canals to avoid dense areas.
It's relatively open; when fishing Fellsmere Reservoir is a massive place. Please pay attention to the weather and wind before and during your trip, especially if you plan for a long day and venturing long ways from the launch point. Without having obstructions, the wind can pick up and put quite the chop on the lake. If you find boat traffic awful, recommend during the week if at all possible. Otherwise, enjoy yourselves, it's a fantastic place!
Non-motorized access by the St Johns River water management district is available to the L75 levee and a non-motorized watercraft launch at the Fellsmere reservoir area.
Fellsmere Reservior Boat Ramp
A partnership between the St Johns River Water Management District and the Florida Fish and Wildlife Conservation Commission FWC has installed the Fellsmere Reservoir boat ramp providing anglers access. Which is in Indian River County, will open to the public from daylight to dusk.
You will find a pair of beautiful boat ramps with floating and complete ADA access—a complete paved ramp parking area with basic restrooms. There is no tackle shop, store, ice, or gas; please get all that before you arrive. The taxpayers contributed over 1 million dollars to enhance this project.
Current hEADWATERS Fishing ReportS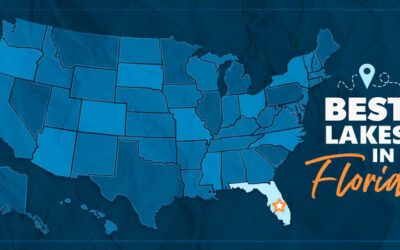 Ranked #1 Best Lakes in Florida BASSMASTER >> Rodman Reservoirs' reputation as one of the best lakes in Florida stood out in the nation by received another boost on Monday...
read more
Fellsmere Reservoir Directions
Headwaters Lake is directly east of Sebastian Florida and just South of Melbourne on the Treasure Coast. Where you can find the local Bass Pro Shops named after the local fishery "Stick Marsh Outpost." Located on the border between Brevard and Indian River counties, which is separated by the C-54 canal. As you driving down Stick marsh road, this is the canal on your north side; it runs west to a spillway at the Stick Marsh boat ramp area.
Either traveling from the north or south, I-95 is your best option. Because of the interstate access, the reservoir is a pleasant drive for anyone from any direction.
North
I am coming from the north, exit Malabar road on I-95 in Palm Bay. Exit east, turn south on Babcock Street, go for approximately 11 miles. Look for a small concrete bridge; it's labeled the C54 canal; turn right after the bridge onto Fellsmere Grade Road.
South
If traveling from the south, exit Fellsmere Rd off I-95. Head west on SR512 into the town of Fellsmere. Turn right on N Broadway Street, go 1/4 mile, then take a left on South Carolina Ave. Go 1/4 mile again and take a right onto SR507.
Look for a small concrete bridge; it's labeled the C54 canal; turn left before the bridge onto Fells Grade Road.
Continue west on Fells Grade Road, following the C54 canal on your right for approximately 7 miles. The road has improved over the years; it is a graded dirt road. Like all dirt roads, it can be dusty during the summer, bumpy anytime, and have lots of puddles during the rainy season. The speed limit is posted 35mph, but you will find the people that creep and others that almost fly. It's 5 miles give or take, to Headwaters lake boat ramp and park lot, which will be on your left; if you continue to the end, this is the Stick Marsh Farm 13 park lot and overflow lot for the Fellsmere lake ramp.
Being new, we have seen the park lot complete busing at the seems, there is typically plenty of parking, but the fishing continues to bring more people. An overflow area for times of high use has been established, which helps. Do not park along the main road; you will be towed. Wintertime brings tourists from the north, duck season for locals, and crappie anglers. This is the prime season, so plan on the parking lot being full.
A few covered picnic areas make for a nice family picnic if you pass through. It also has public grills and restrooms, which are fancy outhouse style bathrooms.
Note: Additional parking is available 2 miles west at the Stick Marsh boat ramp.
Note: Below find a Fellsmere water management area map by St Johns River Water management
What are you waiting for?
We also have great deals available on the following lakes that match your search criteria.