Lake Rating:
Lake Rating - Read customer reviews of lake, click to read
Only Local Experts
Led by locals who love where they're from and what they do.
Private Groups
With intimate group sizes, you'll never get lost in the crowd.
Highest Standards
Every experience is reviewed for quality, uniqueness and is completely private.
FISH STICK MARSH IN FLORIDA
Pricing?

To get current pricing. Click on the AVAILABLE button on the pictures below. Then adjust the date, time, and the number of people and it will display the total price
Searching Availability...
About Stick Marsh Fishing & Tours
About Stick Marsh
Florida fishing Stick Marsh which is the St Johns Water Management Area (SJWMA), known to most anglers as the Farm 13/Stick Marsh, is a 6,500-acre impoundment located along the east coast of central Florida in northwest Indian River County. The Stick Marsh/Farm 13 was created in 1987 and opened to the public around 1991. Water depths range from 4 to 8 feet. Boaters unfamiliar with the area advised navigating is a hazard to fishing locations. Use extreme caution due to the number of human-made and natural hazards and many underwater stumps. 
Facilities include a double lane concrete boat ramp, airboat launch site, restroom, and paved parking lot. The closest cities to Stick Marsh are Melbourne, Palm Bay, Vero Beach, Sebastian, and Fellsmere. Also, beware, there is no access to fuel, food, or bait available on site. Trendy catch includes largemouth bass, bluegill, redear sunfish, black crappie, and several catfish species.
Trip Core Details
Region: Central Florida – Palm Bay
Duration: 4, 6, & 8 hrs
Cancellation: 12 hrs in advance
Weather-Related: Full refund
Instant Online Confirmation
Includes All State Taxes
What's Included:
All Fishing Equipment
Professional Captain
Boat & Fuel
Cooler & Ice
Bottled water
Photos
What's NOT Included:
Florida Freshwater Fishing License for those ages 16+
Live bait if desired is also additional and is purchased the morning of the trip. (optional)
Food or Specialty beverages
Fishing Chairs
GPS & Fishfinder
Life Jackets
Catch and Release Allowed
Keep Fish Allowed within Laws
Boat Specs: 20+ ft
Boat Capacity: 4 People
All Fishing Equipment
Boat & Fuel
Photos
Light Tackle
Heavy Tackle
Livebait
Fly Fishing
Artificial Lures
Spinning Rods
Baitcasting Rods
Left & Right Handed
Fly Rods (request only)
Braid & Mono Line
Fishing beautiful Stick Marsh in Fellsmere Florida on a boat fully equipped with top quality rods, reels, hooks, and artificial lures. 
Exploring state-ranked Stick Marsh in search of trophy largemouth bass, hard-fighting black crappie (speck) and so much more.
Guided fishing tour by a USCG professional fishing captain knowledgeable of Central Florida and all of its waters. 
Take home a souvenir of your big catch with perfect photos taken by your guide and spread on social media as desired.
Local Operator Information:
Complete Operator information, including local telephone numbers for your destination, are included on your Confirmation email. Our Trip Managers select only the most experienced and reliable guides in each destination, removing the guesswork for you, and ensuring your peace of mind.
Participants are encouraged to bring comfortable shoes, a light-colored shirt, a hat, sunglasses, and sunscreen.
Stick Marsh Fishing Guides
Stick marsh – Farm 13 Reviews
Stick Marsh blowout
★★★★★
"
Bill put me on good bass action all day at Stick Marsh. What a great day and good fishing. We landed over 30 with several whoopers. Will use Bill again.
"
Capt Bill Goudy Excellent trip
★★★★★
"
I highly highly recommend Capt Bill Goudy who I booked via bassonline.com. He was a great fishing guide, coach, and host to the Florida outdoors. He had just the right amount of involvement and led us to the largest Bass we had ever caught or seen in person. I will be using him again. He is also great with kids and showed the patience and good nature you would expect from someone you would like to go fishing with.
"
Florida Bass Fishing
★★★★★
"
Did a day on Stick Marsh with Captain Mark "Turtle: Hilles. It was a great experience and wonderful day. Caught some great bass and lost a few. Mark is a great guide and really knows what he is doing as far as putting us on fish and advising us on technique. He is very personable and fun to be with. Any future Florida bass trip will always be with mark!!
"
Capt Mark "Turtle" Hilles
★★★★★
"
Great fishing trip, Capt Mark "Turtle" put us on fish Immediately and the bite continued thru out the trip. His knowledge of Stick Marsh and what techniques worked best certainly made the difference to make it a successful and awesome day
"
Great day at Stick Marsh
★★★★★
"
I had a great experience booking this charter with bass online. They matched us up with a wonderful and professional guide. They communicated all information in a clear and timely manner. Most importantly our guide, Mark "Turtle" Hilles was able to put us on fish despite fishing just after a windy cold front had passed through. We caught a bunch of nice fat bass up to 6.5 pounds using both live bait and artificials. "Turtle" was great and we had a great day at the Stick Marsh!
"
Stick Marsh trip with Capt. Mark
★★★★★
"
Fished the stick marsh with Capt. Mark yesterday. Mark did a great job helping us find fish on a real windy day. We fished artificials and shiners and caught fish on both. Marks boat was in excellent condition and we had lots of fun. Would recommend fishing with Mark again. Thanks for a fun day. Bob & Greg from Massachusetts
"
CLICK HERE TO WRITE AEROJET REVIEW
Stick Marsh Fishing
FWC Angler surveys conducted between January and April indicate a noticeable drop in an effort, catch, and success for all sport fish, including bass. This time of year, the diet of largemouth bass typically consists of threadfin and gizzard shad. Artificial lures that imitate shad, including top-water, shallow-running, and deep-diving crankbait, should be angler's' best bets. As always, golden shiners are the live bait of choice for anglers searching for trophy bass, followed by plastic worms.
Black crappie (speckled perch) fishing can be rewarding for those anglers willing to seek them out this time of the year. Look for crappie around the deep-water structure, such as in Ditch 7 or along the underwater levees and ditches' drop-offs. Small jigs (1/32 and 1/8 ounce) with twister-tail or tube style tails and minnows should be productive in deep water and along grass lines. 
The perimeter levees and tops of submerged levees are prime feeding and spawning locations for bluegill and redear sunfish (shellcracker). Live crickets, worms, and grass shrimp will be the baits of choice, followed by beetle spins and small jigs. Catfishing on this reservoir is usually quite good, with traditional baits and methods all being productive.
Uniquely Different
Not only will you fish with a professional guide, all of our trips include Fully equipped Bass boats, fuel, and tackle. Everything you need for that trip you've been waiting for, we provide. The only thing you will need to have is a Florida fishing license.
Corporate trips are welcome and very common for us, because of our size. We can accommodate your fishing needs from one to a hundred. We also can provide everything from breakfast and box lunches to a southern BBQ to end the day.
Suppose you want to catch big fish and know where big fish are! Stick Marsh Farm 13 is prime waters for the trophy largemouth bass fishing. Many catches in the 10-pound range take place each year. Join us for a safe and fun fishing trip. You have earned it, and we want to be part of it!
Our Stick fishing guides data-preserver-spaces="true"> are hand-picked from the best local anglers in the area, so you don't have to. These anglers have fished Stick Marsh and Fellsmere Headwaters full time since inception. Believe and trust in our experience, reliability, and consistency to provide what you want. We design and our team by the local skills needed to provide the best fishing trips in the area. Fishing guides are insured, and property US Coast Guard licensed captains red to ensure your fishing trip success and safety.
Patterns & Seasons
Stick Marsh fishing guides catch trophy largemouth bass still on in a hot weather pattern, meaning good catches are still possible for those who can adapt to the changing conditions. As most bass fisheries, the first light will likely have the most success before the morning sun intensifies. Many local anglers prefer the late evening bite, especially after the thunderstorms have dissipated, as the best time to fish for bass. 
As midsummer approaches, look for bass distributed widely throughout the reservoir, oriented to the shallow tops of underwater levees and woody structure along the western and southern shorelines. The intersections of the submerged north-south drainage canals in Farm 13 should also hold good numbers of bass. During the onset of the rainy season, anglers should also key in on water control structure outflows, as bass will school up in these areas to feed, often generating a healthy bite.
Current Stick Marsh Fishing Reports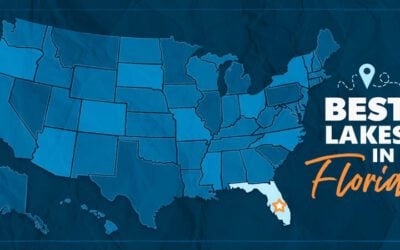 Ranked #1 Best Lakes in Florida BASSMASTER >> Rodman Reservoirs' reputation as one of the best lakes in Florida stood out in the nation by received...
read more
What are you waiting for?
We also have great deals available on the following lakes that match your search criteria.