Vero Rating:
Vero Beach Rating - Read customer reviews, click to read
Vero Beach is a small city along the East Coast of Florida in the United States. Vero's Atlantic beaches are on a barrier island across the Indian River Lagoon. There is a network of rivers and inlets throughout the city where the manatees roam, and anglers can fish. Anglers travel from all over the world to participate in the wide variety of fishing charters in Vero Beach. 
The inshore waters of Vero Beach are known for Snook, Redfish, Tarpon, and Trout. Go deep in the Atlantic with your Vero Beach captain for Sailfish and Mahi-mahi. Florida's famous Lake Okeechobee is only an hour's drive from Vero Beach to do some great bass fishing. The city of Vero Beach is located along the Indian River Lagoon Indian River section and is known for its water sports, golfing, and incredible fishing.
Fishing in Vero Beach Fl
Vero Beach has some of the top fishing charters in the state for sport fish. You can fish for snook, redfish, trout, and tarpon all year. Fish the reefs and wrecks for grouper and snapper or go on offshore fishing charters for a shot at Sailfish and mahi-mahi. Experience a Florida bass in Lake Okeechobee, Stick Marsh, and other nearby lakes. Vero Beach fishing charters go out year-round for freshwater, inshore, and offshore trips with a local professional captain.

Instant Confirmation
  Angler's Top Choice
FREE Cancellation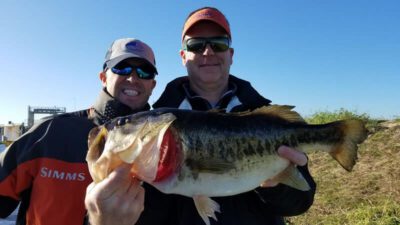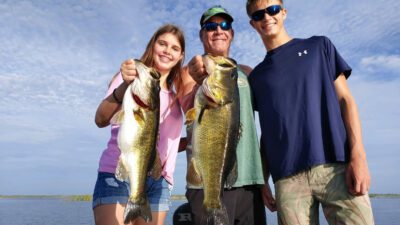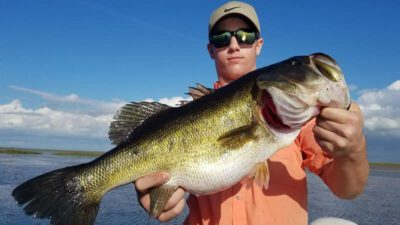 Vero Beach Fishing Freshwater
Vero Beach is about an hour from the world's most famous trophy, largemouth bass fishery, Lake Okeechobee. Fishing charters going out of Okeechobee City, the north end of the lake, is the closest launch point to Vero Beach, Florida. Aside from the great Lake Okeechobee, Vero Beach has the chance to experience hidden gems in Old Florida.
When it comes to largemouth bass, none stand out more than the famed Stick Marsh for year-round numbers and fish size. Lake Garcia is a human-made Vero Beach lake that covers about 3,657 acres. Kenansville is also a primary fishery in the area and a bass fishing lake abundance of vegetation and natural cover. Taking fishing charters to any of these areas will allow you to experience an accurate Florida bass.
Live bait is generally the best way to catch a trophy, but artificial lures such as senkos, worms, jigs, crankbaits, and spinnerbaits can be helpful too.
Florida's Exotics
Vero Beach is only an hour and a half from Palm Beach, where your local captain can put you on a famous exotic peacock bass. Traveling to Lake Ida or Lake Osborne in Palm Beach is well worth the drive to catch this fish that can't be caught anywhere else in the United States. Other exotics found here include Oscars, spotted tilapia, and Mayan Cichlids. This area contains Bullhead Catfish, Florida bass, scenic views, and unique fish.
Vero Beach Fishing Saltwater
Inshore Fishing
Fishing the Indian River near Vero Beach, Florida, provides stunning scenery and constant action. Snook, Redfish, Tarpon, Trout, Flounder, and Sharks are popular species commonly caught on an inshore fishing charter.
The lagoon is also full of inlets near Vero Beach, such as Sebastian Inlet and Ft Pierce Inlet, holding fish species such as Cobia, Permit, and Trevally. Fishing Sebastian Inlet is best during the Spring and Summer seasons at night. Sebastian Inlet's current is powerful, pushing bait in and out, making it a perfect spot for lurking predatory fish such as snook, tarpon, trout, redfish, and more.
The river is lined with mangroves and grass flats, providing an ideal habitat for these inshore gamefish. The Vero Beach River has clear, shallow sections creating optimal conditions to sight-fish snook, redfish, and seatrout.
The Best of Inshore Species
The waters off Vero Beach hold various species, including Jacks, Black Drum, Tripletail, Groupers, and mangrove snapper, but Indian River is best known for its redfish and trout fishing.
Redfish thrive in the Indian River's shallow, grassy water. Redfish usually feed on shrimp, crabs, and mullet, so any lure or fly mimicking these will likely get a bite. Spinning gear with light tackle and fly fishing are the most popular methods to catch redfish in the river. One of the best saltwater experiences an angler can have is sight-fish a tailing redfish. The Indian River Lagoon is known for holding huge "Bull" Redfish between 20 and 50 pounds.
Redfish of this size are usually found in deeper waters and are rarely found in coastal waters, making the Indian River Lagoon a real fishing adventure worth traveling for.
Speckled Trout fishing along the river off Vero Beach is world-famous. The Florida state-record speckled trout was hooked here, weighing over 17 pounds. The specks in the river regularly grow larger than anywhere else in Florida. It's not uncommon for anglers to reel in fish over 30 inches long and weigh over 15 pounds. Seatrout is ambush predators who feed on shrimp, mullet, and other baitfish in the mangrove forests and grass beds.
Cloudy weather is when seatrout is most active; morning and evening are the best times of the day. Like the redfish, sight-fishing with spinning gear, light tackle, or a fly rod is the most popular way to fish for seatrout. Seatrout has a good sense of sight and sound, causing them to spook very easily.
Deep-sea Fishing
The Atlantic Ocean near Vero Beach is full of reefs and wrecks just a few miles offshore. These fishing trips are considered nearshore and can be done in half-day. Species caught on a reef fishing charter include Grouper, Snapper, and Kingfish.
As you head further out to sea, you start reaching the bigger fish, such as mahi-mahi, marlin, blackfin tuna, goliath grouper, blacktip, snapper, Sailfish, and swordfish. These offshore fishing charters require a full-day trip.
Indian River Lagoon
The Indian River Lagoon is a 156-mile-long biodiverse estuary on Florida's Atlantic coast. It begins north of New Smyrna at Ponce Inlet and extends past Vero Beach to Jupiter Inlet. The Indian River Lagoon is home to over 4,300 species of animals and plants, including over 700 fish species. Indian River Lagoon consists of three main sections with four water bodies: Mosquito Lagoon, Banana River, Indian River, and Hobe Sound.
The Indian River is where Vero Beach is located and runs from Titusville down to St. Lucie. This part is the most extended section of the Indian River Lagoon in Florida.
Sections of the Lagoon
Mosquito Lagoon is from Ponce de Leon Inlet to the north end of Merritt Island.

Banana River is an offset of the Indian River on Merritt Island's eastern shore.

Indian River is the largest and main body of water, extending from northern Brevard County to the southern boundary of Martin County.
Top Targeted Fish Species
Charter Fishing Experience
Vero Beach fishing is consistent year-round, with the ability to do a 4, 6, or 8-hour fishing trip. Even the half-day trip consists of 4 hours full of action and Vero Beach beauty, whether be a half-day inshore trip, a reef trip nearshore, or a freshwater trip for some incredible bass. Whether you're a light tackle expert or fishing for the first time, Vero Beach is the perfect area for a fun day on the water.
Top fishing charters for families with kids or anybody prone to seasickness are the inshore and freshwater trips. Your captain will have everything you need for a successful Vero Beach fishing trip, including a fully equipped boat with professional safety equipment, rods, reels, and tackle.
Singer Island
Singer Island is less than 20 minutes away from Palm Beach, an oceanfront area of Riviera Beach. The site features about seven miles of topical beach where people come for the best water and nature experiences. Singer Island has fancy hotels and resorts, snorkeling, scuba diving, and incredible fishing. Charter fishing here, whether deep sea or inshore, both make for a memorable fishing experience.
John D MacArthur State Park in Singer Island is nestled on a barrier island and sits in Lake Worth Lagoon's estuary and the Intracoastal, where you can kayak, hike the trails, and fish the sea. There is a lot to do here on Singer Island, but many people travel here to experience catching its deep sea fish.
Great Fishery
★★★★★
"
An interesting fishery found down the 7-mile dirt road, not the most pleasant thing to experience in the morning. Once at Fellsmere Lake, the boat ramp is nice and well organized. Once you get over those two obstacles the place fishes really well.
"
CLICK TO WRITE A VERO REVIEW
Area Things To Do
Vero Beach is known for its beautiful beaches, a perfect area for sunbathers, water sports, and volleyball. Vero is a top vacation destination with various hotels, nature tours, museums, shopping malls, and parks.  One well-known spot is Vero's oceanside historic downtown area full of shops and local cuisine. Popular attractions in Vero Beach include the Vero Beach Museum of Art, McKee Botanical Gardens, Toni Robinson Waterfront Trail, Hole in the Wall Island, and Turtle Trail Beach.
Fishing Vero Beach Without a Boat
The river of Vero Beach is a popular area for anglers to wade.  Most of the areas in the river are available to wade. The most popular areas are around the bridges. Many docks and bait shops around river banks rent rods and reels.
Kayak fish is a great way to fish while getting up close and personal with wildlife without stepping into the water. Many of the river's parks rent kayaks for you to launch at one of the many access points. Local captains are available for a kayak guided fishing trip in the river of Vero.
Seasons
Many fish are available year-round for anglers to catch on a Vero Beach fishing trip. The freshwater and inshore fish caught year-round in Vero Beach are Spotted Seatrout, Tarpon, Redfish, and Snook. All these species require a valid Florida fishing license to catch.
Certain seasons are best for some targeted fish, and even the fishing in Vero Beach Fl all year, such as tarpon, snook, and redfish, maybe more significant during their optimal months.
In January, the Sailfish become abundant and close to the coast. You can find Flounder, Cobia, Tripletail Inshore, and bottom fish for Lane Snapper.
In February, there's an abundance of mangrove snapper. Snook, Jacks, Tripletail, and Sheepshead are all around as well.
March is excellent for mahi-mahi, Sailfish, blackfin tuna, and wahoo offshore.
April means great weather with active Sailfish, mahi-mahi, and wahoo.
May is good for King Mackerel, Sharks, and Sailfish out at sea. Inshore fishing charters are catching Jack Crevalle and Snook.
June means summer sailfish, tarpon, sharks, and many snooks.
July is prime time for offshore fishing in the Atlantic. Top species include Sailfish, Mutton Snapper, King Mackerel, Blackfin Tuna, and Wahoo.
August is still prime for deepsea fishing for mahi-mahi, Amberjack, Mutton Snapper, King Mackerel, Wahoo, Blackfin Tuna, bonito, and sharks.
September is when the redfish are abundant, along with trout, black drum, and tarpon. An Offshore fishing charter will get you Kingfish or Amberjack.
October is best for redfish, Sheepshead, Trout, Tripletail, Ladyfish, Pompano, Black Drum, Jack Crevalle, tarpon, and mangrove snappers.
November is best for catching tripletail, black drum, sheepshead, pompano, and Spanish mackerel during your charter.
December means incredible sailfish fishing offshore. The coastal waters have huge redfish and excellent snook fishing. Bottom fishing charters now are catching grouper and schools of mangrove snapper.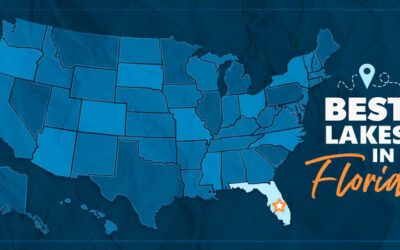 Ranked #1 Best Lakes in Florida BASSMASTER >> Rodman Reservoirs' reputation as one of the best lakes in Florida stood out in the...
read more
Questions? Feel free to call us, Email us or use the chat us to speak to one of our specialists.
Questions? Feel free to call us, Email us or use the chat us to speak to one of our specialists.
Questions? Feel free to call us, Email us or use the chat us to speak to one of our specialists.
What are you waiting for?
Nearby Fishing in Vero Beach Fl Destinations
We also have great deals available in the following cities that match your search criteria.