Port St Lucie Rating:
Port St Lucie Rating - Read customer reviews, click to read
Complete Guide to Fishing in Port St Lucie Fl
Port St Lucie is a southern Florida city on the Atlantic coast, located 30 minutes south of Fort Pierce. St Lucie County is a part of what makes up the beautiful treasure coast.
As one would imagine, Port St Lucie is known for being one of those charming, Old Florida towns lined with palm trees. Its uncrowded waters provide fishermen excellent opportunities to catch the most sought-after fish. Port St Lucie is undoubtedly a destination where it's possible to break your personal record. Many famous anglers have done so, in places like Lake Okeechobee, it's also a place where you can fish from land or by water. When visiting the state of Florida and going to Port St Lucie, make sure you experience some excellent bass fishing. Beyond the great Florida Bass Fishing, you genuinely get to see what southern Florida and Port St Lucie are all about. People can catch largemouth bass all year round in numbers and size. In addition to the excellent freshwater fishing, Port St Lucie offers incredible saltwater fishing opportunities both inshore and offshore. 
Experience world-record fishing in a small town with Port St Lucie fishing charters.
Best Spots to Fish in Port St Lucie

Instant Confirmation

  Angler's Top Choice

FREE Cancellation
Best Nearby Bass Fishing Spots
Some of the country's best freshwater game fish fishing happens within an hour of Port St Lucie and Fort Pierce areas. Anglers travel from around the world to catch trophy bass in Lake Okeechobee, Stick Marsh, and Fellsmere Reservoir, as well as south to Lake Osborne to catch the exotic peacock bass.
Lake Okeechobee
Lake Okeechobee is a man-made lake and one of the most famous big bass bodies of water in the world. It's Florida's largest lake and provides a thriving home to our largemouth bass as well as other wildlife species. The fishing here is excellent throughout the year and makes for the ultimate fishing charter of a lifetime. There are multiple spots to fish out of on this giant lake, but Okeechobee City on the north end would be the best when traveling from Port St Lucie.
Stick Marsh
Another great fishery is Stick Marsh in East Central Florida. Stick Marsh is primarily a bass fishing lake because of the abundance of vegetation, natural cover, and stumps. Big bass love this stumpy, grass lake for all it has to offer. This spot provides a unique and scenic fishing adventure.
Fellsmere
Fellsmere is a world-class man-made lake that borders stick marsh. The SJRWMD and FWC conducted extensive work on the habitat before flooding, making this a top fishing spot. Once it was flooded, the FWC stocked about 1,000,000 game fish and popular panfish such as crappie, redear sunfish, and bluegill.
Lake Osborne
Lake Osborne is a great fishery that has been designated as a mega fish area located in the town of Lake Worth in Palm Beach County. Just a short drive from the city of Port St Lucie, you truly can experience its uniqueness. It provides the opportunity for largemouth bass, peacock bass as well as Clown Knifefish. So enjoy our many Florida Fishing Trips in Port St Lucie for a complete freshwater experience.
Saltwater Fishing
Port Saint Lucie has become home to some of the best saltwater fishing charters in the state. Its various inlets and creeks for inshore fishing charters and the mighty Atlantic ocean close by offers some incredible offshore fishing.
Inshore
An inshore charter trip is an excellent option for anybody looking for Florida's top gamefish while still having the shoreline in sight. Explore the mangroves and grass flats, enjoying the beautiful views catching snook, tarpon, redfish, and sea trout less than a few miles from shore. Other popular fish species caught on St Lucie inshore fishing charters include pompano, snapper, and jack crevalle. In addition, the nearby Fort Pierce inlet is home to the world record spotted sea trout that weighed 17 pounds.
The St Lucie River is a part of the Indian River Lagoon system, one of the most diverse estuarine ecosystems in North America, with over 4,000 animal and plant species. While on a St Lucie river fishing charter, you will likely see manatees, dolphins, oysters, sea turtles, and seahorses.
The Indian River lagoon stretches 156 miles meaning there are tons of different spots to launch from throughout the year. Inshore fishing charters are a great option throughout the year because between the St Lucie River, Fort Pierce Inlet, and other parts of the lagoon; there will always be a spot with fish that your guide will know about. 
Inshore fishing trips are ideal for fishermen of all ages and skill levels to enjoy the ultimate coastal fishing experience with friends and family.
Deep-Sea
Offshore fishing charters can involve bottom fishing the closer reefs for tasty fish species such as grouper and snapper or traveling far offshore to the deeper waters for pelagic action for fish such as sailfish, mahi-mahi, and more. Areas known as Bethel Shoal Buoy and St Lucie Hump are spots of deep waters that hold giant snapper and grouper, as well as sea bass, tuna, and mahi-mahi. Other fish species roaming the Atlantic commonly caught on different offshore fishing charters include Mackerel, Kingfish, marlin, and much more. Various fishing methods on offshore fishing trips can consist of kite fishing, bottom fishing, and using the trolling motor to get hooked up while traveling further out.
Top Targeted Fish Species
Area Things To Do
St Lucie County is an excellent place to visit to experience a beautiful beach, incredible fishing, and iconic scenery that this part of the United States is famous for. In addition, there are tons of tours to take to experience the fantastic mangroves and wetlands or cruise the st Lucie river to see alligators and wild dolphins. Port St Lucie, Florida, is also home to a large number of nature preserves and parks for nature lovers to explore firsthand the local flora and fauna.
Attractions
There are tons of places to go and see throughout St Lucie County for visitors of all ages and interests. Some of the most popular attractions include Tradition Field, Superplay USA, Carmike Cinemas, River Lilly, Cruises, Dolphin Watch Boat Tours, and Civic Center Art Gallery.
Nature Parks
Be one with the natural world by exploring some of the best nature parks and trails in Port St Lucie and Fort Pierce. Some of the best places to check out are Woodstork Trail and Hillmoor Lake Park, Oxbow Eco-Center, Oak Hammocks Park, Port St Lucie Botanical Gardens, RiverWalk Boardwalk, and Spruce Bluff Preserve.
Dining
Port St Lucie and Fort Pierce have both popular chain restaurants and the unknown but mom and pop places for unique, quaint dining. Some of the most popular places to try are Fernando's Dockside Grill, Berry Fresh Cafe, Cottage Grill, West End Grill, and The Tin Fish.
Local Port St Lucie Captains & Guides
Bottom fishing
★★★★★
"
This is my third trip with my son and Bass Online fishing. As always we had a great time and caught some great fish including a huge 8.7 lb bass. Each time we go we seem to catch bigger fish which is awesome. It's also just a beautiful trip out to the fishing hole. Always a easy to work with and takes care of everything. I can't say enough.
"
CLICK TO WRITE A Port St Lucie REVIEW
Current Port St Lucie Fishing Reports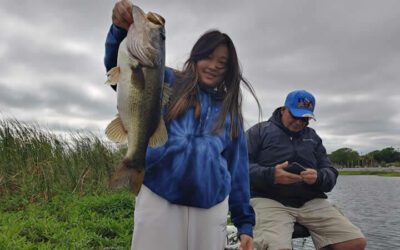 The Best Guided Bass Fishing in Florida Maybe you have done guided bass fishing in Florida, and perhaps you haven't. Perhaps you are a...
read more
Questions? Feel free to call us, Email us or use the chat us to speak to one of our specialists.
Questions? Feel free to call us, Email us or use the chat us to speak to one of our specialists.
Questions? Feel free to call us, Email us or use the chat us to speak to one of our specialists.
What are you waiting for?
We also have great deals available in the following cities that match your search criteria.