Boca Raton:
Boca Raton Rating - Read customer reviews, click to read
Enjoy the endless Boca Raton Fishing that contains some of the best waters to fish for South Florida exotics. These lakes in Palm Beach County are a great place to spend time with family and friends. Bring out all those looking for an adventure and enjoy a day in the outdoors within a short drive of the city of Boca Raton. The Lake Ida Chain of Lakes is a very productive system for peacock bass and largemouth bass. You can also catch the elusive Clown Knife Fish and Asian Snakehead fish on a Boca Raton fishing charter as well…
Lake Ida has about 360 acres of water connected through extensive urban canal systems. One of the many benefits of fishing this chain of lakes is the ability to fish two excellent fisheries for South Florida Exotics.
Lake Osborne is an amazing lake that has endless opportunities to explore what Florida has to offer. You can either travel to Lake Worth where this Lake is located or put in at Lake Ida and cruise your way through the canals enjoying the scenery.
After a day on the water, you can enjoy an afternoon at the city parks at your meeting location. Lake Ida Park or John Prince Park are great places to spend additional time with the family for a picnic or other outdoor activities.

Instant Confirmation
  Angler's Top Choice
FREE Cancellation
Great experience!
★★★★★
"
Stayed in Boca Raton with my family and was looking for something to do with all of them. The fishing worked perfectly for everyone, it was easy, professional, and affordable. Will do it next in town!
"
CLICK HERE TO WRITE A BOCA RATON REVIEW
Top Targeted Boca Raton Fish Species
Local Boca Raton Fishing Guides
USCG Credential Verified
Child Friendly
Angler's Top Choice
Capt Brett Isackson

 
is and has been a full-time fishing guide in South Florida for over 15 years. Is the go to guide for all exotic species specialist, peacock, clown knife fish and 
[Read More]
USCG Credential Verified
Child Friendly
Angler's Top Choice
Capt Dave Lauer
 is part of our Bass Online Pro Team and a top angler on Lake Okeechobee, and a full-time guide on his home waters out of Slims Fish Camp in Belle Glade, FL
[Read More]
USCG Credential Verified
Child Friendly
Angler's Top Choice
Capt Robert Miley is a full-time South Florida fishing guide and started fishing Everglades in 1970. A well known as the "King of Peacock," and has over 20 years of knowledge [Read More]
ABOUT BOCA RATON FISHING
Boca Raton, by many standards, is considered elitist when compared to many other places in Florida. It has its own skyline, unique sandy beaches, and an inlet with direct access to the Atlantic Ocean. The focus could easily be on shopping or the saltwater; the current boom and movement are inland.
Anglers are recording and smashing IGFA records for very unique species! So, grab your rods, head out to Boca Raton fishing, and explore the miles of lakes and canals of waterways that are only available here. With good luck, you could end up in the history books!
Read More
So let's not make it all about the record books; maybe we focus the fun! Its widely known Boca Raton is known as big game saltwater fishing waters. It has does have something to offer for every kind of angling enthusiast. It's safer, it's less experience, and much more accessible. There are fish-filled waters to explore, a scattering of boat docks, intersections, and shorelines, that are fish highways!
Before venturing out into the city, read below. We've put together a great list of information to help you be successful on your next Boca Raton fishing trip!
Boca Raton Fish Species
One thing for sure about Boca Raton, it has a stable and year-round population of fish and people. This means, at times, you may see added fishing pressure, but even so, plenty of impressive catches. Not to take-a-way from the saltwater species, but we list all the favorite local fish to catch in Boca Raton. They simply couldn't make the cut compared to the local favorites.
Peacock Bass
South Florida is known widely now for possessing Peacock Bass. If you're looking to catch one of these beauties, Boca Raton provides an excellent opportunity to do so. From downtown Boca Raton its is a short drive north to the Lake Ida chain of lakes!
The peacock bass inhabits South Florida waters year-round; they are now residents of Florida. As with snowbirds, they enjoy its warmer weather. The added population of threadfin and gizzard shad make them quite happy as well. This all adds up to warm water, making them vulnerable to anglers all year long. It's heavily stocked with fish, so make sure to have a camera to snap a photo of your catch.
Read More
Peacock can, at times, be exceedingly stubborn; artificial lures should as rattle traps, hard jerk baits, and even a low profile spinnerbait will catch them. When the bite is off, live bait is the go-to, that produces excellent numbers of fish. These feisty fish, for their size, will get your attention and respect. Known as the "most aggressive" freshwater fish in Florida, the Peacock Bass often, once hooked, breaks lines and hearts of anglers. This unknown and the ones that got away make them the most popular fish species in Boca Raton!
Clown Knife Fish
The Clown knife fish is a new trendy fish being caught in Lake Ida and Lake Osborne. It's an aquarium fish that was illegally released. That has multiplied by the thousands and has grown to over three feet long. Also becoming a fastly popular table food by locals.
The Clown Knife Fish has a very memorable name, and it has exceptionally unique looks to match. This Clown knife fish what they call "nocturnal" and only eats any live fish, consisting of anything that will fit in its mouth. They live in the canals, typically like access to deeper water, and prefer no current and vegetation to hide and ambush its meals.
Read More
So not native to Florida, the tropical waters of Indochina is home to the Clown Knife Fish. Worldwide, they are known as aquarium fish. These local fish either escaped or were released into the waters around Lake Ida by a private owner.
They put up a completely different fight than a Peacock bass or Snakehead. Still, acrobatics abilities have become a hit with anglers everywhere.
LARGEMOUTH BASS
Bass fishing in Florida is popular; how big, you ask. An estimated over 2 million resident anglers and more than a million visitors looking for that trophy largemouth bass in Florida every year. Credited with the title of "Fishing Capital of the World."
While many saltwater anglers play an essential role in the state's economy, Florida's largemouth bass is why it is called the fishing capital. With the addition of added species listed here, Florida has worldwide recognition.
Sunshine Bass
The sunshine bass is a hybrid produced by crossing a female white bass with a male striped bass. The Lake Ida Sunshine bass closely resembles both striped bass and white bass making identification difficult. Stocked in Lake Ida by FWC, the sunshine has a deep body and an arched back similar to the white bass. A mid-body break inline pattern occasionally occurs.
Like stripers, Sunshine bass is voracious feeders, so you can often find schooling in Lake Ida. Consuming any kind of small fish they can catch, including threadfin and gizzard shad. Young fish also feed on mayflies and crustaceans. Sunshines also travel in schools, so once you see one keep casting, it generally leads to mutable fish. The feeding times most popular for Sunshine bass are like most freshwater fish; look for activity in the early morning or evening is most common.
Read More
As sport fish, Sunshine bass is known for its excellent fighting ability on light tackle. Live threadfin or other small shad are by far the most effective bait for sunshine bass. Artificial lures such as Steel Shad, natural crankbaits, or spoons work best. Topwater plugs are most effective when fish are feeding on the surface. As a sport fish, specific bag and size limit regulations apply.
MORE INFORMATION ON BOCA RATON FISHING
Ways to Fish in Boca Raton
Your target choice species isn't the only thing that'll determine why to consider the Boca Raton fishing experience you will like. The other big decision? The price? Do you get Seasick? How many people are going? Below find some of the most popular ways to go fishing in Boca Raton…
Fishing Charters
Boca Raton fishing charters in the saltwater offer anglers access to fully tailored adventures to their specific needs. You won't need to research and purchase new gear to use, as your captain will provide everything. This is important, as you can focus on just having a good time and catching fish with your family and friends. When you have limited time, it's truly the best option to give yourself the best chance at landing a trophy worth bragging about.
Read More
Hiring a fishing guide means they will know what methods to use for any given situation you encounter. A good captain is very attentive to the customers on board; depending on your skill level, he or she will adjust the teaching level. You can also watch and ask a question as the captain quickly changes patterns to find the most active fish. This creates fun, learning moments, and ends with a more productive fishing charter!
Kayak Fishing
These are great waters for kayak anglers; you'll get access to water most cannot and not have to worry about boat traffic. There are numerous locations to launch your Kayak from shore and be reasonably close to where the fish are biting. The versatile fishing from a Kayak provides anglers everywhere a unique opportunity to access these incredible lakes and species.
Read More
If you have done this, it highly rewarding. Kayak fishing is somewhat physical, but there are great locations for taking a break and stretch your legs in these fisheries. So grab your Kayak, paddle to your spot, and let's start fighting these ones of kind species on a unique type of body of water.
Shoreline Fishing
Boca Raton has tons of local fisheries; the disappointing part is there are more off-limits with no access than fisheries. Blame it on the residents of the communities. The opportunity for shoreline fishing in Boca Raton has shrunk drastically in the last few years.
Luckily, there are many canals, lakes, and waterways not under homeowner associations or city ordinances.
One of those places is Lake Ida Dog park, with ample shoreline, and anglers are welcomed by the park rangers. Access to great locations, piers, and deep water access are all just a castaway.
Read More
Suppose you're not too familiar with the local waters. In that case, chances are you'll have to visit several spots before finding a stable bite. Just verify this by turning to social media, and many anglers are breaking records fishing from the shoreline. It's ubiquitous these days for an angler to have success.
Where are the fishing spots in Boca Raton?
Having places you target and search are key. We have listed many below, some private access to other public. Remember, access to fishing from the shoreline is always open to the public if not posted "no fishing" until they ask you to leave. Here are some of our favorite locations; no one else wants to talk about:
Read More
Boca West Country Club

: Why this is the private community is surrounded by canals that have great fishing with access from Florida Turnpike and Yamato Road.

Boca Town Center Apartments

: On the north side has access to the Gulfstream canal system, which stack with fish throughout if you can find the sweet spots. The community also has a feeder lake that can be fished.

Boca Raton Residential

: The organization has a large lake, backup to railroad tracks running north and south with excellent access and miles of shoreline access.

The Polo Club

: This entire area is filled with lakes that hold fish, their many feeder canals surrounding this vast area to access, especially on Jog Road.
Rules and Regulations
During no parts of the year, Boca Raton fishing closed. However, there are species-specific and have seasons in the saltwater. In the freshwater, it is open season all year round. However, if you're into keeping fish, you should beware of the local regulation which would pertain to the size and number of fish you can save. If you're using a local fishing charter, they will know the current rules. Make sure you study the FWC website and plan your trip accordingly!
Read More
Going on a freshwater charter, you will need to purchase a fishing license for everyone between the ages of 16 and 65 in your group before leaving the dock. Yes, this is different than salt water, where the captain license covers the customers. The captain will know all the fishery rules and guidelines to go to, specific length and size limits.
Boca Raton can be your Playground
Fishing in Boca Raton is all about making your angling dreams come true. Whether you want to chase the high flying Clown Knife fish, the hard fighting Peacock bass, or the local neighborhood largemouth bass. Introduce kids to the magic of feeling the tug on a line is life-changing!
In Conclusion
The best fishermen in the world fish the local Boca Raton lakes; everything you need to know about these locations is on this website.
No matter the Boca Raton fishing guide you find, they should provide everything you'll need for your fishing trip. Boat, Gear, Fuel, Captain, Cooler, Drinks.
If you need assistance with your planning or booking, we hope to have the answers to your questions. Regarding other things to do for the rest of the family or group while in Boca Raton, Fl, please contact us.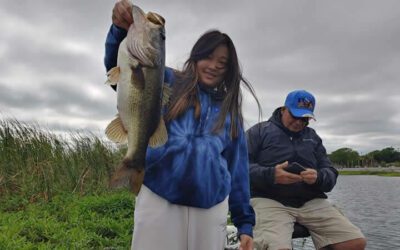 The Best Guided Bass Fishing in Florida Maybe you have done guided bass fishing in Florida, and perhaps you haven't. Perhaps you are a seasoned angler, or maybe you fish...
read more
Questions? Feel free to call us, Email us or use the chat us to speak to one of our specialists.
Questions? Feel free to call us, Email us or use the chat us to speak to one of our specialists.
Questions? Feel free to call us, Email us or use the chat us to speak to one of our specialists.
What are you waiting for?
We also have great deals available in the following cities that match your search criteria.