Fishing in Pompano Beach, Fl
Pompano Beach Rating:
Pompano Beach Rating - Read customer reviews, click to read
Complete Guide to Pompano Beach Fishing
Pompano Beach is located halfway between Fort Lauderdale and Boca Raton on the map, about 36 miles north of Miami along the Atlantic Coast of South Florida. Pompano Beach is a respite from the big city crowds, with beaches, marinas, and reefs tucked away from the highways heading north and south.
Pompano Beach is a family-friendly vacation destination, with beautiful tropical beaches, lots of activities, and famous Florida fishing.
Pompano Beach Fishing
An angler's paradise exists in a city known for its artificial and natural reefs, deep water wrecks, and stellar offshore watersports. Fishing in Pompano Beach is excellent all year for inshore, offshore, and freshwater fishing. The surrounding cities of Fort Lauderdale beach, Deerfield Beach, and Hillsboro Inlet also offer incredible fishing opportunities, so local captains always have a spot regardless of the fishing season, weather, or tides.
Many fisher-persons come to the city for special events or annual fishing tournaments that occur throughout the year.
There's the February salt fish tournament, a seafood fete in April, and a May fishing rodeo. The Pompano Beach fishing community is welcoming to everyone, offering numerous fishing charter boats catering to all preferences and needs. When fishing in Pompano Beach, we have every size boat to catch fish of different weights and water depths available.

Instant Confirmation
  Angler's Top Choice
FREE Cancellation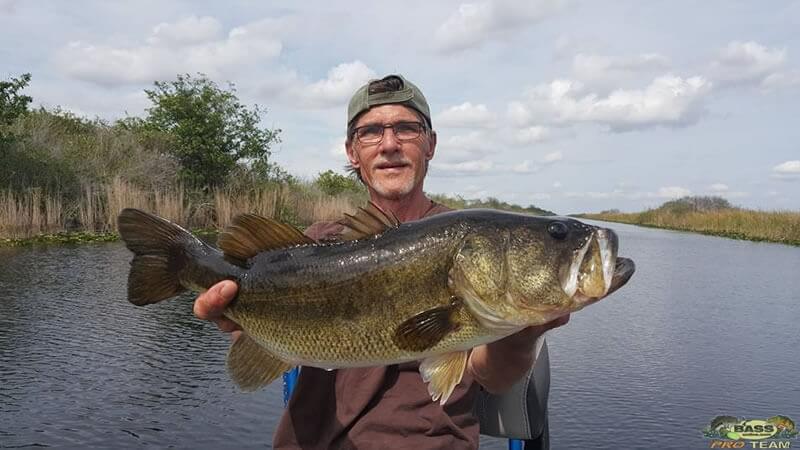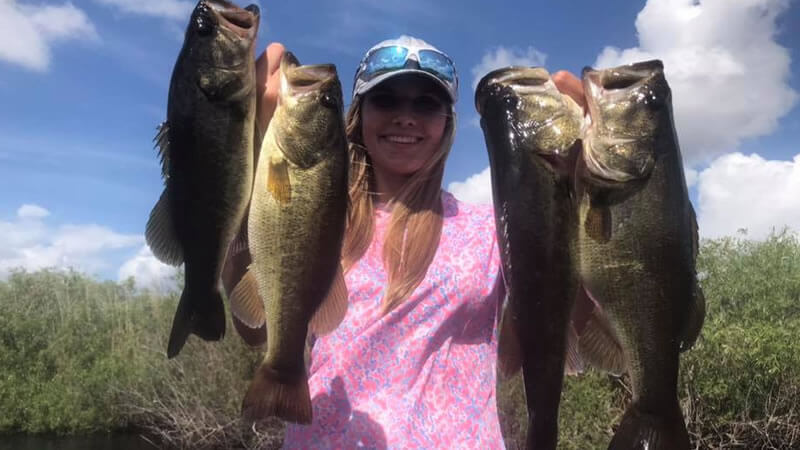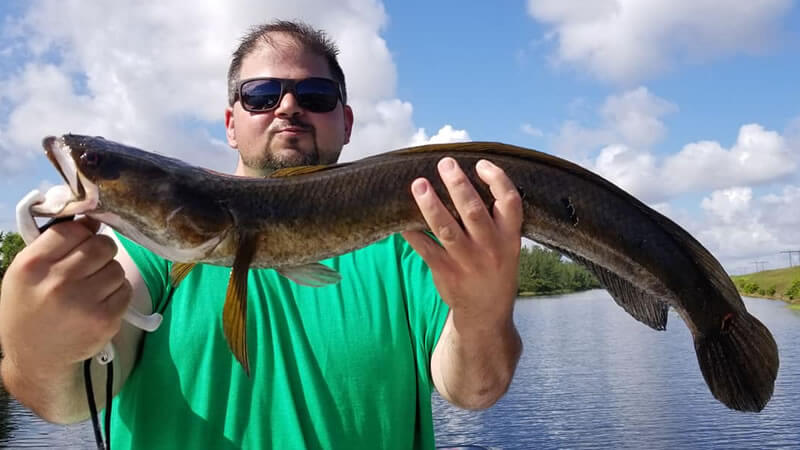 Freshwater Fishing in Pompano, Fl
Pompano Beach is covered in canals and lakes that contain tons of freshwater fishes such as largemouth bass and peacock bass. This city is also surrounded by some of the top freshwater fishing options in the state, which you want to make sure you experience.
Pompano Beach is less than 20 minutes to Everglades Holiday Park in Fort Lauderdale, home to largemouth bass, peacock bass, and scenic views filled with Florida wildlife. You're about 40 minutes to Airport Lakes in Miami, which holds some of the country's best peacock bass fishing. And about 30 minutes to Lake Ida in Delray Beach, which contains incredible peacock bass fishing along with the exotic Clown Knifefish. Both fisheries hold decent size largemouth bass, and it's not uncommon to catch a tarpon or snook that found their way into these freshwater fisheries.
Freshwater Fishing Charters
Freshwater fishing charters of South Florida make for an action-packed day full of wildlife and Florida beauty. These charters are ideal for any skill level or age and are the best option for anybody prone to seasickness. Your Pompano Beach fishing captain will have everything you need for a successful day of fishing. Though non-residents over the age of 16 need to purchase a Florida fishing license, and Florida residents between 16 and 65 need to have a Florida fishing license.
Inshore Fishing Charters
Inshore fishing charters are ideal for experienced anglers, first-timers, the elderly, families, and children of all ages. Fishing charters in the shallow waters offer beautiful scenic views of the ocean's shallow-water animals such as manatees, turtles, dolphins, a wide variety of sea birds, and much more.
You can get your heart rate racing by pursuing tarpon, snook, barracuda, sheepshead, shark, and snapper, alongside grunts and runners amongst the area's reefs and flats. Inshore fishing is often more fast-paced than offshore fishing, so no angler will ever be bored.
Catch an inshore fishing charter if you're one to be delayed by seasickness but still want to hit the salty ocean. Your Pompano Beach fishing captain will have everything you need for successful fishing trips, no need to get a license either since you fall under the captain's license.
Deep-Sea Fishing Pompano Beach, Fl
Fantastic deep sea fishing awaits in areas off Pompano Beach, Fl that's breaming with Mahi-Mahi, marlin, sailfish, swordfish, wahoo, bonito, amberjack, tuna, and three kinds of mackerel, including the king mackerel, Spanish, and Cero. Ocean fishing is thriving near the South Florida area thanks to the sea current Gulf Stream that sweeps inshore near Pompano Beach, pulling in warm tropical waters rich in plankton and nutrients. 
When fishing the open waters, look for circling sea birds in the sky, which indicates the birds found something at the surface to feed on, and for baitfish at the surface, which means there is a predator beneath them. Draw strikes with ballyhoo or cigar minnow tipped dusters, and silver-colored lures will hold past the baitfish schools for lurking predators.
There are also many reefs in this area where anglers can catch reef fish such as snapper, hogfish, grouper, and more. Live and cut bait are safe bets to ensure a strike from whatever is lurking on the reefs.
Deep-Sea Fishing Charters
Fishing charter captains from the Pompano Beach fishing community know where the reef and bottom fish are dining in the Atlantic Ocean. Offshore boat fishing charters in the deep ocean are more subjective to fishing seasons and tides. Still, your Pompano Beach fishing guide will have everything you need to take you to the most productive fishing spots hidden in the open ocean during any season. With the help of neighboring cities, such as Deerfield Beach, there is always a good site holding fish. Like the inshore fishing charter trips, there is no need to get a fishing license because you fall under the captain's license during offshore fishing charters.
Top Targeted Fish Species
Why Hire a local expert for a Pompano Beach Fishing Charter
Our guides are local experts who provide fishing instructions, casting lessons, and advanced techniques helpful for beginners and avid anglers. Pompano beach is filled with top quality fishing opportunities and surrounded by thriving cities that also provide tremendous fishing for any species you are looking to target and any experience you are hoping to have. Whether it be inshore, offshore, or freshwater fishing, your professional guide knows those specific waters and will quickly and safely get you on the fish. The best way to fish beautiful South Florida is on a boat fully equipped with top quality rods, reels, hooks, and lures, while hitting all the most productive fishing spots. 
This city allows you to experience local angling, offering a wide variety of fishing trips available year-round. You can hire a private charter captained by an expert pompano fishing captain or experience a party boat fishing trip. 
Anyone looking to catch deepsea fish such as sailfish, swordfish, mahi-mahi, bonito, and kingfish or shallow fish such as snook and tarpon or freshwater fish such as largemouth bass and peacock bass, a fishing charter option is available near Pompano Beach.
Local Pompano Beach Bass Fishing Guides
Pompano Beach Fishing Reviews
Great trip!
★★★★★
"
Went two days and caught bass and peacock bass! Went to Lake Ida, then went to Lake Okeechobee in FL. The guides knew where to take us. Went with my adult sons while in FL celebrating our 50th wedding anniversary. Our wives were happy for us! All around good trip will do it again!
"
Best fishing with Capt Kirk
★★★★★
"
Captain Kirk Osborne is amazing! Three of us took a 4-hour peacock trip out of the Markham Park area. The weather was cold and cloudy but caught a good number of fish.
"
CLICK TO WRITE A Pompano Beach REVIEW
Current Pompano Fishing Reports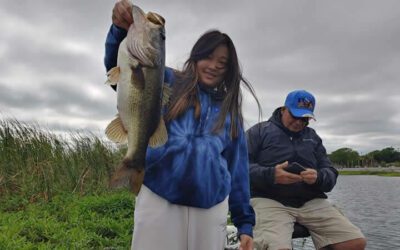 The Best Guided Bass Fishing in Florida Maybe you have done guided bass fishing in Florida, and perhaps you haven't. Perhaps you are a seasoned angler, or maybe you fish only...
read more
Inshore Fishing Pompano Beach, Fl
Pompano Beach's nearshore area provides Sharks, Flounder, Snapper, Grouper, Snook, Trout, Tarpon, barracuda, and all the other species that inhabit the clear shallow waters. Inshore angling and fishing charters take place along shallow coves, canals, bays, inlet, and grass flats, using various live bait and artificial lures.
Pompano Beach Fishing for Inshore Species 
Permit and Pompano
Both are hard fighting, shallow water animals that lurk the beaches in South Florida. The pompano fish that give this community its name is a hard, angry fighting schooling species. The permit is a bit larger than Pompano, but both will bite on the beach when you cast with minnows or sand fleas. Bait is readily available here, including live shrimp and fingerling mullet, as well as the bass sizes, lures, hooks, and pyramid sinkers are best. Fly fishers that highly prize these two species will prefer crab and shrimp pattern flies.
Snook
Snook are another hard fighting fish that loves the river's structure. Snook are the world's most prestigious coastal species. They can be found in South Florida waters year-round. Usually, they spend the winters in canals then travel to bays as the weather warms up. The beaches are hot spots for snook in the summer when they come to spawn. Use freshwater bass lures or explosive topwater tackles with the same rigging as reds or trout for the snook.
Tarpon
The silver kings that anglers bow down to. While these fish are relatively easy to entice a bite, landing one is another story. Their hard boney mouths and acrobatics make it challenging to set the hook properly and keep from breaking off the line.
Trout and Redfish
Both are popular inshore fish in Florida who cruise the rivers. During low tide, redfish will tail as they feed on the water's bottom. Trout are likely to be found in an area with the current. Both will bite fingerling mullet and shrimp baits.
Snapper
Snappers are abundant along the South Florida reefs of Pompano and Fort Lauderdale. A variety of snappers from small Vermilions and Yellowtails to brutish Cubera and the tastiest of them all, the red snapper. Snapper fishing is good all year but is best in summer.
More Pompano Beach inshore species
You can also expect to bag flounder and black drum around here, but onshore anglers also get a lot of whiting, also called croakers, all year round. Croakers are so-called because of a sound they emit, besides which they make excellent fillet.
Fishing in Pompano Beach for Offshore Species 
Mahi Mahi
 The Mahi-mahi, or dolphinfish, moves close to the surface in schools near any floaters on the water. Check out any float wood or use the 'circling birds' method to draw closer to active Mahi-mahi. All offshore waters around Pompano Beach hold mahi-mahi, particularly at depths between 120 and 150 feet. You can rely on artificial lures to catch mahi-mahi, and they go excellently dressed on a salad bed or with a heavy sauce. 
Sailfish
 A most prized sportfish worldwide, sailfish are the most agile and acrobatic of all larger fish available near Pompano Beach, Florida. Sailfish come to these areas along the warm Gulf Stream in their migration from the winter's gold coast.  Opportunities for record-breaking sailfish catches present themselves along sailfish alley, an area off Pompano Beach that truly comes alive with the speedy fish. Here, at the Hillsboro inlet, is the big Pompano Beach Sailfish Challenge. Livebait trolling and kite fishing techniques are effective against sailfish. You might even hook a sailfish while in pursuit of other types of fish.
Wahoo
These are impressively sized fish with short lifespans but create memorable lifelong experiences for anglers in Pompano Beach. The full moon periods between July and August are the best times to go after wahoo. Local waters around this city are a wahoo playground, seeing as they prefer moving water and underwater structures. Troll for wahoo at an ideal depth of 175 feet, but you'll also find them shallower or deeper due to their lively nature. Wahoo can swim fast and furious, up to 60 mph, so be ready to cover ground as you listen to the screaming drag. 
Snapper and Grouper
Due to the rich reef system and underwater wrecks in the sea surrounding Pompano Beach, bottom fish offer productive catches. Groupers and snappers call these areas home, and that's good news for any discerning angler. If you want to catch a succulent dinner, target both of these critters. Snapper and grouper live not too far offshore.
Kingfish 
The king mackerel, or kingfish, is a large schooling predator, weighing over 50 pounds in some instances. Famed for their impressive spins, explosive runs, and leaps, kingfish are insatiable hunters that will hit both dead and livebait. Use large plugs and spoons to reel in kingfish. You'll find king mackerel lurking where they can find prey, stalking smaller fish near wrecks and along ridges. In springtime, kingfish will migrate through the local waters as they evade the heat. During this time, you can catch them on the fishing pier or right off the beach.
Area things to do
Besides partaking in a Pompano Beach fishing charter or shore fishing along the beaches and on the fishing pier, eco-friendly kayak fishing can also help reel in a big catch at Pompano Beach or allow you to explore the area while taking in the scenes and wildlife. Pompano Beach is known for its tropical sandy beaches and beautiful piers overlooking the ocean. Even non-anglers can enjoy the enticing Florida views here.
Some of the many other attractions in this city that caters to different people include the Pompano Beach Water Taxi, 26 Degre, Brewing Company, the Pompano Beach AMphitheatre, Hillsboro Antique Mall, Greg Normal Signature Pines Golf Course, Butterfly World, and Fern Forest Nature Park.
Questions? Feel free to call us, Email us or use the chat us to speak to one of our specialists.
Questions? Feel free to call us, Email us or use the chat us to speak to one of our specialists.
Questions? Feel free to call us, Email us or use the chat us to speak to one of our specialists.
What are you waiting for?
We also have great deals available in the following cities that match your search criteria.