About
Markham Park is a 669 acres park located in Sunrise, Florida, about 20 minutes from Fort Lauderdale Beach in Broward County. The park contains extensive mountain bike trails, a Fox Observatory, a campground with full hookups, an archery range, a shooting range, a sporting clays course, and incredible fishing and boating opportunities. There is also a personal watercraft lake for people to ride their jet skis. The site is equipped to handle the whole family with a playground, charcoal grills, and the chance to catch fish that can only be caught in South Florida.
Markham Park Fishing
The canals in Markham Park intertwine with the Everglades' edge, making it a perfect home for many of Florida's favorite species. The largemouth bass is frequently caught here, but the top targeted species when fishing in Markham are snakehead and peacock bass. Saltwater species such as snook have made their way into the system as well. Markham is located close to BJ's Bait and Tackle to purchase bait; live shiners are most commonly used here.
Pricing?To get current pricing. Click on the INSTANT BOOK button below. Then adjust the date, time, and the number of people and it will display the total price and avialablity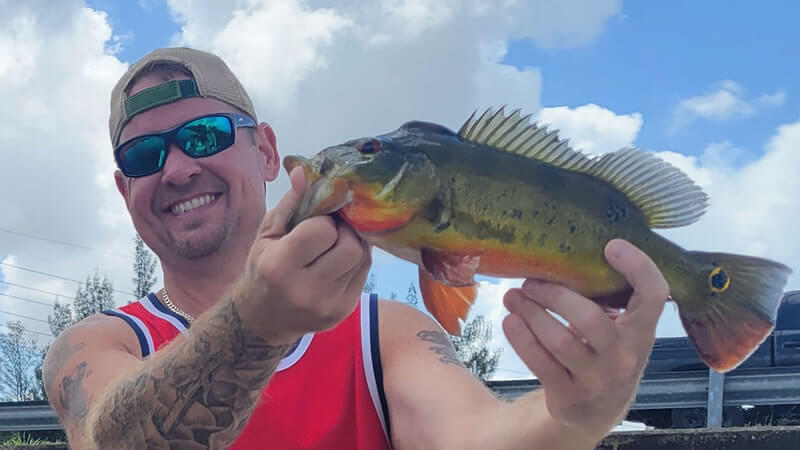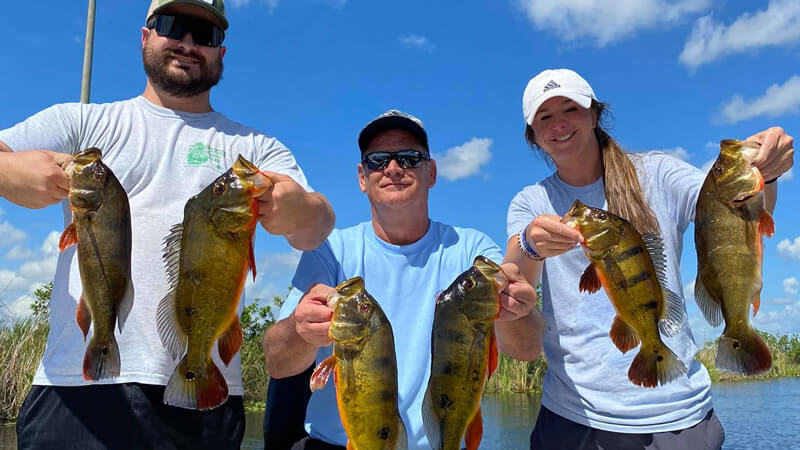 Taking a fishing charter in the waters of Markham Park is a great way to experience Florida's most sought after fish.  Because of the wide variety of fish available here, every fishing trip is unique. A Fort Lauderdale fishing charter is an exciting way to experience Florida's outdoors while catching species unique to South Florida waters such as the exotic peacock bass. Your professional Captain will have everything you need for a successful day on the water including rods, reels, tackle, a cooler with ice and water, and an abundance of information about Florida's fish and their habits.
Snakeheads
Snakeheads have been thriving in these West Fort Lauderdale canals for quite some time and are an exciting species to catch. Snakeheads are known for being hard fighting with an aggressive bite. The average size snakehead is from 3 to 5 pounds but can grow up to 7 to 10 pounds. This is one of the best locations to catch snakeheads in Florida.
Peacock Bass
The most popular resident of the park's waterways is the exotic peacock bass. The peacock bass is a beautiful, hard-fighting fish. Its colors and fight make them highly attractive to anglers from all over the world. South Florida is the only place you can experience catching a Peacock Bass in the United States.
MARKHAM Park Fishing Guides
Activities
Markham Park in Sunrise is full of playgrounds, camping sites, picnic tables, and nature trails. Some of the most popular attractions include the R/C Crawler areas, the Fox Observatory, the Rifle & Pistol Range, Nature trails, and many places for sports. Markham has a large lake designated for your jet ski and personal watercraft. This is the perfect site for holding events and getting together with friends and family.
Trails
The area contains 14 miles of biking trails. Biking is allowed throughout the park, but if you want to use the Mountain Bike Trails, you need to buy a pass. The different bike trails vary in difficulty.
Markham Dog Park
Markham is known for its dog park called Barkham Park, which has a small and a large dog section, a wash area, benches, shade, clean up bags, and restrooms. The surrounding area includes Bermuda sod, fountains, walking paths, and more.
Campgrounds
This is one of the best locations in Broward County for tent sites and RVs. Markham has spots with a full hookup for RVs, charcoal grills, a dump station, picnic tables, and a restroom complex. This location has facilities for any setup, whether it's small tent sites or pull-thru sites for huge RVs with full hookups. There are paved pads, hot showers, wi-fi, and electric hookups.
Target Range
The pistol and rifle range is 100 yards long with 66 lanes. Hearing and eye protection are required for safety here. There is also a sporting clays course with 13 stations and five skeet and trap fields.
Airfield
The model airplane field is 50 acres of flying space run by the parks pilot association. The airfield contains a 755-foot paved runway and windsock.
Fishing Chairs
GPS & Fishfinder
Life Jackets
Catch and Release Allowed
Keep Fish Allowed within Laws
Boat Specs: 20+ ft
Boat Capacity: 4 People
All Fishing Equipment
Boat & Fuel
Photos
Light Tackle
Heavy Tackle
Livebait
Spinning Rods
Baitcasting Rods
Left & Right Handed
Fly Rods (request only)
Braid & Mono Line
Boat Ramps
Two boat ramps access the State Road 84 canal, also called the New River Canal or the L35A canal. The East Boat Ramp and the West Boat Ramp both access the channel. The ramps have two concrete sections, allowing one boat per ramp.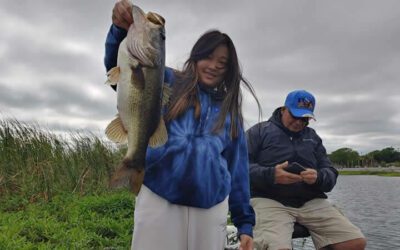 The Best Guided Bass Fishing in Florida Maybe you have done guided bass fishing in Florida, and perhaps you...
read more
Peacock Fishing with BassOnline
★★★★★
"
This is a great outfit and guide Mike Groshon is top notch. He worked hard to put us on fish for two days and we wound up catching 35-40 Peacocks on artificial and live bait, as well as a Snook and other species. I would highly recommend this outfit and Capt Mike Groshon.
"
Peacock bass trip with Capt Wayne Fellows
★★★★★
"
This was my first trip targeting peacock bass. Captain Wayne said he would put me on them and he did. We hit several spots he knew were producing and I probably caught 20 to 25 peacocks. It was a great trip with a knowledgeable captain and I'm looking forward to doing it again.
"
Capt Kirk is an OUTSTANDING fishing guide!
★★★★★
"
I was fortunate enough to get Capt Kirk as my fishing guide. There were also three newcomers in total to include my 6-year old boy. Capt Kirk made everyone comfortable and trained us patiently and thoroughly. My 6-year old is now hooked on fishing after having caught his first one (thanks to the excellent experience provided by Capt Kirk). I HIGHLY, HIGHLY recommend Capt Kirk for all experience levels and plan on asking for him, by name, for my next trip.
"
CLICK HERE TO WRITE MARKHAM REVIEW
What are you waiting for?