★★★★★

based on

46

reviews.
Overall rating:
Florida Fishing Guides
"You Choose the Guide, leave the Fishing Experience to US"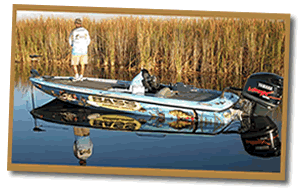 One thing you will find in common with most other Florida bass fishing guides is that they work part time as a fishing guide. This does not make them a bad fishing guide, just simply limits what they can provide to you on your big day. Our TEAM of guides not only specializes on a given body of water, but we also have guides that specialize in flipping, top-water, cranking and other techniques as well as the use of all live-bait!
A nice website and maybe even a nice bass boat do not qualify someone as a fishing guide. Be sure to ask them "When was the last time you were out fishing?".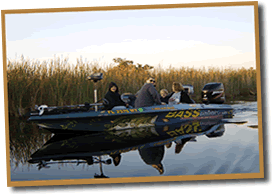 It is hard to be a good fishing guide and also carry a full or part-time job, it's almost impossible to regularly catch trophy-sized bass when you are getting used information from your friends. Our guides are on the water almost daily and guarantee more hours than any other guide service in Florida. This means the money you are spending is being spent on the best guides available. We want to say to you "please do your homework", Florida is a wonderful place to fish and unlike most guided trips that end at the dock we work hard at providing you fishing experiences that last a lifetime.
Click below on the region of the map you wish to find a fishing guide!
Southeast | Southwest | Okeechobee | West |Central | North | Panhandle
Florida Fishing Guides Reviews
Great day out with Capt Bob Miley!
★★★★★
"
Yesterday 25th Feb me and my brother Kevin had a great day out amongst the peacock bass with Captain Bob Miley. Been out with Captain Bob before so knew what to expect. Brilliant company, awesome sport and reap value for money.
"
Fishing the Glades near Ft. :Lauderdale
★★★★★
"
My 16 year old son and I spent six hours with Capt. Jeff Brooks fishing from his bass boat in the Everglades. Jeff was great. My son and I just wanted to catch fish! We really didn't care what species...Jeff didnt' let us down...we hit on our first cast and it didn't stop. What I particularly liked about Jeff was his patience teaching my son techniques. I'd use Jeff again in a heartbeat...and hope to do so!
"
Capt Wayne
★★★★★
"
Had an awesome fishing experience fishing with my Dad on the Everglades today.First time for us catching Peacock Bass. Capt Wayne was the best! We tore through 8 dozen shiners and finished with some great action on artificials as well....lost count how many fish we caught.....if you want some excellent fishing ask for Capt Wayne!...you won't be disappointed!
"
When considering the cost of a bass boat payment, insurance, boat maintenance, boat storage, tow vehicle, fishing license, bait, fishing tackle, and the time required to obtain the local knowledge one needs to catch fish; the cost of professional guide service is way undervalued. We get all types of customers, some of which have little to no experience that just show up at the dock to go fishing with us. Why do you ask? Why not, they don't have to make a boat payment, carry boat insurance or even supply a lure and they still get from us a No Fish No Pay guarantee!
The best way to ensure a quality fishing experience is to spend some time researching a guide service's qualifications, background, experience, and knowledge, by checking them out. Listen, the Internet is one of the most powerful tools we have ever seen but it can also be very deceiving. Most fishing guides will have a website covering all aspects of the services they provide as well as current fishing reports. This is where the truth in most cases stops. Remember the fishing reports are written by people and some people will almost say anything to get your business. I've always heard the best way to tell if an angler is a good fisherman is to see how well they can stretch the truth. So if the report sounds too good to be true, it most likely is. Remember, fishing is fishing, and catching is catching, both are fun, but catching is a lot better than lip service. (Suggestion: Drop from "I've always heard…" as it does not make sense. It's also not needed and serves no purpose.)
Read testimonials about the guide and contact them to see if the report (?) is true. Also, call other anglers for recommendations. (Drop quotes) Most guide services rely on repeat business, so they will go out of their way to provide a level of service worth recommending.
Currently, there are over 500 freshwater fishing guides working in the State of Florida. All guides are required to have a current US Coast Guard captain's license but do not have to have an occupational license or liability insurance covering passengers.
Freshwater guides cannot purchase a boat license for our customers, as with saltwater they are allowed, so anglers are required to purchase their own. (No clue as to what this means nor how it would be important to someone hiring a guide?)
A quality guide will provide top quality tackle and equipment, like GLoomis Rods, Revo Reels and Berkley Fishing Line (or something similar) and they should be in good working order. All fishing tackle, lures, and ice should be included. All you will need to bring are your own personal items such as polarized sunglasses, hat, camera, and sunscreen
When researching guide rates you will find most services will offer a selection of time frames to facilitate the desires of the client and most charters are conducted in 1/2 day (four hours), 3/4 day (six hours), and full-day (eight hours) sessions. In most areas, prices are generally standard from one guide service to the next but some inexperienced or (part-time) guides will offer cut-rate prices. But remember, you get what you pay for. Think about it for a minute, if you were a first-class guide and confidant in what you do why would you reduce your value to say you are not as good as the others! Good full-time professional guides just don't do it…which just leaves the rest. In most of Florida, the freshwater bass rates for two anglers range from $275.00 for 1/2 day to $400.00 for a full day, and a third person is an additional $50.00 to $75.00. In-shore saltwater and offshore rates are generally higher based on the number of anglers and the distance traveled.
Check to see if the guide is a member of a professional guides association. Check to see if they are involved in the future of their fishing area. For instance are they concerned with conservation, etc.? These organizations hold their members to higher standards and members are required to prove legitimacy annually (huh?), so check the web sites of an organization like SAFER, Florida Freshwater Fishing Coalition, and other associations.
Book your charter early: Most top-ranked guides book charters many months or even a year in advance and they require deposits to secure specific dates. As with a hotel reservation, you should never have to pay anything in advance. By applying a credit card to your reservation it should be sufficient to hold your dates. Always ask about the cancellation policy because things happen and you should have a way to cancel without costing you money as long as it is within the terms of the guide service. Never send money in advance, you will never see it again!
Call for all of the information and as much as you need: Most good professional guide services provide toll-free numbers so clients can call for information at no cost to them.
Unlike most guide services where you have to call in the early evening, because all of the guides are on the water we provide a guide on the phones at all times so it is convenient for you and you are talking with a professional that fishes. Not a booking agent with no concept of the fishing conditions or questions you might ask. Book online here!
Discuss your desires and needs with your guide: Some charter services specialize in specific skill levels so make sure you mention your skill level and experience and if inexperienced anglers will be fishing. Also, be sure to mention if small children or persons with special needs will be fishing.
Ask your guide if lunch is provided: Many services provide water and soft drinks but they do not provide lunch. Many will provide lunch if requested and in many locations marinas or restaurants are available close by on the water. We are one of the only services that offer trips like this so make sure you book a trip that fits your needs.
Let your guide know if you want to bring your own equipment: Many guides will let you bring your own equipment but discuss your desires and intentions with them beforehand so that they can help you prepare your equipment for the location you are going.
Listen to your guide: Our guides want you to catch fish as much as you do so if you are serious about catching fish accept your guide's instructions and directions. Your guide knows how to read the water and he knows what to look for so pay close attention to his instructions. We understand some of you know how to fish, some pretty well as a matter a fact. But just as if we were to fish your home waters we would need your help. The bass fishing in Florida is quite different then most places in the world.
Remember to bring your camera: Many guide trips are a once in a lifetime experience worth recording. In most cases, our guides do have cameras on board but it's always nice to have your own.
Bring your own adult beverages: If you are planning to bring alcohol with you be sure to discuss it with your guide service. Many guide services will not let you drink alcohol on the boat. Our guide service does allow alcohol. We feel that for a lot of people the two go hand in hand and this trip should be as enjoyable as we can make it for you. With that said, our policy is any time we feel you or anyone in your party becomes under the influence we will take you and your party directly back to the dock and you will be responsible for the full cost of the trip.
Wear may wear black sole shoes: Many guide service, mostly saltwater, request you do not wear black sole shoes. Our bass boats are lined with carpet so please get comfortable and feel free to wear your most comfortable shoes even if they are black sole.
Smokers beware: Because of the carpet on the boats we do ask that you be careful of your ashes. it burns holes in our carpet. But we do still allow you to smoke.
Tip your guide: It is traditional to tip your guide. An eight-hour charter is equivalent to a ten-hour workday when you consider preparing the boat, tackle, and other equipment for the day, handling the charter, travel time, cleaning the boat, and preparing for the next day. A 15% gratuity is standard, and if your guide goes above and beyond the call of duty, you should tip accordingly.