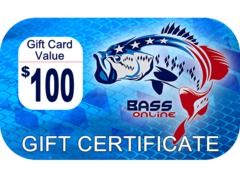 Our fishing gift cards can be used for Christmas gifts, Birthdays, Valentine gifts, unique Father's Day gifts, Graduation gifts, Anniversary gifts, etc.
We offer fishing gift Cards for every occasion. If someone you know likes fishing, and they have a special occasion coming up. Get them a surprise gift card. Were the United States' largest fishing outfitter for charters & guides and apparel. If the gifter changes there mind and wants to go saltwater fishing our sister company can except the gift card for that as well. So you know we will be able to satisfy that special someone that receives your gift card.
It's a really simple process:
Choose the value you want to spend (if the value is not present, send us a message, and will create online at any amount for you.
Then click "Buy Gift Card" button
Then choose from one of the themes available in the drop-down list under "change theme" button
Add your name and email address
Add a personalized message to be put on the gift card.
Choose a date for birthdays, Xmas, anniversaries, etc or leave it on today's date.
Click continue and add credit card information.
Directly after completion of the transaction, a gift card will be emailed to the email address you provided.
When they want to use, they can shop online and use code from gift card, 24/7. They spend less it will keep a credit for them, they want to spend more, they simply pay the additional fees.
If you are interested in purchasing a fishing Gift Card and have additional questions before or after purchase please call our toll free number 1-888-629-BASS or 888 321-0202 or use our live chat in the lower right or the contact form below for additional information.
Fishing Gift Cards are available at all of our locations and are honored by all of our affiliate companies. Please see a complete list at the Outdoor Network.
Searching Availability...
FISHING GIFT CARD CONTACT FORM