Top Florida Crappie Lakes
The Top Florida Crappie lakes for speckled perch, or speck' as they are called throughout the State of Florida, the most sort after panfish until the introduction of the cichlid species. Although the Florida crappie can be caught during the summer, they are at their best from late fall to early spring.
Bring your family and friends together for an affordable day of Florida crappie fishing on one of Florida's fishing lakes. Florida is called the Speckled Perch Capital of the world. This Huge state and many lakes hold the largest amount of crappie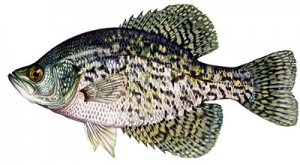 nationwide and yield slab size crappie.
BAG LIMITS: The bag limit for crappie (speckled perch) is 25 per person per day. The possession limit is two days bag limit per licensed angler on all crappie lakes.
The black crappie (a.k.a. speckled perch, speck, or papermouth) is a favorite sportfish throughout Florida. It is also a very tasty panfish, and a generous daily bag limit of 25 fish provides a healthy "mess" of fish for many anglers.
So Where Currently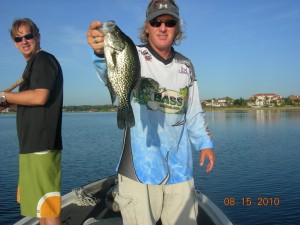 During warmer months, many speckled perch fanatics locate their quarry on or around deeper underwater structures that will show on electronic fish finders. Others prefer slow-trolling or drifting in open water with live bait or small jigs, either singly or in tandem, to zero in on concentrations of crappie. Warm weather fishing at nighttime, in the glow of lantern lights and Hydro Glow 12-volt light fixtures, is also becoming increasingly popular with crappie anglers.
Locating the proper depth at which crappie are feeding is vital. Sometimes they'll be just a foot or two from the surface, while at other times, they may be a foot or two from the bottom. Figure out their depth preference, and you're in business.
No telling when or where you'll meet up with these fishing favorites in Florida, as they're apt to be just about anywhere and everywhere. To simplify the dilemma of where to fish, noted fisheries biologists with the Florida Fish and Wildlife Conservation Commission (FWC) have come up with a list of suggested crappie hotspots for 2006, in no particular order. Visit Florida Fish and Game Commission for more information on Florida's freshwater fisheries.
So Where Currently
Many of Florida's best crappie fisheries produce consistently year after year. Notably missing for 2006, however, is the 450,000-acre Lake Okeechobee. Recently revered by crappie and largemouth bass anglers nationwide, the Big O is currently imperiled by environmental consequences following record-setting Hurricane seasons in 2004 and 2005 when devastating storm winds repeatedly wreaked havoc on Okeechobee's aquatic plant communities.
FWC biologists will continue to monitor the lake's health as it hopefully recovers over time. Meanwhile, we're confident that Lake Okeechobee will eventually return to premiere fishing status.
Florida Crappie Lakes
Orange Lake / Lochloosa Lake (located between Gainesville, Leesburg, and Ocala)
The water level on Orange Lake is back up after being down for years. As a result, crappie fishing has also rebounded. Crappie was biting in open water last fall, and they'll start again when the weather warms up this spring. Crappie in this lake like to hit jigs and minnows. Lily pads are my favorite hangouts.
FWC biologists poured some intensive lake management talent into the 5,500-acre Lake Lochloosa while Mother Nature raised the water level back to what it needed. As a result, crappie has responded there too. Fish around the lily pads in the southeast and northwest parts of the lake and the narrow connection to Little Lake Lochloosa when you're after crappie. Also, the patches of maiden cane are good spots to try when crappie get ready to spawn in early spring.
The FWC's habitat-restoration wizards have been tuning up this 9,400-acre sweetie pie since the late 1980s, and they've got her purring. Since the Commission lifted the 12-inch minimum length limit in July 2005, anglers have flocked back to Monroe and put up impressive catch rates. Big crappie goes for small jigs, Bream Killers, Hal-Flies, or Beetlespins. Missouri minnows and grass shrimp also work.
Lake Jessup (south of Sanford)
You can wear yourself out catching crappie on this 10,000-acre honey hole. They run a little smaller than crappie you'll find in other lakes in this part of central Florida, but bunches are just waiting to get caught on minnows by anglers who drift-fish in the middle of the lake and near Bird Island. Lots of crappies also hang out in the Soldier Creek area and the north end of the lake, where it connects to the St. Johns River.
Lake Talquin (west of Tallahassee)
Think about it. This 8,800-acre reservoir is just outside Tallahassee. It's where the FWC's top brass goes fishing, so you know they'll make sure this baby doll gets all the attention it can use. Is it any surprise the state record 3-pound, 13 -ounce black crappie was pulled out of Lake Talquin? This lake has lots of submerged stumps and snags, so you don't want to go hot-rodding around it in a boat. But, if you want to catch some nice crappie, and you're willing to abide by the 10-inch minimum size limit, you'll love it here.
Tenoroc / Mosaic Fish Management Area (Polk County)
Fishing for crappie on Tenoroc, a 7,300-acre Fish Management Area near Lakeland, can be a rewarding experience, especially during cooler months. With lakes ranging in size from seven to 227 acres, anglers will have plenty of areas to dunk a bobber with a minnow or jig. Schooling fish can often be caught using this rig near deep drop-offs and underwater humps.
Casting a small Beetlespin lure or jig tipped with a minnow can produce some nice fish stringers. Try Lakes 3,4,5 and F for some of the best action. Call the Tenoroc office at (863) 499-2422 for more information or to make reservations because these lakes are only open to fishing four days a week.
Crappie Lakes within the 1000-acre Mosaic Fish Management area near Ft. Meade in southern Polk County have some mighty delicate crappie populations. A dozen lakes in the area range from 10 to 200 acres. Many have shorelines with an abundant supply of woody brush, treetops, and vegetation that are perfect targets for placing a well-hooked minnow under afloat. Trolling deeper areas with this rig can also be productive, especially during winter.
Casting a small Beetlespin or jig into deeper areas can also produce fish. Try Pine Lake East, Coulter Lake, and Haul Road Pit for some of the best action. The area is only open to fishing four days a week, and it's first-come-first-serve – but don't worry, you'll always have a spot somewhere. For more information, please call (863) 499-2421 ext.104.
Lake Istokpoga (near Sebring)
This lake may best be known for its largemouth bass fishing, but others know winter is the prime time to catch crappie in this 28,000-acre fishing wonder. From November through Ap
lilly, anglers troll open water with Hal-Flies, doll flies, spinner jigs, and Napier jigs to locate schools of crappie and then rack up the numbers.
When the water temperature stabilizes around 65 degrees, crappie moves into bulrush and spatterdock along the shoreline to spawn. There's a trick to catching them when that happens. Move slowly through the vegetation in three to six feet of water and thoroughly cover the holes and pockets among the vegetation with a crappie jig.
Lake Kissimmee (east of the city of Lake Wales)
It's not just a famous largemouth bass fishing spot. A few years ago, you wouldn't have seen 35,000-acre Lake Kissimmee on this list, but . . . BOOM . . . things changed about four years ago, and crappie fishing here has been excellent ever since. Anglers are catching big ones too. Some of them throw the 10 inches back and say, "That one was tiny." To catch your share of crappie in this lake, fish with minnows and jigs along the grass line and offshore.
The deeper holes off the grass lines are good spots too. The new Headwater Reservoir Lake is equally as good, loaded with crappie, and should be added to crappie lakes in Florida.
Lake Marian (southeast Oceola county, east of Lake Kissimmee)
This is the lake to fish when you want to catch lots of crappies, and you don't care if they're not the biggest fish you've ever seen. They're big enough at 9 inches or more and packed into this 5,739-acre lake, so it's not hard to find them with minnows, small jigs, and such. Troll, drift fish, whatever works for you, and go home and have fresh fish for dinner. Then, just for fun, call your friends up north, who are in the middle of a blizzard, and rub it in about your fishing trip.
Lake Weir (South Marion County)
This is another lake on the rebound producing very good crappie catches. Located near Weirsdale, this 5685-acre lake is somewhat atypical, with depths exceeding 20 feet and irregular bottom encounters. The FWC refurbished many old fish attractors and built several new ones this summer, and anglers are already utilizing them successfully. For productive GPS coordinates of these attractors, contact our fishery biologists at 352-732-1225.
Most anglers use minnows and grass shrimp near the attractors, but some will drift the open waters too.
West Lake Tohopekaliga (South of the city of Kissimmee)
In addition to its fame as a nationally acclaimed largemouth bass destination, Lake Toho has quickly gained a reputation in central Florida as a super spot for big and abundant crappie. Quite a few FWC "Big Catch" crappie (minimum 14 inches in length or 2 pounds in weight) have already been reported this year, and fall catch rates approached two fish per hour and lead our crappie lakes list.
Anglers have the most success on FWC fish attractors with Hal Flies (most any color) and minnows. For GPS coordinates of the fish attractors on Lake Toho, contact our fishery biologists at 407-846-5300.