Lake Rating:
Lake Rating - Read customer reviews of lake, click to read
Pricing?

To get current pricing. Click on the AVAILABLE button on the pictures below. Then adjust the date, time, and the number of people and it will display the total price
Searching Availability...
About Lake Talquin Fishing & Tours
About Lake Talquin
Located just west of Tallahassee, this 8,800-acre reservoir is nationally known for its high-quality black crappie (speckled perch) fishery. There are five fishing piers and seven public boat ramps on the Leon County side of the lake (Hwy 20). On the Gadsden County side, there are three public boat ramps and two available fishing piers. Six fish camps surround the lake. Read More
Trip Core Details
Region: South Florida – Tallahassee
Duration: 4, 6, & 8 hrs
Cancellation: 12 hrs in advance
Weather-Related: Full refund
Instant Online Confirmation
Includes All State Taxes
What's Included:
All Fishing Equipment
Professional Captain
Boat & Fuel
Cooler & Ice
Bottled water
Photos
What's NOT Included:
Florida Freshwater Fishing License for those ages 16+
Live bait if desired is also additional and is purchased the morning of the trip. (optional)
Food or Specialty beverages
Fishing Chairs
GPS & Fishfinder
Life Jackets
Catch and Release Allowed
Keep Fish Allowed within Laws
Boat Specs: 20+ ft
Boat Capacity: 4 People
All Fishing Equipment
Boat & Fuel
Photos
Light Tackle
Heavy Tackle
Livebait
Artificial Lures
Spinning Rods
Baitcasting Rods
Left & Right Handed
Fly Rods (request only)
Braid & Mono Line
Fishing beautiful Lake Talquin in Tallahassee Florida on a boat fully equipped with top quality rods, reels, hooks, and artificial lures. 
Exploring state-ranked Lake Talquin in search of trophy largemouth bass, hard-fighting black crappie (speck) and so much more.
Guided fishing tour by a USCG professional fishing captain knowledgeable of North Florida and all of its waters. 
Take home a souvenir of your big catch with perfect photos taken by your guide and spread on social media as desired.
Local Operator Information:
Complete Operator information, including local telephone numbers for your destination, are included on your Confirmation email. Our Trip Managers select only the most experienced and reliable guides in each destination, removing the guesswork for you, and ensuring your peace of mind.
Participants are encouraged to bring comfortable shoes, a light-colored shirt, a hat, sunglasses, and sunscreen.
Lake Talquin Fishing Guides
Meet the TEAM of local Lake Talquin fishing guides, we know the best spots, baits, and techniques to give you the greatest fishing guides.
Powers Family Fishing
★★★★★
"
Took the whole Family out and it was one amazing day on the water. We were visiting Tallahassee for a college visit and had to get out bass fishing. Captain Chris took us to all the hot spots putting some giant fish in the boat this summer. Great time and highly recommended
"
CLICK HERE TO WRITE AEROJET REVIEW
Lake Fishing Options
Lake Talquin holds good black bass populations, Striped bass, White bass, redear sunfish, Black crappie, and Bluegill. The winter months are when Lake Talquin shines for the best black bass fishing. While the black bass can be outstanding, the crappie, redear, and bream fishing are exceptional. Maintaining Lake Talquin is the Florida Fish And Wildlife Commission; they stock stripers.
The striper average catch size is between 10 and 15 lbs, but few over 20 lbs ever caught. The good months for Stripers are February, March, and April. Lake Talquin has an abundance of natural baitfish that keep the predator fish population very active.
You can find Golden shiner, Seminole killifish, sunfish, crayfish, threadfin shad, and gizzard shad are the most common forage—minnows. You can also find frogs, sirens, insect larvae, mussels, tadpoles, leeches, clams, and water dogs that keep the fish fat and happy.
Like all lakes, dropoffs, and channels are productive for largemouth bass. Suggest anchoring the boat in 6 to 10 ft of water and fish the side with the most considerable dropoff on the channel edge. In the summer and spring, fish the shallow grass edges in 3 to 6 feet of water. Any moving water will be off; be sure you search along the river and creek channels for spawning habitat. Minnow imitations and plastic worms are convincing where the creeks empty into Lake Talquin.
Creek Mouths
Mews Creek's mouth of Talquin Lake is excellent for schooling bass. Try Senkos for largemouth bass at Ochlockonee River and Mewes Creek and channels edge. From the creek channel, Cast toward the bank for best success.
The mouth of Hunter Creek is 4 feet flat; it's called the Smokehouse area and excellent spring bass fishing. Both forage and largemouth bass use stumps and vegetation along the channel provide perfect cover for feeding. If water is moving, use crankbaits or rattletraps. No current; try plastic worms or other slower lure. They are exceptional during the rainy season, which allows access to the shallows.
Look for excellent action in the back of Little River for pre-spawn bass. Most depths vary from 7 to 12 feet along edges. Work the boundary edges during early spring with shad-colored crankbaits along. When waters flowing, like other creeks, work up the stream with a plastic crayfish, lipless crankbait.
Deep Fishing
The 20-foot drop across from the small island holds winter largemouth that will take plastic worms dragged along the bottom and down the descent. In the heat of summer, look for schooling. If not schooling on the surface, try a jigging spoon to entice the fish suspended in the depths. A plastic worm rigged Carolina style is sufficient for any river channel edge.
If you find your self getting snagged, try bending your hook more profound into the worm to prevent snags, then drag it around, imparting no movement, through the stumpy dropoff. These types of locations are considered the most productive bass spots on the lake.
When fishing Lake Talquin near the delta inlet, concentrate on the old docks for catching bass. Look for the small spring-fed channel called Cootermill Creek; it has a shallow dropoff in the cove. In nearby Ochlockonee River, Fish plastic worms and jig spoons in the holes and dropoffs, and throw crankbaits on 22-foot channel edges. Working the lily pad edges with a fluke or floating worm in areas with cypress trees and stumps.
Striper Fishing
Stripers are caught all year round on Lake Talquin, fall being the best fishing. Typically stripers feed actively during the fall and winter months and school in open water. Sighting of diving birds is a dead give away to the active school. If the birds are diving, chances are they are feeding on threadfin shad. Once you find this, fish the area with any of your favorite artificial lures. Suggested fish chugger-style topwater lures or minnow imitations lures when these fish are active.
Techniques & Species
The most extensive section of the Ochlockonee River is a sandbar called Picnic Point. A massive cover on top of the bar with 5-foot depths along the edge, dropping to 22 feet in the channel. A caroline rig, jig, or deep crankbait works the most effectively.
Look for 10 to 12 feet of water in the winter, fish the bends on Little River. Crappie likes to ambush from below, look for minnows on the surface. Try fishing minnows or jigs through the holes in any grass pat. During the summer, bass and striper schools in the perfect spot. She was always considered a spawning area, from February through May.
Shellcracker beds off the High Bluff accumulate more than an acre wide early to mid-April of the full moon. Some of the space around sandy flats remain loaded with beds for up to three months. Move-in carefully over the stumpy-area—Fish the flats' edges, use flukes or spinnerbait for largemouth bass. For shellcracker, cast beetle spin lures or switch to rigs and use crickets or worms.
Boat Ramps
Two county parks border the lake, to the east John Chestnut Park and the west A.L. Anderson Park. These parks form a natural complement to the lake's tranquility and provide numerous comfort areas and, if needed, shelter from inclement weather for boaters and anglers.
Both parks offer an abundance of recreational facilities, including picnic areas with grills, play equipment, walking, cycling trails, and boat launching facilities. Characterized by hilly terrain, Anderson Park wooded areas, and beautiful vistas overlooking the lake are ideal locations for restroom and lunch breaks from a hard day fishing.
Channel Fishing
It is positioned on the Coe's Landing side of the lake on the southern tip of Lake Talquin. Fish Minor creek channel in an area called Iron Curtain. Use plastic worms along the creek to Williams Landing on the creek edge. 
High Bluff's deep channel provides excellent winter fishing for stripers, a great place to fish wild shiners for largemouth bass. Again fish creek channel edges run from Double Creek to the old wooden pier. Fish the creek channel and dock pilings for trophy bass and occasional striped bass. 
Stripers like small crankbaits, vibration lures, plastic worms, and stick baits in pockets of open water surrounded by lily pads.
Lake Talquin Fishing Report The Iron Post, also known as the Talquin flats area, has a deep hole at the end of an old submerged channel. Work auger tail and paddle tail worms along the ledge of the adjacent flooded flats for big bass. Topwater stick baits such as the Bomber Long A take smaller, schooling bass during summer and early fall.
Coe's Landing during the winter months is a prime largemouth spot in the river channel. The water on Lake Talquin drops from 5 feet to 18 feet in the underwater track: Be careful of stumps.
Panfish
The best live bait for shellcracker and bream is grass shrimp. Shellcraker and bream are very active from April through May, and you can get some great catches. Catch Black crappie in the winter months by drifting or slow trolling open water. Spider rigging for suspended crappie is most effective in the spring. Vary your depths until you get the first bite; the school is very near.
January through April is prime black crappie fishing, especially during the pre-spawn. The majority of the tree stumps and logs are focus areas from January through April.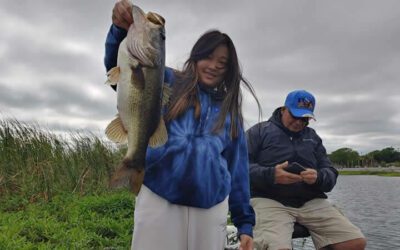 The Best Guided Bass Fishing in Florida Maybe you have done guided bass fishing in Florida, and perhaps you haven't. Perhaps you are a seasoned angler, or maybe you fish only fish once a year. A guided fishing trip from a good bass guide is the typical equalizer to...
read more
Frequent Asked Question of lake Talquin
Can you swim in Lake talquin?
Lake Talquin is not ideal for swimming activities. Most of the shoreline and bottom is muddy rather than sandy, and swimmers need to keep in mind that they are sharing the water with alligators, turtles, and snakes and they are the homeowners of the lake.
How do you fish on Lake Talquin?
Here are a few quick tips, be sure to read all the content here on this page. Largemouth bass can be caught in drop-offs and channels. Anchor your boat in 6 to 8 ft of water and fish into the deeper channels using Texas- or Carolina rigged plastic worms. In the spring fish the grass flats in 4 to 7 feet of water. Make sure you search along the river and creek channels for spawning habitat.
Is Lake talquin open?
Effective July 2, 2020: Lake Talquin State Park is open (see hours of operation and fee information on the Park website). Due to local orders, facial coverings or masks are required inside buildings for staff and visitor safety. Restroom availability may be limited.
When was Lake talquin built?
In 1927 the Jackson Bluff Dam was constructed on the Ochlockonee River to produce hydroelectric power. The waters held back by the dam formed Lake Talquin. On August 18, 1962, the lake was the site of a tragedy when 17 children and one adult drowned in the capsizing of a boat while they were on an outing.
Is it safe to swim in a lake with alligators?
To an alligator, a splash potentially means a food source is in the water. It is best to avoid swimming in areas that are known habitats for large alligators but at the least, never swim alone. … Splashing can attract alligators that think a prey animal is injured. They may act on instinct and attack.
How do people dress for fishing charter?
In layers is best, but fishing is casual. A sundress for ladies with bikini underneath is not uncommon. Khaki shorts for guys is as dressed up as anyone ever gets, long pants work if you're not using to the sun. In the same vein, there are no "styles." Get comfortable with whatever dress code is the norm. But always try to wear light colors as they are cooler.
Where can I park my car at lake?
There is parking at most all the boat ramps which are city parks, as well for boat trailers. This location is free but subject to change with ut notice.  Your captain can tell you the complete cost if any if you use Uber or Lyft there is no cost to enter.
What are you waiting for?
We also have great deals available on the following lakes that match your search criteria.