Lake Jackson Fishing
[fusion_button link="http://bassonline.com/trips/city/tallahassee/lake-jackson/" title="BOOK YOUR LAKE JACKSON FISHING TRIP NOW!" target="_blank" alignment="left" modal="" hide_on_mobile="small-visibility,medium-visibility,large-visibility" color="default" icon="fa-ticket" size="250px" border_width="4″ stretch="default" shape="pill" icon_divider="no" animation_direction="left" animation_speed="0.3″]BOOK YOUR LAKE JACKSON TRIP NOW![/fusion_button]
Lake Jackson Florida Fishing * Lake Jackson Florida * Lake Jackson Fishing * Lake Jackson Bass Fishing * Fishing Lake Jackson FL
Lake Jackson is a shallow lake, Prairie lake on the north side of Tallahassee in Leon County, Florida with two major depressions or sinkholes known as Porter Sink and Lime Sink.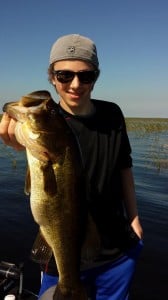 The lake is located in the Red Hills Region, and has fluctuated from periods of being dry to a greatest elevation of 29 meters (96 ft) above sea level. The lake is about 12 kilometers long and its area is 16 km², with a drainage basin of roughly 11 km². There is no outflow from streams or runoff. Interstate 10 runs across the southern tip of the lake, and US 27 runs along a causeway on the western side, separating Little Lake Jackson from the main lake.
There are several boat ramps providing access to the lake; on the west side these are at Crowder Drive and Faulk Drive, at a small park on US 27, and on Sunset Drive. Ramps on the east side of the lake are at Millers Landing Road and Rhoden Cove Landing.
The Lake Jackson State Park located in the town: Lake Jackson, Florida
Lake Size: 4,006 Acres
Fishing Species: Largemouth Bass, Bluegill, Shellcracker
Lake Access: Locations around Lake Jackson including: Highway 27 Landing – Located off Hwy. 27
Sunset Landing – I-10 to Old Bainbridge Road go east on Old Bainbridge right on Lake Drive
Miller's Landing – Meridian Road about 2 miles north of Timberlane intersection, turn west on Millers Landing Road
Faulk Landing – Highway 27 north to east on Faulk Drive
Crowder Landing – Highway 27 north of I-10 to east on Crowder Road
Rhoden Cove Landing – Meridian Road about 3/4 mile north of Timberlane intersection to west on Rhoden Cove Road.
Lake Jackson State Park is more than eight centuries ago, Native Americans inhabited the area around Lake Jackson, just north of Tallahassee. The park site was part of what is now known as the Southeastern Ceremonial Complex. Today, it encompasses six earthen temple mounds and one possible burial mound. The largest mound is 278 feet by 312 feet at the base and about 36 feet in height. Artifacts of pre-Columbian societies have been found here including copper breastplates, necklaces, bracelets, anklets, and cloaks.
Visitors can enjoy a short hike past the remains of an 1800s grist mill or picnic on an open grassy area near the largest mound. Guided tours and interpretive programs of the park are available upon request. Located off U.S. 27, two miles north of I-10 in Tallahassee. Take Crowder Road and turn right onto Indian Mounds Road.
Contact the Florida Park Service Information Center for general inquiries.
For Information about Lake Jackson Mounds Archaeological State Park, please call 850-922-6007.
Hours of Operation,
8:00 AM to sunset
Driving Directions
Lake Jackson Mounds Archaeological State Park located off U.S. 27, two miles north of I-10 in Tallahassee. Take Crowder Road to Indian Mounds Road.
Park Fees
Admission Fee:
$3.00 per vehicle. Please use the honor box to pay fees. Correct change required. Limit 8 people per vehicle.
$2.00 Pedestrians, bicyclists, extra passengers, passengers in vehicle with holder of Annual Individual Entrance Pass.
Lake Jackson Reviews
[fusion_accordion]
[fusion_toggle title="CLICK HERE TO WRITE A REVIEW" open="no"]

[/fusion_toggle][/fusion_accordion]
Understanding the approach
★★★★★
"
Capt Dave was not only a great guide that was very experienced with the lakes we were fishing in, but also took the time to explain and teach us. When you go fishing, local knowledge is key and Dave proved that this trip was exceptional based mainly on his desire to make it memorable. Although there are never guarantees to find the fish, understanding the approach and methodology made this trip a great learning experience....and we caught some very nice bass. Thanks again see you again on the next trip.
"
[fusion_button link="http://bassonline.com/fishing-charter-reviews/" title="FISHING REVIEWS!" target="_self" alignment="left" modal="" hide_on_mobile="small-visibility,medium-visibility,large-visibility" color="default" size="250px" stretch="default" shape="pill" icon_divider="no" animation_direction="left" animation_speed="0.3″]To Read ALL SITE Reviews Please Click Here![/fusion_button]


View Lake Jackson Fishing in a larger map