Lake Rating:
Lake Rating - Read customer reviews of lake, click to read
Pricing?

To get current pricing. Click on the AVAILABLE button on the pictures below. Then adjust the date, time, and the number of people and it will display the total price
Searching Availability...
About 
Lake Jackson is a shallow prairie lake about 7.5 miles long located within the Tallahassee Hills's northern boundaries of Leon County, Florida, United States. It's a designated aquatic preserve that serves as an essential natural resource to many communities. Lake Jackson covers 6.2 square miles and has two significant sinkholes or depressions called Porter Sink and Lime sink. Lake Jackson is located in the Red Hills Region and has fluctuated from being dry to over 96 feet above sea level. Lake Jackson's water is relatively clear, and there are no outflows from runoff or streams flowing into it.
The shallow Lake Jackson has an average depth of 7 feet with a maximum depth of 30 feet. Lake Jackson is a natural sinkhole lake that goes dry on an infrequent basis, about every 25 years. The main lake is separated from Little Lake Jackson by Interstate 10, which runs across the lake's southern tip, and US 27, which runs along a causeway on the western side.
Lake Jackson is a top fishing destination abundant in quality largemouth bass, bluegill, black crappie, and redear sunfish. The lake is known for its unique hydrology and excellent habitat for waterfowl and wading birds. Lake Jackson is within the Three Lakes Wildlife Management Area. The area has greatly improved through an organization's efforts dedicated to the environmental protection and sustainable use of the lake called Friends of Lake Jackson. They strive to inform and protect the lake water by enhancing the Lake Jackson aquatic preserve habitats, ecosystem, and natural functions. Read More
Fishing Chairs
GPS & Fishfinder
Life Jackets
Catch and Release Allowed
Keep Fish Allowed within Laws
Boat Specs: 20+ ft
Boat Capacity: 4 People
All Fishing Equipment
Boat & Fuel
Photos
Spinning Rods
Baitcasting Rods
Left & Right Handed
Fly Rods (request only)
Braid & Mono Line
Fishing beautiful Lake Jackson in Tallahassee Florida on a boat fully equipped with top quality rods, reels, hooks, and artificial lures.
Exploring state-ranked Lake Jackson in search of trophy largemouth bass, hard-fighting black crappie (speck) and so much more.
Guided fishing tour by a USCG professional fishing captain knowledgeable of North Florida and all of its waters.
Take home a souvenir of your big catch with perfect photos taken by your guide and spread on social media as desired.
Local Operator Information:
Complete Operator information, including local telephone numbers for your destination, are included on your Confirmation email. Our Trip Managers select only the most experienced and reliable guides in each destination, removing the guesswork for you, and ensuring your peace of mind.
Participants are encouraged to bring comfortable shoes, a light-colored shirt, a hat, sunglasses, and sunscreen.
Meet the TEAM of local Lake Jackson fishing guides, we know the best spots, baits, and techniques to give you the greatest fishing guides.
Understanding the approach
★★★★★
"
Capt Dave was not only a great guide that was very experienced with the lakes we were fishing in, but also took the time to explain and teach us. When you go fishing, local knowledge is key and Dave proved that this trip was exceptional based mainly on his desire to make it memorable. Although there are never guarantees to find the fish, understanding the approach and methodology made this trip a great learning experience....and we caught some very nice bass. Thanks again see you again on the next trip.
"
CLICK HERE TO WRITE A REVIEW
Bass Fishing
Lake Jackson is nationally known for its trophy largemouth bass fishing. Spawning season for Florida bass can go from late November through May. The chance at catching a trophy while on a bass fishing charter is highest in February through early May. Lake Jackson is full of aquatic vegetation, but the hydrilla, maidencane, and eelgrass are the best habitats, usually holding bass.
Lake Jackson Aquatic Preserve is full of solid one to three-pound bass and has enough bass in the six to ten-pound range to keep anglers coming back with high hopes. Artificial baits are generally very productive on Lake Jackson, but live shiners most often attract the larger fish in this water.
Fishing With A Guide
Lake Jackson is the perfect place for a solo or family fishing adventure. It is one of the few locations where anglers don't have to worry about rough seas or seasickness while catching some trophy bass. While on a fishing charter here, anglers can catch numerous bass, bluegill, black crappie, and redear sunfish. Your captain will provide you everything needed for a successful day on the water, including all gear and tackle.
This area is resilient to water levels varying on an irregular basis making it difficult to navigate certain areas safely if unfamiliar. Your guide will take you straight to all the best fishing spots while safely navigating the lake's waters. While enjoying an active day of fishing on the lake, you will learn about the area and the famous porter sink and lime sink.
Boat Ramp
Lake Jackson Aquatic Preserve has several boat ramps providing access to its waters. A popular one is at Veterans Beach Park. There are ramps on the west side at Faulk Drive and Crowder Drive, ramps at the small park on U.S. 27, and Sunset Drive. Boat ramps on the east side are at Millers Landing Road and Rhoden Cove Landing.
Lake Jackson Disappearing
Lake Jackson formed through the dissolution of limestone over a long period, which caused the overlaying sediment to collapse. Drought, sinkholes, and lack of rain can create conditions allowing the lake to drain its water levels within a few days. The sinkholes usually get wholly or partially plugged up with the sediments. When groundwater levels fall, the plugs or limestone can collapse, resulting in the water funneling into the aquifer and dramatically lowering the water level. On the other hand, the lake can fill up as quickly as it had disappeared after large amounts of precipitation since the lake lies within a hydrologically closed basin and is directly impacted by rainfall.
State Park
Native Americans inhabited the area around the lake north of Tallahassee over eight centuries ago. This site was part of what is now called the Southeastern Ceremonial Complex. The area now encompasses six earthen temple mounds and one possible burial mound, which is why its full name is Lake Jackson Mounds Archaeological State Park. The largest mound is about 36 feet tall, with a base of 278 feet by 312 feet.
Artifacts were found from pre-Columbian societies at the park, including copper breastplates, bracelets, necklaces, cloaks, and anklets. Park visitors can take a short hike past the remains of an 1800s grist mill or have a picnic on the open grassy area near the largest mound. There are many interpretive programs and guided tours of the park available.
Park Information
The park is located two miles from I-10 north of Tallahassee off U.S. 27. Take Crowder Road, then turning right onto Indian Mounds Road.
Hours of Operation to the park are 8:00 AM to sunset. Driving Directions start at Lake Jackson Mounds Archaeological State Park located off U.S. 27, two miles north of I-10 in Tallahassee. Take Crowder Road to Indian Mounds Road.
The admission Fee is $3.00 per vehicle, using the honor box to pay the fees. There is a vehicle limit of 8 people. It's a $2.00 fee for Pedestrians, bicyclists, extra passengers, and passengers in vehicles with the Annual Individual Entrance Pass holder.
Things To Do
Tallahassee is full of family fun attractions between museums, kayaks, art, cuisine, the extensive city park, and incredible fishing. One of the most popular places to see is the temple mounds in the State Park. Another exciting area is the St. Marks Lighthouse, one of the oldest lighthouses in Florida that survived the Civil War and the Second Seminole War in 1835. Other nearby things to do are shop at Bradley's Country Store, see the Railroad Square State Park, the Goodwood Museum, stroll through the Downtown market, catch a performance at Cascades Park, and explore Tom Brown Park.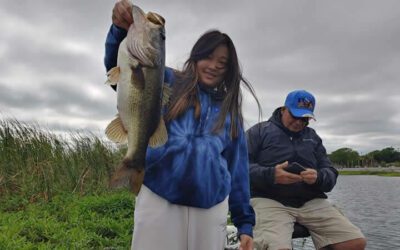 The Best Guided Bass Fishing in Florida Maybe you have done guided bass fishing in Florida, and perhaps you haven't. Perhaps you are a seasoned angler, or maybe you fish only fish once a year. A guided fishing trip from a good bass guide is the typical equalizer to...
read more
What are you waiting for?
We also have great deals available on the following lakes that match your search criteria.