Lake Rating:
Lake Rating - Read customer reviews of lake, click to read
About
The St. Johns River, at 310 miles long, is the longest river in Florida. Its headwaters are at Blue Cypress Lake in Indian River County and empties through its mouth into the Atlantic Ocean, east of Jacksonville. This river is unique as it flows north. St. Johns River is an estuary where saltwater and freshwater mix, creating a brackish environment.
However, the river is predominately freshwater because of its groundwater and network of marshes towards the beginning. The history and culture of the nearby towns on St. Johns River are rich in experiences. It's a place that holds tons of environmental and aesthetic value. St Johns serves as a place to call home for people in town and nature's wildlife alike.
The longest river in Florida
St John's large size has it going through or bordering twelve counties in Florida during its 310 miles. The river is almost 3 miles wide at its largest point. The St John's water basin covers 16% of Florida, covering nearly 9,000 square miles.
This beautiful clear river flows north at 0.3 miles/hour and contains about 3,500 lakes, blackwater streams, and rivers. It got its nickname "the liquid chameleon" because of these characteristics. Because of the excessive number of lakes found in the watershed, the Timucuan Indians named the St Johns River, Wekiva, meaning rivers of lakes.
The river flows north because its headwaters are 27 feet higher in elevation than its endpoint. The St John's river has a prolonged elevation drop while flowing from south to north. The river drops only 1 inch per mile throughout the 310 miles north, making its total drop less than 30 feet over its entire upstream course to the north from Sanford to Jacksonville.
BASS FISHING ST JOHNS RIVER
Searching Availability...
Fishing Chairs
GPS & Fishfinder
Life Jackets
Catch and Release Allowed
Keep Fish Allowed within Laws
Boat Specs: 20+ ft
Boat Capacity: 4 People
All Fishing Equipment
Boat & Fuel
Photos
Light Tackle
Heavy Tackle
Livebait
Spinning Rods
Baitcasting Rods
Left & Right Handed
Fly Rods (request only)
Braid & Mono Line
St John River's Basins in Central Florida
The St. Johns River begins near Vero Beach as a marsh in Indian River County, then winds through 12 Central Florida counties as a broad waterway before emptying into the Atlantic Ocean. Toward the Atlantic, where the river ends, the waters gradually turn from freshwater to brackish. The large and diverse St. Johns River is categorized into three "basins" that all offer unique angling opportunities. Each basin is a watershed, also known as a drainage basin.
The Upper Basin
The Upper Basin portion is the furthest south and where the river begins, consisting of all freshwater. It starts just west of Vero Beach in Indian River county and ends as it winds towards Titusville. This section consists of swampy, marshy waters that make this section unpredictable for anglers. The upper basin is the river's headwaters and is loaded with alligators and wading birds.
The Middle Basin
The Middle Basin flows through Central Florida, starting in Brevard County near Lake Washington and ends in Putnam County. The middle basin is only 37 miles long, making it the shortest of the basins. Here in Orange Park, the river widens and becomes more fishable and easier to navigate. It consists of clear spring runs and dark water tributaries. The middle basin opens up to form lakes such as Lake Monroe, Lake George, Harney, and Jesup. 
The Lower Basin
The Lower Basin starts in Putnam County in northeast Florida, flows through Jacksonville in St Johns and Clay county, continuing to the river's mouth in Duval County until it flows into the Atlantic Ocean. The river's mouth in the Atlantic Ocean flushes 42,000,000 gallons of saltwater into the St Johns River every day. The lower basin has plenty of diverse angling opportunities. Both freshwater and saltwater species call this area home.
Top Targeted Fish Species
St Johns River Fishing and Wildlife
In and around the St. Johns River is an abundance of wildlife. The rivers have been home to many plants and animals for centuries. Species known to the river include manatees, crabs, shrimp, river otters, waterfowl, blue herons and bald eagles, rhesus monkeys, alligators, and a variety of other reptiles.
 Major tributaries that flow into the St. Johns River include the Wekiva River, the Econlockhatchee River, Rodman Reservoir, and the Ocklawaha River. St Johns River has some of the best fishing in the country from the headwaters and north to the mouth. St. Johns is a desirable fishing spot for anglers because of its diversity.
With both freshwater and saltwater species thriving here, the St Johns River is an adventure anglers of all levels and fishing preferences must experience. It's loaded with many fish species but is most known for its trophy largemouth bass, striped bass, and crappie. As you will see below, there are lots of species, but there are not smallmouth bass.
Largemouth Bass: The most notable aspect of this river is its trophy bass. Largemouth bass can be caught all year round; however, weather and rain could determine where the fish are in the various parts of the river. Its size and variations are why using a fishing charter for this vast river is a good idea.
Striped Bass: For anglers more inclined towards saltwater species, you will find striped bass in the St. Johns River brackish waters. Striped bass put up quite the fight and will create the thrill of a lifetime for any angler who hooks one. The lower basin is fed by cool springs, which creates an ideal environment for the stripers to thrive. Anglers have reported striped bass reaching sizes of over 20 inches.
Stripers are most abundant in Lake George, where the Lower and Middle Basins meet. Other saltwater species in the river include Flounder, Redfish, and Spotted Trout. These saltwater fish can be found throughout the river, Lake Monroe, and Lake Harney.
Sunshine Bass: Sunshine bass, or hybrid bass, are the third top bass species in the St. Johns River. Sunshine bass artificially spawned hybrids produced by crossing a female white bass with a male striped bass. Sunshine bass has the power of striped bass and white bass speed, making them a fun catch among anglers.
Panfish: Other species in the St. Johns River include Panfish such as Perch, Bluegill, or Crappie (also known as "specks" in North Florida). These Panfish can be found throughout the St. Johns River's freshwater areas. Crappie thrives in St Johns year-round.
Shad: Shad is among the other more popular freshwater species in the St Johns river. They are most abundant in winter as they travel upriver to spawn. It's recommended to use ultra-light tackle, and they are especially favored by fly-fishermen for their tarpon-like feel once hooked.
St Johns River Fishing Guides
Hiring a local Florida expert
The St. Johns River's bottom and size vary a lot making it hard to navigate. This restricts vessels of certain measures to go in specific areas. St Johns has strict licensing regulations for who can navigate boats in its waters. Because of the strict restrictions that come with this beautiful river, it is highly recommended to fish with a guide.
Aside from the restrictions, the size alone is enough to overwhelm any angler. It's hard to keep up with all the variations and know where the fish are. The best way to fish the St. Johns River is by boat because of its large size and calm waters. The river's calmness makes it a perfect spot for anyone prone to seasickness. It's also a location favored by families because of its calm waters. It's an ideal place to get your little ones hooked on bass fishing.
The St. Johns River in Florida is known for its trophy largemouth bass that an angler dreams of catching. It takes experience from a local expert to know where to find these big fish. No matter what time of year it is, it's possible to catch your personal best. You just have to know where to look. Your professional guide is here to point you in the right direction.
For new anglers or experienced, the safest and most productive way to fish the St. Johns River is with a professional fishing guide on a charter.
Top fishing locations in St. Johns River:
Upper Basin:
Lake Poinsett – best for largemouth bass anglers looking for a trophy in the winter.
Lake Winder – best for the quantity of largemouth bass
Taylor Creek – is easy to access and popping with largemouth bass and crappie all year round.
Lake Hell N Blazes – the stretch of river between Lake Hell N Blazes to Lake Sawgrass is highly productive for largemouth bass, crappie, and bluegill. It's accessible from Melbourne and best when the hydrilla coverage is low.
Middle Basin:
Lake Harney – largemouth bass, shad, and crappie thrive here. Access can be limited and usually reached through the Mullet Lake Road boat ramp.
Lake Jesup – located close to Orlando and best for its abundance of crappie.
Lake Monroe – abundant in trophy largemouth bass. This is the part of the river navigable for larger boats.
Lower Basin:
Lake George – access through the town of Welaka is best for largemouth and striped bass.
Jacksonville – you've got St. Johns River on one side and the Atlantic on the other side of Jacksonville. This area is an excellent spot for fishing charters. The area includes sites around the Mayport Jetties, Mill Cove, and the George Crady Bridge Fishing Pier.
Current St Johns River Articles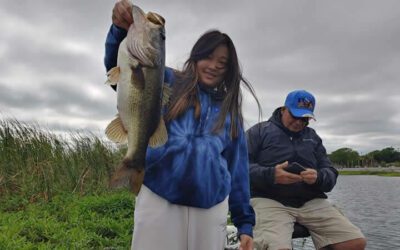 The Best Guided Bass Fishing in Florida Maybe you have done guided bass fishing in Florida, and perhaps you haven't. Perhaps you are a...
read more
Tips for Largemouth Bass Fishing in St Johns River
The largemouth bass is found throughout the entire river, even towards the brackish waters. The Upper and Middle Basins are usually the most productive, with most of these parts being pure freshwater.
Seasons: During the "dry season" of late summer to early spring is the best time for Florida bass fishing in the St Johns river.
During the "wet season" of late spring and summer, the middle and upper basins tend to flood; this will cause the bass to travel away from these parts of the river into the marshy wetlands.
Tips from the locals: 
Save Shredded Worms: In case the plastic worms get torn up, you should save them. Bass like ambushing wounded prey. Hence, a torn worm is perfect to use for fishing, particularly in shallow waters. 

Red can Fool the Fish: If you are fishing in a shallow cover, you can use spinner bait with a pink or redhead. The red color makes the bass fish think that the bait has been injured and will bite it again. 

Keep the Hooks Sharp: Sharpen your hooks every time you go on a fishing trip. Bass comes with bony jaws, so a sharp hook is appropriate for penetrating the fish
Tips for Crappie Fishing in the St Johns River
Florida is number one on the list of top 10 states for crappie fishing, and the St Johns River is one of the best spots within the state to catch them.
Crappie can be caught here year-round in Florida, but the best months are January, February, April, and November. The less productive months are March, May-October, and December. Look for woody covers which, crappie are attracted to at any time of the year. The best way to catch crappie in a river is by jigging or using live bait such as minnows, worms, and insects.
Navigating the Florida river
The river can be a difficult water body to navigate if you are unfamiliar with it. The upper basin, the furthest south of the river, is a very narrow, shallow waterway with mostly marsh. It becomes navigable from Lake Hell N Blazes, only for small vessels. It becomes navigable for larger boats in Lake Monroe near Sanford, Florida. North of Palatka and on Jacksonville's east, the St. Johns River becomes a broad estuary with the deepest channel about 40 feet deep.
St Johns River Florida Map
Water Quality in the Florida river
The St. Johns river's three significant basins and two associated watersheds for Lake George and the Ocklawaha River are all managed by the St. Johns River Water Management District. The water quality is high as the groundwater, and surface water resources are governed by the St Johns River Water Management District. The District is responsible for restoring the river. The District is focused on the supply of drinking water to protect and restore Florida waters' health.
The District is responsible for 18 counties across northeast and central Florida. 
The District covers 12,283 square miles, about 7.8 million acres. The main body of water for the water management district is the long north-flowing St John's River.
Things to do near the lakes and rivers
The surrounding area of the river is beautiful, with an abundance of fish camps and many campgrounds. Close by are towns full of Waterview restaurants and activities. There are plenty of tourist excursions and many ways to enjoy nature. Some popular adventures include Blue Spring State Park, Hontoon Island State Park, Kayaking and Manatee Tours, and Eco Tours on the river.
Informational
★★★★★
"
I've been fishing in Northeast Florida for nearly 3 decades and the website was very helpful and informative.
"
Beautiful Place!
★★★★★
"
Astor is so beautiful, has a great access to St Johns river. I just love this place!
"
Professionalism...
★★★★★
"
Bass Online Team, We just had a wonderful time with Capt Steve on the St. Johns River. Thanks for your professionalism for handling my last two trips with your guides service…the email notifications with instructions are great reminders!
"
CLICK TO WRITE St Johns River REVIEWS
What are you waiting for?
We also have great deals available on the following lakes that match your search criteria.