Capt Peter Thiliveros "T"
Captain Rating:
Top Rated Captains - Rated by REAL customer reviews, click to read

Instant Confirmation
No Waiting - Get an instant online confirmation that your trip is scheduled!

  Angler's Top Choice
Our Captains are NOT available anywhere else, only Top Choice Guides work here!

FREE Cancellation
Canceled due to bad weather or bad health? We'll help reschedule or refund.
USCG Credentials

This captain has successfully passed an enhanced check by US CoastGuard and is Bass Online verified legal
Child Friendly

We look forward to the opportunity to teach children to fish. We carry all of the appropriate safety gear and ensure that our boats are a clean and safe environment for children all ages.
Disability FriendlyProvides Fishing Access for Anglers with Disabilities. Select an area below to book you next trip!
Capt Peter Thliveros is headquartered in St Augustine, Fl as one of the winningest anglers in the country with over 2M in winnings. As a full-time touring bass professional and full-time fishing guide in his home waters. He still competes with his son on the B.A.S.S. tournament trail when not guiding.
Peter has quickly progressed into one of the area's top fishing guides, as anglers want to learn his secrets and get his pro tips. Quickly and methodically advance any angler to the top level of the sport where anglers dream of working their way to the top.
Success for Peter comes in both freshwater and saltwater, as also guides the redfish and snook out of St Augustine shores. But his passion will always be with the St Johns River and Rodman Reservoir.
Enjoy a comfortable high-end ride aboard a spacious 22-Ranger bass boat and in the saltwater, his 24′ Ranger Bay boat is powered by a 250 HP Mercury engine for more security and speed. Its navigational electronics include a GPS, a fish finder, a VHF radio. There are custom fishing seats to make sure you have the most relaxing day out on the water. Peter can accommodate up to four guests welcome aboard.
Capt Peter likes to start just before sunrise but is open and flexible with your schedule. Included are the boat, fuel, cooler, ice, bottled water, and all tackle & equipment necessary for fishing. The trip ends when you are ready; having a great time, let's continue.
Capt Peter Thliveros is knowledgeable in all the latest bass techniques, light or heavy tackle & fly fishing on all area lakes, and Intracoastal waterways. He frequently fishes with kids and pets, and the disabled are more than welcome to join my adventures.
I love to share my passion and knowledge with you, all while putting us on fish. Living and fishing in the areas provide me with the ability to have a superior experience on the lakes.
All you need to do is grab your FL fishing license, bring some drinks and snacks aboard, and get ready for the fishing trip of a lifetime!
Species Capt Peter catches
Fishing Chairs
GPS & Fishfinder
Life Jackets
Catch and Release Allowed
Cooler, Ice, Bottled Water
Boat Specs: 22+ ft
Boat Capacity: 4 People
All Fishing Equipment
Boat & Fuel
Photos
Spinning Rods
Baitcasting Rods
Left & Right Handed
Fly Rods (request only)
Braid & Mono Line
Capt Peter's Fishing Options – Book Online
WHAT CUSTOMERS ARE SAYING ABOUT CAPT PETER
PERFECT DAY
★★★★★
"
CAPT PETER WAS OUTSTANDING! FIRST TIME EVER CATCHING 8LB LARGE MOUTH BASS... AND WE CAUGHT 3! BEST DAY OF FISHING IN MY LIFE! CANNOT WAIT TO BOOK TRIP NEXT YEAR! IF YOU WANT TO CATCH A VERY LARGE BASS HAVE CAPT PETE AS YOUR GUIDE!
"
Fish of a Lifetime
★★★★★
"
The weather wasn't favorable, the wind was brutal, but Peter still put us on the fish. Within the first 10 minutes I landed a GIANT 10.25 lb Largemouth Bass. and my life will never be the same. I'm from Wisconsin so double digit Bass are extremely rare and almost impossible. This was a dream come true and to have my Dad along to take part was very special. We caught fish on and off throughout the trip but I can't believe I landed a GIANT!! See you next year!
"
Rodman Reservoir
★★★★★
"
CPT Pete gave my grandson and I the best time of our lives fishing on the beautiful lake Rodman. It was a windy day and not the best conditions but we still managed to catch a 2lb Bass and many other fish. He really took his time to show us how to fish and was really good with my teenager! We will request his services again the next time we are in Palatka FL.
"
Highlight of our trip
★★★★★
"
This fishing trip with Captain Peter was definitely the highlight of our trip to St Augustine! I'd never actually fished before and neither had my daughter and by the end he had us casting on our own. My husband and son were in heaven and none of us wanted the charter to end. He took us to several locations, each more exciting than the last. We saw dolphins and sea turtles on the way! The last place we went to was my favorite by the jetty and the pristine white sandy beach of St Augustine. It was so picturesque and the fish were biting like crazy there. Fun times. Captain Peter even recommends a place you can eat for dinner. We had a super enjoyable time and I so would love to do it again.
"
Best fishing Captain!
★★★★★
"
Capt Peter Thliveros will provide you with the best fishing experience you will ever have catching largemouth bass on Rodman Reservoir!!! If you want to be on the best fishing spots for the big ones use the best guide. HE IS THE ONLY CAPT. I WILL EVER USE !!!!
"
Capt Peter Thliveros
★★★★★
"
Capt Peter Thliveros will provide you with the best fishing experience you will ever have catching large mouth bass on rodman reservoir!!! If you want to be on the best fishing spots for the big ones use the best guide. HE IS THE ONLY CAPT. I WILL EVER USE !!!!
"
CLICK HERE TO WRITE CAPT PETER A REVIEW
Current Capt Peter Thliveros​ Reports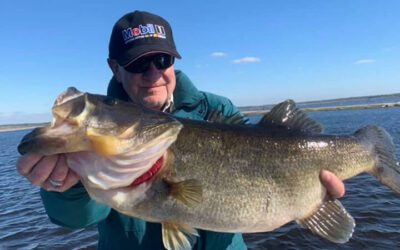 March Rodman Fishing Trips Bass fishing is better than ever here in North Florida. All across Florida, you can find...
read more
What are you waiting for?
Other Nearby Local Experts