Captain Rating:
Top Rated Captains - Rated by REAL customer reviews, click to read

Instant Confirmation
No Waiting - Get an instant online confirmation that your trip is scheduled!

  Angler's Top Choice
Our Captains are NOT available anywhere else, only Top Choice Guides work here!

FREE Cancellation
Canceled due to bad weather or bad health? We'll help reschedule or refund.
USCG Credentials

This captain has successfully passed an enhanced check by US CoastGuard and is Bass Online verified legal
Child Friendly

We look forward to the opportunity to teach children to fish. We carry all of the appropriate safety gear and ensure that our boats are a clean and safe environment for children all ages.
Disability FriendlyProvides Fishing Access for Anglers with Disabilities. Select an area below to book you next trip!
Discover the hidden wonders of the Rodman Reservoir with Capt Kenneth Walker, and get ready for an incredible true trophy bass fishing experience! Your guide for the day, Capt Ken, is a trophy hunter with local knowledge with over 20 years of experience, fishing throughout this area of North Florida. His clients describe him as "mister dependable" who enjoys having people aboard.
Capt Ken is extremely knowledgeable about spawning and feeding patterns, as well as which seasons produce the best and biggest fish. After fishing for so long, understanding these waters has become second nature to him. There's nothing that makes Capt Ken happier than transferring that passion to new anglers and having them hook their first big trophy bass.
You'll depart from the banks of Rodman Reservoir on his 21' Mako boat. Her shallow draft makes her perfect for planing skinny and stumpy waters, giving you an ideal bass fishing experience. She's equipped with a fishfinder, wireless trolling motor, top-quality fishing gear, a live well, lures, spinning reels, and bait casters. Each trip accommodates up to 4 guests and can fish at the same time without tangling lines.
Your main target is trophy largemouth bass, but Capt Ken loves to fish for Cappie as well. Both are extremely popular due to their good game qualities and are fun to catch for anglers of all ages and levels of experience. Make sure you bring a camera along because a fish of a lifetime is exactly that! Perhaps one of the most beautiful and interesting bodies of water in Florida, with great scenery and outstanding wildlife!
If you enjoy live baiting, you can buy fresh wild shiners before the trip. Just be sure to pack some snacks, drinks, sunscreen, and light clothing, and get ready to fish the famed Rodman Reservoir with Capt Kenneth Walker!
All you need to do is grab your FL fishing license, and get ready for the fishing trip of a lifetime!
Fishing Chairs
GPS & Fishfinder
Life Jackets
Catch and Release Allowed
Cooler, Ice, Bottled Water
Boat Specs: 21+ ft
Boat Capacity: 4 People
All Fishing Equipment
Boat & Fuel
Photos
Spinning Rods
Baitcasting Rods
Left & Right Handed
Fly Rods (request only)
Braid & Mono Line
WHAT CUSTOMERS ARE SAYING ABOUT CAPT KEN
Hello "Mr. BIG!"....TIMES TWO!!
★★★★★
"
This was my 3rd and 4th charter with Captain Ken, however, this was my 1st two-day, back-to-back charter. What made this charter extra special is taking my grandson, (that flew in from Virginia,) and introducing him to Bass Fishing. As usual, Captain Ken put us on the bite right away. Jason, (my grandson) stayed busy once he understood the guidance from Ken and began landing good numbers unassisted in the 3–5-pound range. Then he latched into a lunker that weighed in at 9lbs. 3ozs! (My personal best is 8lbs. 1oz.) We fished from 0700 until 1300 and called it a day. Returned the next day and picked up where we left off with one notable exception. Jason landed an 11lbs. 3oz "Behemoth!" To say we were overjoyed with the charter is an understatement. My grandson will be spoiled for life because this kind of success isn't normal for a novice fisherman; it is however standard operating procedure for our guide, Captain Ken Walker. As stated in my previous review, Ken Walker is the "MAN" and I cannot recommend him highly enough! (This is where I drop the microphone!)
"
Trip of a Lifetime
★★★★★
"
I've fished for bass since I was a kid and I have never caught fish like I did on this trip with Captain Ken. He knows how to put you on the fish. We caught 19 bass, most were 4-8 lbs and four were trophies. We ended the day with a 12 lb 10 oz monster, doubling my person best. This was my best day in 30 years on the water. Book Ken for your best chance at trophy largemouth.
"
great fishing
★★★★★
"
We got 3 bass over 10 pounds lots 5 to 8 pounds Ken was great
"
CLICK HERE TO WRITE CAPT KEN A REVIEW
Current Captain Fishing Reports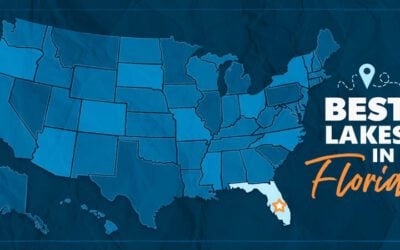 Ranked #1 Best Lakes in Florida BASSMASTER >> Rodman Reservoirs' reputation as one of the best lakes in Florida...
read more
What are you waiting for?
Other Nearby Local Experts