April North Florida Fishing
North Florida is home to some of the BEST trophy bass fishing in the state of Florida. The Rodman Reservoir is a breath-taking fishery known for its incredible fishing. When you arrive at the boat ramp, you will be captivated by the essence of the outdoors. Once you shake your local expert's hand, off you are for an adventure you will not forget. Hop on board for an April North Florida Fishing Experience of a lifetime!
Captain Ken Walker is our top local expert in North Florida. If you are looking to catch the biggest largemouth bass of your life, this is your guide. When you climb aboard, you will feel safe and comfortable. You will be educated on the different wildlife and reasons why this Reservoir is absolutely fantastic for fishing.
Once you arrive at your first honey hole, you will be on the fish within minutes! Here is your Rodman Reservoir Fishing Update:
Captain Ken had the pleasure of fishing with David on the Reservoir. David was looking to cash in on some excellent Florida bass fishing. This time of year is a great time to come travel to this amazing place and catch some big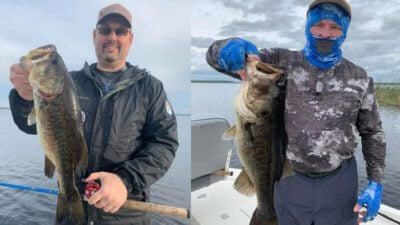 bass. David was on vacation and had to make a trip to the Rodman Reservoir for some bass fishing action.
When you come fishing here, you have to throw wild-caught live shiners. It is one of the most successful techniques for catching big bass. David can attest as he landed 10 quality and beautiful Florida largemouth bass. The biggest fish of the day was a trophy weighing in at 8 pounds 2 ounces.
David was ecstatic about that catch. Conditions paired up just perfect for a successful trip on the water. Captain Ken is looking forward to getting back out there for an even bigger fish in the near future!
Just shortly after this fishing trip, Captain Ken had the pleasure of fishing with Paul and his friend Rich. They were traveling to Florida from New Jersey. While here, catching a big bass was on the menu. They both heard about the capabilities that the Rodman Reservoir could offer and it was a must to get out with Captain Ken.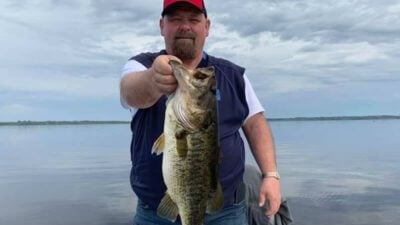 It was not long into the trip that the big bass started to bite. Paul and Rich caught 9 beautiful fish in their quick 4-hour fishing adventure. The biggest fish was caught by Paul weighing 6 pounds 8 ounces. It was a blast for these guys and they are looking forward to getting back on the water soon!
The next day, Captain Ken was back out on the water on the Rodman Reservoir, one of the TOP bass fishing lakes in the state. Sometimes, we have to save the best for last. Captain Ken had the pleasure of fishing with Carlson's traveling from New Jersey as well. The northerners spend their vacation time in the warmth this time of year.
Chris, the son, opened up the day with a trophy bass weighing 8.8 pounds. Sharon, the mother was soon to follow catching a bass weighing 8 pounds 4 ounces. John, the father, came up strong with a nice 8-pound largemouth to end the day. A total of 12 bass were caught on this fishing trip and everyone had an absolute blast.
Captain Ken is looking forward to getting Carlson's back on the water in the near future!
Now is the time to cash in on some Trophy Florida Bass Fishing. Captain Ken Walker will get you on the bass all trip long. Stay patient as the Rodman Reservoir is a trophy bass fishery meaning you will not catch large numbers but quality fish all trip long. Experience the Rodman Reservoir for a fishing adventure of a lifetime! We look forward to seeing you on the water next time!!
Come Visit Gainesville and Catch Yours Today
[fusion_button link="http://bassonline.com/trips/city/gainesville/rodman-reservoir/" title="BOOK YOUR RODMAN RESERVOIR FISHING TRIP ONLINE NOW!" target="_self" alignment="center" modal="" hide_on_mobile="small-visibility,medium-visibility,large-visibility" class="" id="" color="default" button_gradient_top_color="" button_gradient_bottom_color="" button_gradient_top_color_hover="" button_gradient_bottom_color_hover="" accent_color="" accent_hover_color="" type="" bevel_color="" border_width="" size="" stretch="default" shape="pill" icon="" icon_position="left" icon_divider="no" animation_type="" animation_direction="left" animation_speed="0.3″ animation_offset=""]BOOK YOUR RODMAN RESERVOIR FISHING TRIP ONLINE NOW![/fusion_button]
If you enjoyed this post with our Local Experts, you might also enjoy this fishing report from the same area.
Don't forget to follow us on Facebook, YouTube, Twitter and Instagram.
[fusion_text]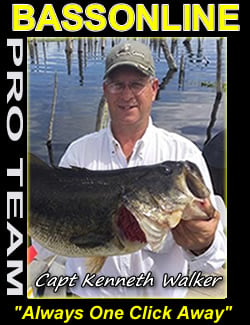 About Capt Kenneth Walker is a Air Force Veteran, Father, grandfather, and retired firefighter paramedic. A Florida Native Kenneth grew up in Gainesville, and has fished the local waterways since the age of 3. Now he is sharing those experiences with you on his exclusive fishing guide trips. [/fusion_text]