Captain Rating:
Top Rated Captains - Rated by REAL customer reviews, click to read

Instant Confirmation
No Waiting - Get an instant online confirmation that your trip is scheduled!
  Angler's Top Choice
Our Captains are NOT available anywhere else, only Top Choice Guides work here!
FREE Cancellation
Canceled due to bad weather or bad health? We'll help reschedule or refund.
USCG Credentials

This captain has successfully passed an enhanced check by US CoastGuard and is Bass Online verified legal
Child Friendly

We look forward to the opportunity to teach children to fish. We carry all of the appropriate safety gear and ensure that our boats are a clean and safe environment for children all ages.
Disability FriendlyProvides Fishing Access for Anglers with Disabilities. Select an area below to book you next trip!
Capt Chris Davy grew up in Nashville TN before it was cool. As a kid, we fished every pond and creek within 20 miles of my house, often by horseback. Certainly, different times but the passion for finding fish never changes. Then it was smallmouth and
largemouth bass
, rainbow and brown trout along with crappie and catfish. As I got older all of 14-15 I fished on a boat called Honey Chile in Sarasota /Longboat Key Florida and that was all it took. It was there I learned the pursuit of "big fish". I knew then when I was old enough I was heading to Florida to live and fish. I always wanted to be a professional fisherman and in the mid '90s began
tournament fishing
for kingfish. The adventure took on a life of its own and by 2012 I started hosting the Southern Sportsman Radio Show in Flagler County and did so for 8 years. As fishing and being a Guide/Captain became my life the real reason I do it, and love it, is to be a special part of other people's memories with family and friends.
Chris's  Favorite Techniques
I do all types of fishing. Some of you folks are artificial purists but, sometimes that's not the best technique for success. I fish to the skill level of my customers. A family with 2 young children will obviously be set up differently than experienced anglers. My job is to put you in the best situation to
catch fish
, have a good time, and enjoy the day on the water.
All you need to do is grab your FL fishing license, bring some drinks and snacks aboard, and get ready for the fishing trip of a lifetime!
Species Capt Chris catches
Fishing Chairs
GPS & Fishfinder
Life Jackets
Catch and Release Allowed
Cooler, Ice, Bottled Water
Boat Specs: 22+ ft
Boat Capacity: 4 People
All Fishing Equipment
Boat & Fuel
Photos
Spinning Rods
Baitcasting Rods
Left & Right Handed
Fly Rods (request only)
Braid & Mono Line
Capt Chris's Fishing Options – Book Online
WHAT CUSTOMERS ARE SAYING ABOUT CAPT CHRIS
Freshwater fishing at Bing's Landing
★★★★★
"
Had a wonderful time on this 1/2 day fishing excursion. Our Captain was informative, funny, and considerate. There were 3 of us (women) who were all novice at fishing. He was patient with us and by the end of the trip, we felt like professionals! Wonderful scenery, smooth waters, and lots of fish! Captain Davy shared fishing stories with us and we laughed a lot! I highly recommend this trip. We will definitely go again with Captain Davy! Such fun!
"
Captain Davvy was a Blast!
★★★★★
"
Booked a trip with Captain Davvy on Rodman and had a great trip. Boated a 7lb 14oz and 4lb 8oz bass fishing during the drawdown.. not an easy feat. The trip was great and I would go back tomorrow if I could!
"
Enjoyed the adventure
★★★★★
"
I opted to fish Rodman Reservoir during the drawdown. Captain Chris was very accomodating and a pleasure to spend 6 hours with. His boat and equipment are set up for fishing this type of lake. The weather was ideal for fishing; mostly cloudy, the west wind, warming temperatures. The water temperature was 66. The bass was not very co-operative. I caught five bass with the largest about 4 pounds. I also caught 4 mudfish and 1 small gar. I will be back for another adventure next year.
"
CLICK HERE TO WRITE CAPT CHRIS A REVIEW
Current Captain Chris Fishing Reports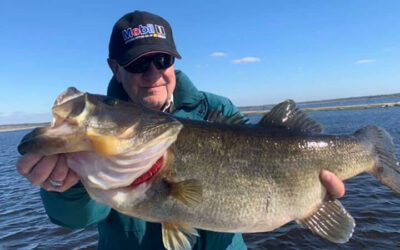 March Rodman Fishing Trips Bass fishing is better than ever here in North Florida. All across Florida, you can find...
read more
What are you waiting for?
Other Nearby Local Experts