Lake Kerr Fishing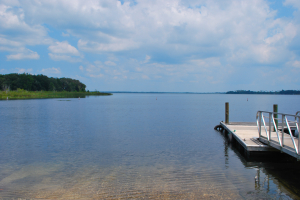 Lake Kerr is a small lake located in Marion County, Florida. Eureka and Salt Springs are located near Lake Kerr. It is also located very close to Lake George and the St. Johns River.
Location: latitude 29°21'05.905", longitude 81°46'46.038", GPS datum—WGS-1984 Station KER is located on Lake Kerr between Kauffmans Island and Point Pleasant.
Point sources: There are no wastewater treatment facilities within a five-mile radius or within the drainage basin of this water quality site.
Site Photograph
Lake Kerr is a beautiful, clear water lake located just west of Salt Springs, Fla., in north-central Florida. It covers approximately 2,830 acres and is surrounded by the Ocala National Forest. There is a public boat ramp located at a county park off Forest Road 88 on the west side of Lake Kerr. There is not a lot of parking available for vehicles and boat trailers, so get there early if you are going for a day of boating or fishing.
Lake Kerr is a popular location for locals on a hot summer day and the clear waters are very inviting! An island has emerged in the center of the main part of the lake, so the lake now is shaped like a little letter "e." Private residences surround the lake, but it is not overdeveloped. You can gain access to Little Lake Kerr to the east by way of a narrow canal, if the water level is high enough.
There is plenty to do in the area. The Ocala National Forest surrounds Lake Kerr and offers many opportunities for the outdoors enthusiast, from hunting, to camping, to riding all-terrain vehicles, and more. Salt Springs National Park is nearby and offers swimming and camping also.
[fusion_builder_container hundred_percent="yes" overflow="visible"][fusion_builder_row][fusion_builder_column type="1_1″ background_position="left top" background_color="" border_size="" border_color="" border_style="solid" spacing="yes" background_image="" background_repeat="no-repeat" padding="" margin_top="0px" margin_bottom="0px" class="" id="" animation_type="" animation_speed="0.3″ animation_direction="left" hide_on_mobile="no" center_content="no" min_height="none"][fusion_map address="23761 Ne 152nd Lane Road, Salt Springs, Florida 32134″ type="hybrid" map_style="default" overlay_color="" infobox="default" infobox_background_color="" infobox_text_color="" infobox_content="" icon="" width="100%" height="300px" zoom="12″ scrollwheel="yes" scale="yes" zoom_pancontrol="yes" popup="yes" class="" id=""][/fusion_map][/fusion_builder_column][/fusion_builder_row][/fusion_builder_container]