Shellcracker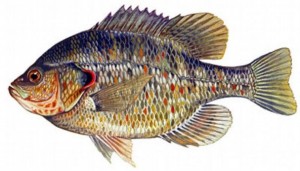 Florida has more than 7,700 named lakes and ponds and over 10,000 miles of streams and rivers, all brimming with "bream." "Bream" is a local term throughout the southeast that includes a variety of deep-bodied panfish belonging to the sunfish family.
The most common of these are bluegill, redear sunfish (shellcracker), redbreast sunfish, spotted sunfish (stumpknocker) and warmouth. Although black bass are technically in the sunfish family, they are not considered to be bream. Almost any water body in the Sunshine State, regardless of size or locale, contains the popular bluegill and, probably to a lesser extent, redear sunfish.
Sunfish concentrate to spawn in water depths that range anywhere from three to ten feet, but are usually found at the shallower end of this range. Bluegill seem to opt for slightly shallower areas, but it's not unusual to see shellcracker and bluegill intermingle, using the same bedding areas at the same time. Redear sunfish (shellcracker) typically begin spawning about one month before bluegill.
Shellcracker Seasons
Seasonal advice for bluegill and redear sunfish: In south Florida, shellcracker may spawn as early as the last week of February but more likely around the fourth week of March. In central Florida, they could first go onto spawning beds during late March. If water temperatures remain low through March in central Florida waters, then expect shellcrackers to concentrate for spawning between the second and fourth weeks of April. They will likely begin to concentrate in the panhandle of Florida in the third or fourth weeks of May. Shellcracker will bed well into August, while bluegill will periodically spawn throughout the summer months and, sometimes, even as late as November in south Florida..
Based on fishery surveys and local expertise, here are predictions from Florida Fish and Wildlife Conservation Commission biologists on which sites they think should be highly productive for bream (in no particular order) for the year 2013 (see Top Sites Map Adobe PDF 5 MB).
Lake Kissimmee
West Lake Tohopekaliga
Lake Panasoffkee
Lake Talquin
Harris Chain of Lakes
Lake Bryant
Lake Marian
Lake Marion
Lake Istokpoga
Winter Haven South Chain of Lakes
Suwannee River
Lake Okeechobee