Lake Rating:
Lake Rating - Read customer reviews of lake, click to read
About Lake Lochloosa Florida
Lochloosa Lake covers 5700 acres and is located along Highway 301 about 5 miles south of Hawthorne, close to Lochloosa town. The lake's shoreline is bordered by aquatic plants such as spatterdock (bonnets), knotgrass, and old-growth cypress trees. Lochloosa Lake along with various other water bodies within the basin is recognized for its economic and ecological significance. It has a long-standing reputation among anglers for its sport fishing.
Fishing in Florida Lochloosa Lake -crappie, redear sunfish, bluegill, largemouth bass, & more
These Florida waters are full of bluegill, redear sunfish, bream, and crappie, which can all be caught year-round but may be more prominent at certain times of the year. Black crappie fishing is best in January through April. The others are best from April through September.
Fishing with a Guide
Lochloosa Lake is an especially popular bass fishery, catching 10-pound bass is not uncommon, especially when getting advice from a local expert. It gets difficult to keep up with the habits of a new Florida environment. Professional guides are familiar with the waters and which spots are best for certain seasons and conditions. Not only will a guided trip be full of catches, but you will finish the day knowing more about the fish's habits, making you an all-around better angler. Main factors include temperature, visibility, and structure. All three have an effect on how you are fishing on the lake.
Lochloosa Lake Fishing Charters
Pricing?

To get current pricing. Click on the AVAILABLE button on the pictures below. Then adjust the date, time, and the number of people and it will display the total price
Searching Availability...
Lochloosa Lake access point
There is a public boat ramp in Alachua County that will give you access to the lake. Its located in the town of Lochloosa at Lochloosa Harbor Fish Camp. There is a convenience store here and a bait & tackle shop for you can get any required angling items. You can boat rentals but you need to get your own kicker. This is a great place for touring or kayak fishing.
Lochloosa Park Florida – Fish Management Area
Lochloosa Lake is a Fish Management Area that is located 5 miles south of Hawthorne, covering 5700 acres. Most of its shoreline is bored by plants such as spatterdock, cypress trees, and knotgrass.
A public pier that is located south of the Lochloosa town on Burnt Island. This is a popular fishing site for people who don't have a boat. Anglers who are targeting bream need to use grass shrimp in deeper grass patches and deep-water spatterdock. If you want to catch black crappie, it is best to visit the lake from January to April. During the fall and summer, crappie anglers should drift open area with minnows or grass shrimp.
Trip Core Details
Region: Florida – Gainesville
Duration: 4, 6, & 8 hrs
Cancellation: 12 hrs in advance
Weather-Related: Full refund
Instant Online Confirmation
Includes All State Taxes
What's Included:
All Fishing Equipment
Professional Captain
Boat & Fuel
Cooler & Ice
Bottled water
Photos
What's NOT Included:
Florida Freshwater Fishing License for those ages 16+
Live bait if desired is also additional and is purchased the morning of the trip. (optional)
Food or Specialty beverages
Fishing Chairs
GPS & Fishfinder
Life Jackets
Catch and Release Allowed
Keep Fish Allowed within Laws
Boat Specs: 20+ ft
Boat Capacity: 4 People
All Fishing Equipment
Boat & Fuel
Photos
Light Tackle
Heavy Tackle
Livebait
Fly Fishing
Artificial Lures
Spinning Rods
Baitcasting Rods
Left & Right Handed
Fly Rods (request only)
Braid & Mono Line
Gainesville Fishing Guides
Birthday Fun
★★★★★
"
Amazing 21st Birthday trip for my son!! Captain David was awesome. I caught more fish and nice fish than I ever have on what I thought was a tough day. Sometimes it pays to listen to the guide.
"
CLICK HERE TO WRITE REVIEW
Lochloosa Lake Campground & Things to do
Lochloosa Harbor Camp provides great fishing and camping experiences in the state. People will find rustic cabin rental, a house, and a lodge. All these amenities will give you entry to the beautiful lake. 
The camp is located in a rustic setting in Florida but still close to a few restaurants. Apart from fishing, you can also observe several Osprey, White Heron, Eagles, Otters, and Turtles in their natural habitat. If you are lucky enough, you will be able to spot an alligator or two in the Spanish moss or cypress stumps. 
This camp can be your home away from home, for a family vacation that will provide you with everything that you need to have a great time.
Current North Florida Fishing Reports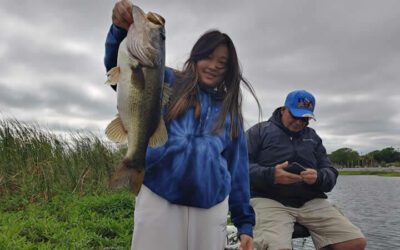 The Best Guided Bass Fishing in Florida Maybe you have done guided bass fishing in Florida, and perhaps you haven't. Perhaps you are a seasoned angler, or maybe you fish only...
read more
Fishing from Lochloosa Lake Boat Ramp
When you are planning to fish in Lochloosa Lake, you should look for spots along the shoreline containing patches of aquatic vegetation like reeds or lily pads. In case there is little or no vegetation, you should keep your eyes open for rock or log piles. This kind of structure will offer shelter for game fish in the natural lake. Hiring a guide is the best chance at catching fish in a new location, but it is possible to catch fish in Lochloosa Lake from the ramp.
Local Ramp Species
Before you go fishing, you need to know the type of fishes that are available. 
Burbot: This is a slow-moving animal that likes hiding in dark places. It is a freshwater species that is related to the cods. This is also called eelpout or lawyer. It is closely related to the cusk or ling. Burbots are good for eating but are hardly used as food due to their eely appearance. 

Bass: This is a name shared by different species of well-known game fish. An average largemouth bass weighs about 1-2 pounds and is 8-18 inches long. 

Common Carp: These are found in shallow shipwrecks and inland lakes. Most carps have a fishy taste and aren't considered good for eating. 

Channel Catfish: Even though this is suitable for eating, it is a bottom feeder. However, it is one of the most fascinating inhabitants of the lake. 

Yellow Perch: This is another bottom feeder that you might come across. It has a slow and deliberate bite. It can eat almost anything but prefers worms, insect larvae, and plankton. Tackle might range from fly rod in summer to a short jigging or whippy rod in the water. Since perch prefer cooler temperatures, the best fishing is generally in deeper water.
What are you waiting for?
We also have great deals available on the following lakes that match your search criteria.