Lake Rating:
Lake Rating - Read customer reviews of lake, click to read
Pricing?To get current pricing. Click on the AVAILABLE button on the pictures below. Then adjust the date, time, and the number of people and it will display the total price
Searching Availability...
About Sawgrass Recreation Park Fishing & Tours
When visiting Sawgrass Recreation Park, you feel the excitement and learn the history of one of Florida's most remarkable treasures, the Everglades. As one of the rare subtropical ecosystems, the Everglades holds spectacular mysteries. Read a little history of the Everglades with us, explore the subtropical wonder of South Florida.
You will find yourself getting up close and personal with native wildlife. Many endangered and in the current fragile environment. This adventure will create lasting memories as you discover the secrets of this untamed wilderness the Seminoles called home.   Read More
Trip Core Details
Region: Fort Lauderdale
Duration: 4, 6, & 8 hrs
Cancellation: 12 hrs in advance
Weather-Related: Full refund
Instant Online Confirmation
Includes All State Taxes
What's Included:
All Fishing Equipment
Professional Captain
Boat & Fuel
Cooler & Ice
Bottled water
Photos
What's NOT Included:
Florida Freshwater Fishing License for those ages 16+
Live bait if desired is also additional and is purchased the morning of the trip. (optional)
Food or Specialty beverages
Fishing Chairs
GPS & Fishfinder
Life Jackets
Catch and Release Allowed
Keep Fish Allowed within Laws
Boat Specs: 20+ ft
Boat Capacity: 4 People
All Fishing Equipment
Boat & Fuel
Photos
Light Tackle
Heavy Tackle
Livebait
Spinning Rods
Baitcasting Rods
Left & Right Handed
Fly Rods (request only)
Braid & Mono Line
Fishing beautiful Everglades in Fort Lauderdale Florida on a boat fully equipped with top quality rods, reels, hooks, and artificial lures. 
Exploring state-ranked Everglades in search of trophy largemouth bass, hard-fighting peacock bass and so much more.
Guided fishing tour by a USCG professional fishing captain knowledgeable of South Florida and all of its waters. 
Take home a souvenir of your big catch with perfect photos taken by your guide and spread on social media as desired.
Local Operator Information:
Complete Operator information, including local telephone numbers for your destination, are included on your Confirmation email. Our Trip Managers select only the most experienced and reliable guides in each destination, removing the guesswork for you, and ensuring your peace of mind.
Participants are encouraged to bring comfortable shoes, a light-colored shirt, a hat, sunglasses, and sunscreen.
Sawgrass Recreation Park Fishing Guides
Fishing the Everglades
★★★★★
"
Captain Mark Shepard was a great host on the water again in our trip to the Everglades! Saw a ton of gators and put a bunch of fish in the boat. Looking forward to our next trip with him!
"
Fishing the Everglades with Capt. Brett
★★★★★
"
Me, my wife and son just spent an afternoon fishing the Everglades with Capt. Brett. This was our first bass fishing trip anywhere in Florida. Originally, the trip was booked for another location, but Capt Brett suggested the Everglades trip due to recent poor fishing on the other lake. I trusted in his recommendation and agreed to the venue change. Everything was excellent. Great boat, great fishing gear and a very helpful Captain, especially since my wife had no prior fishing experience. We had lots of fun, saw lots of wildlife and yes, we caught a lot of fish. I would definitely book another trip with Capt. Brett. Thanks for the great afternoon Brett!
"
CLICK HERE TO WRITE EVERGLADES REVIEW
Everglades Fishing
Fast-moving baits, topwater plugs, frogs, snakes, giant worms, senkos, spoons, and buzz baits are common ways to fish the Everglades, and plastic worms work well. Using topwater, you see many strikes before they happen, and the battle can be quite exhausting. 
Everglades is like nowhere else in the world; the Florida Everglades holds the state record for the highest number of fish caught per person, per hour of any fishery in the state of Florida. "Static's from the Florida Fish and game wildlife department." When you consider all the great lakes and rivers in Florida, that's impressive! So if you're looking for action, you have found it. 
Fishing Guides
Our Florida Everglades fishing guides have extensive knowledge and the most experience in fishing the Everglades. Most native to the area, our expertise and service is second to none, just like our boats, rods & reels, and tackle that you will be using. We guarantee it with our NO FISH, NO PAY policy!
Sawgrass Recreation Park offers the ability to catch big fish and lots of fish; the Everglades is the place to be. Everglades offers trophy largemouth bass fishing. Many catches in the 4 to 7-pound range are taken each year. Think about joining us for the Everglades trip of a lifetime!
Not only will you fish with a professional guide, all of our trips include Fully equipped Bass boats, fuel, and tackle. Everything you need for that trip you've been waiting for. The only thing you will need to have is a Florida fishing license.
Group Trips
Sawgrass Recreation Park Corporate trips are welcome and very common for us because of our size. We can accommodate your fishing needs from one to a hundred. We also can provide everything from breakfast and box lunches to a southern BBQ to end the day.
Airbot rides
Located just West of Fort Lauderdale and minutes from Miami, Sawgrass Recreation Park is a top attraction for locals and visitors alike, ideal for kids and families of all ages. They are known for Everglades airboat rides, with an incredible live alligator presentation and world-famous exhibit areas. Sawgrass has miles of wetlands that you will experience as you journey deep into the Everglades. Glide across what is referred to as the "River of Grass" at fun, exciting and safe speeds with a local expert by your side.
Our fleet of airboats are unique, secure, and offer comfort, allowing you to feel the breeze and smell the earth. Take amazing Everglades pictures of the American alligator and come face-to-face with many of the Everglade's most exciting animals. The Sawgrass Recreation Park Everglades airboat tours are a must-visit; they leave every 30 minutes. So plan on fishing with us and then taking a short break and make time for the reptiles and mammals exhibit and unforgettable wildlife.
Location
Sawgrass Recreation Park, directions take 595 W. to I-75 N, take Exit 23 U.S.Hwy. 27 North, 2 miles up the road.
The park offers an Airboat tour, alligator show, reptile, and vanishing species exhibits. Food, beverages, gift shop, and craft stand. Group and private tour rates upon request. Ample bus parking and hospitality. If you are looking for additional Saltwater Fort Lauderdale Fishing Charters click here!
About Sawgrass Recreation Park
Originally a fishing camp, Sawgrass Recreation Park transformed over the next 30 years into an airboat attraction in the 1970s, eventually becoming one of South Florida's top destinations for visitors in the new millennium.
The Soverns' family acquired Sawgrass Recreation Park in 2005, shortly after Hurricane Wilma. Since then, the park has expanded, allowing for adoption and rescue of more reptiles and mammals by adding exhibit areas. For the first time, community relations offered a local scholarship annually to a student in conjunction with local schools to educate and bring awareness to students about the Florida Everglades.
Local History
The historic Florida Everglades at sawgrass recreation park consisted of approximately four million acres of shallow sawgrass marsh, with wet prairies and aquatic sloughs interspersed with tree islands. Today, only 50 percent of the original Everglades ecosystem remains, primarily due to drainage and conversion of large portions of the northern and eastern Everglades for agricultural or urban land use. The middle section of the historic Everglades' remaining parts is located in the Water Conservation Areas WCA 2a.
The Everglades ecosystem evolved under low phosphorus concentrations and is considered an oligotrophic ecosystem. A large body of evidence indicates that phosphorus is the primary limiting nutrient throughout the remaining Everglades. The introduction of excess phosphorus to the Everglades has resulted in ecological changes over large marsh areas.
Continued Effort
The Everglades Forever Act, passed by the Florida Legislature in 1994, stated that waters flowing into the remnant Everglades known as the Everglades Protection Area contain excessive phosphorus levels and a reduction in levels of phosphorus will benefit the ecology of the Everglades Protection Area. The EFA requires the Florida Department of Environmental Protection (FDEP) and the South Florida Water Management District (SFWMD) to complete the research necessary to establish a numeric phosphorus criterion for the Everglades Protection Area.
The SFWMD Everglades System Research Division (ESRD) initiated a succession of studies for phosphorus criterion development by Sawgrass Recreation Park. The investigations began in 1993, continue presently, and part of the research and monitoring conducted in the Everglades. In early 1994 in WCA 2A Biological monitoring for the ESRD studies was started. FDEP using data from this and other studies in the development of a numeric phosphorus criterion for the Everglades Protection Area. BassOnline.com is the only South Florida guide & outfitting service involved in persevering the Everglades and its ecosystems. We support conservation and are very active in SAFER, a supporter of Anglers and Everglades Restoration.
Study Design
SFWMD ESRD initially selected 13 sites along two transects located downstream of canals discharging into WCA 2A and extending down the phosphorus gradient into the least affected areas of the marsh near sawgrass recreation park. Sampling sites ranged from the canal inflows (discharge structures on the northeastern margin of WCA 2A) to nearly 15 km downstream from the canal inflows. Three of the 13 main sites specifically were chosen to represent the least affected area of WCA 2A concerning anthropogenic disturbance (sites U1-U3).
A series of 15 additional "intermediate" sites were added to the study later to obtain better spatial coverage of the lower portion of the transects. The sites monitor for water, sediment, and biological quality.
This project initiated to monitor biological assemblages across a nutrient gradient in the Florida Everglades to support regulatory efforts to define a numeric water quality criterion for phosphorus. The goal is the protection of natural populations of aquatic flora and fauna in the Everglades Protection Area.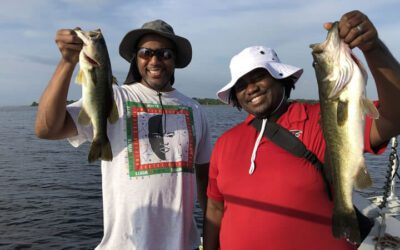 The Best Summer Fishing For BassSummertime fishing can vary greatly depending on where you are. Leaving you feeling hopeless as the fish move to deeper water and wait until the weather...
read more
F. A. Q of S
awgrass Recreation Park
What can you fish in the Everglades?
The Everglades Fishing is split into two parts, freshwater and saltwater– in the salt you might catch Snook, Tarpon, Redfish, Trout, Grouper, Snapper, Triple Tail, Jacks, Lady Fish, and Sharks. In the freshwater parts of the Everglades, you can catch Peacock Bass, Large Mouth Bass, Oscars, Bowfin, Chain Pickerel, catfish, Cichlid, and Alligator Garr.
How many species of fish are in the Everglades?
Nearly 300 different species of fish are known to inhabit the freshwater marshes and marine coastline of Everglades National Park.
Can you eat fish from the Everglades?
Florida's freshwater and marine fish are generally considered safe to eat. However, certain Everglades fish can be potentially unhealthy to eat because those fish can take up contaminants from the water they live in and from the food they eat. They recommend against large consumptions of any fish from the Everglades because of mercery levels.
What is the best month to fish in Florida Everglades?
This is based on the water levels, a high summer water levels lead to less wildlife and fish. Low water levels, expose all the species of fish and wildlife. More specifically, the months from June to September (and, some years, even October) are west seasons.
Are the Everglades dangerous?
Alligators are aggressive, and they dominate the freshwater waterways of the Everglades. Additionally, the Everglades is the only place on earth in which alligators and crocodiles coexist, so you may spot some of those, as well as various types of snakes – all of which you want to avoid encountering at all costs.
How do people dress for fishing charter?
In layers is best, but fishing is casual. A sundress for ladies with bikini underneath is not uncommon. Khaki shorts for guys is as dressed up as anyone ever gets, long pants work if you're not using to the sun. In the same vein, there are no "styles." Get comfortable with whatever dress code is the norm. But always try to wear light colors as they are cooler.
Is Everglades worth seeing?
The Everglades made the Top 4 in the best national parks ranking this year. And there is a good reason for it – the wildlife is incredible no matter where in the Everglades you are. On the freshwater side of the Everglades, Alligators are dominant. You can't just take a boat tour to view these species, on the saltwater side you can side crocodiles and dolphins with the chance to see turtles and alligators along the way.
What are you waiting for?
We also have great deals available on the following lakes that match your search criteria.