Welcoming Miami local beginners and traveling seasoned anglers alike, fishing charters in Miami offer visitors of all skill levels a shot at some fantastic fish. Miami is famous for its beaches, culture, significant events, and sports teams. From Miami shopping on South Beach to connecting with Cruise ships out of Miami Port. Unknown to many, fishing in Miami is recognized as some of the world's most outstanding fishing.
Top Catches in Miami on Fishing Charters
You immediately mention to people about charter fishing in Miami and they think of big game fish like a Mahi Mahi or the famous Biscayne Bay inshore charter that all provide an exciting challenge and will leave you thrilled. When Miami deep sea fishing in the Gulf Stream, you can only imagine catching big game fish. Hooking into a Sailfish, Shark, Mahi Mahi, Kingfish, Wahoo, or Blackfin Tuna. Head deeper, and you'll find Grouper, Amberjack, Snapper, Tilefish, and even Swordfish.
Maybe the Mahi Mahi deepsea offshore fishing charters, are not one of your favorites. The waves, the cost, etc. Maybe your friend's experience inshore good fishing, which included catching Redfish, Snook, Shark, Tarpon, Bonefish, Seatrout, and Permit.
What about Freshwater Butterfly Peacock Bass
What commonly gets overlooked and at certain times of the year is more popular than all we have listed so far is the Miami nature adventures, which can only happen in freshwater. Where the charter fishing in Miami grounds are side by side with the alligators and crazy but beautiful birds. Miami Fl the best fishing options for fishermen, including largemouth bass, Peacock bass, and the Asian Snakehead, just minutes from the Miami International Airport, downtown Miami Beach, and South Beach.
The fishing charters in Miami Fl allow for a year-round fishing experience fun-filled with excellent results. Depending on the time of year and conditions, there are different fish species to target live fishing bait, artificial, fly, and topwater fishing on day trips.
So now you know, charter fishing in Miami Beach is known as one of the top saltwater fishing destinations globally. Still, Miami Fl is also one of the best freshwater bass fishing destinations in the world.
Many forget about the spectacular South Florida freshwater fishing Miami has, the headwaters for the Everglades National Park, and quoted by Fish and Wildlife as the number one bass fishery in Florida for the share number of fish caught! Yes, that means action; it's not uncommon to catch 100-plus fish on your Miami Fl trip.
So while your colleagues are out deep sea fishing, cruising around in the ocean catching two or three fish all day, you can be enjoying the sights and sounds of the Florida Everglades out of Miami. Alligators are so close you want to experience a kiss, but not recommended.

Instant Confirmation
  Angler's Top Choice
FREE Cancellation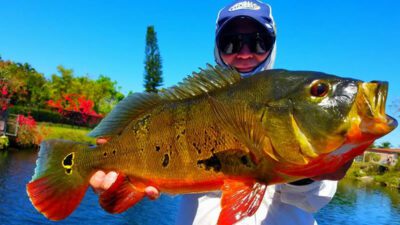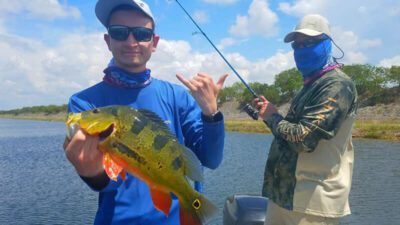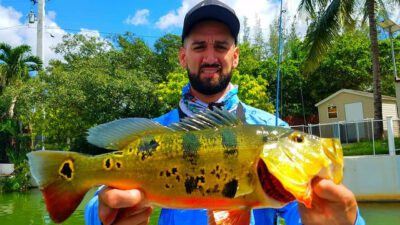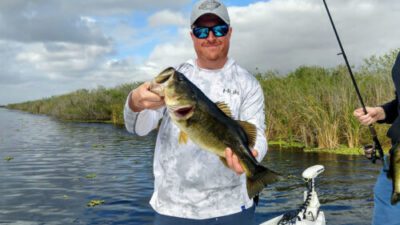 Airport lakes
Are you ready for a superb South American fishing experience without having to travel out of Miami Fl? A fishing charter with the chance to catch a hard-fighting, peacock bass? So no need to leave Florida and just a stone's throw from the beaches of Miami? Our Peacock Bass Fishing charters will take you on an urban fishing trip you won't forget in the South Florida area Lakes and Canals. The Peacock Bass fishing charters have flourished in these urban canals and lakes over the last 20 years, and all of this great fishing is just a stone's throw of most anywhere in Miami Florida.
The Blue Lagoon fishing charters offer some of the most exciting and unique Miami fishing charters in all of southeast Fl. Several fishing charters report canal 'trifecta' or 'grand slam' catches of largemouth, peacock bass, topped off with a Snook and Tarpon. We specialize in just Miami fishing charters for Peacock Bass. Our crew of Captains are the most experienced, we only use the best guides that fish for the Florida Peacock Bass. Our captains at Bassonline.com will gladly assist you in planning your next Florida charter that's guaranteed to create a lifetime of memories!
We take pride in making sure that you will have wonderful Miami Airport lakes Trips. [READ MORE…]
The Falls
Some of the best fishing is Miami falls canal system, there is an excellent opportunity for anglers to catch Peacock Bass, Largemouth bass, and even several other fish. The Miami system is based in Dade County and has many features, lakes, parks, and a picnic area equipped with very nice restroom facilities.
The fishery is made up of a series of Lakes and Canals, the lakes, and the canal intersections and ditches, which are connected to Miami Biscayne Bay and are generally productive areas for catching most fish species.
The water is clear and makes for good sight fishing, even using live bait. Shoreline vegetation, rip-rap areas, and shady areas associated with bridges and culverts also provide excellent fish places. The Miami charter boats nicked named the place the "Falls," about 32 miles of lakes and canals connected to other lakes by a series of channels. Aquatic vegetation consists of cattail, spatterdock, and hydrilla. The fish are attracted by the large amounts of live bait in the system. 
Fishing scenes during a full day at the Falls location could include largemouth bass, peacock bass, sunshine bass, black crappie, bluegill, redear sunfish, catfish, and Mayan cichlids. [READ MORE…]
 Aerojet Canal
The Aerojet canal fishing charter located in Homestead is just minutes from the Florida Keys. You fish a casting distance from Saltwater, all while enjoying the catches only provided by freshwater including occasional Tarpon. Because of its trip location, it gets very low pressure and, in return, grows really big bass leaving it a special place for private charter fishing in Miami.
A few of the side benefits of being located so far south in Miami is the capability to produce and keep up peacock bass in the same fishery. Aerojet Canal is a totally different experience than Blue Lagoon, it is never noisy and congested. Aerojet fishing charters rarely see other anglers, maybe a few extra anglers on the weekends. Traveling from the boat ramp, it doesn't look like much. But like most fisheries, this one especially has its SWEET spots that always seem to hold fish during a trip.
With that said, this place has a lot of fish and is generally productive for most anglers with little knowledge of the area. The entrance off the road of US1 is a bit difficult to see and access, especially with weekend traffic. The Aerojet canal is flood control and has a structure on both ends. It fishes like a combination of Tamiami and Snapper systems, all while providing urban anglers with more exciting fishing opportunities without going to South America.
The Aerojet fishing charters offer some of the most exciting and varied Miami fishing in all of southeast Florida. Several anglers have reported canal 'trifecta' or 'slam' catches of butterfly peacock and largemouth bass topped off with a Snook or Tarpon. Our native crew of fishing guides has the local knowledge, and service is second to none, just like our boats, rods & reels, and tackle that you will be using during your fishing charter. We guarantee it with our NO FISH, NO PAY policy! [READ MORE…]
Everglades
Visit the Everglades Holiday Park in the Florida Everglades and witness nature's wonders all around you during Miami fishing. The river of grass will amaze you as we drive our late-model bass boats to the fishing destination. It's a thrill plus very educational. Stay confident this is not just another airboat tour, it's an experience which you get to explore the Florida Everglades and catch bass all in one!
Home to hundreds of Everglades creatures and watery wildflowers. Everglades Holiday Park is the perfect place for both entertainment and learning. Explore a forest of unspoiled wonders at the Everglades Holiday Park and see for yourself what makes the wetlands so wildly wonderful. The Everglades is an attraction in Miami not to be missed; the hidden secrets of natures own will develop your curiosity as you explore Everglades Holiday Park and Sawgrass Recreation Park in Broward County.
Come out, research, and let's go fishing! [READ MORE…]
Top Targeted Fish Species
Peacock Bass with Capt. Richard
★★★★★
"
We booked a 4 hour trip with Capt Richard in late June. We had an amazing time! He is a very cool and funny guy, which made the trip that much more enjoyable. We caught fish the whole 4 hours. A bunch of peacock bass, as well as a large clown knife fish! It was a great experience, and would definingly come back with Capt Richard if i am ever in the area again!
"
Capt Rich
★★★★★
"
Me and my father went with Capt Rich and it was a great time, we caught tons of fish, variety of species and Capt Rich was great with telling us information about the fish and the wildlife around, he was really funny also with tons of jokes and very easy to get along with also always baited the lines and gave help wherever asked, would 10/10 recommend going with Capt Rich for a fun time!
"
Great Day On The Water
★★★★★
"
My wife and I fished the canals near Miami. Capt. Riley is friendly, extremely knowledgeable, and very helpful. Plus we caught a lot of fish. What else could you ask for?
"
CLICK TO WRITE A MIAMI REVIEW
Snapper Creek
The Snapper system is another popular Miami destination for charter fishing in Miami for South Fl anglers. This system consistently produced excellent catches of peacock bass. The Snapper crew and captain speak both English and Spanish so anglers may also encounter Snook or Tarpon moving inland from Biscayne Bay.
Fishing on Snapper System
The main Miami canal systems are 12.3 miles long, average 12 feet in-depth, and range from 50 to over 100 feet in width. The north end of the channel is narrower and shallower than the southeast end. There are five boat-accessible lateral canals and a small seven-acre lake up to 22 feet deep, plenty to fish for a full day with or without bait.
Charter fishing in Miami offers the opportunity for the largest predators to travel throughout the system, but they tend to concentrate under bridges. Anglers fishing Snapper can also catch jaguar guapotes, Oscars, or spotted tilapia. These illegally released non-natives have posed a threat to native species, are good to eat, and you can keep every one you catch. Jaguar guapotes resemble black crappie with many small sharp teeth.
Oscars are bream-shaped fish with a red or orange circle at the base of the tail, and they have a thick coat of protective mucus on their bodies. Spotted tilapia is also bream-shaped, golden in color with black spots or bars, and some adults have red on their bodies. [READ MORE…]
Meet the team of
local Miami fishing guides
, we know the best spots, baits, and techniques to give you the Greatest fishing guides in Miami.
So we have discussed ​Miami fishing charters and what you can catch in freshwater and Saltwater, but how should you be the next question? There are many ways to fall in love with charter fishing in Miami. Some like to target one species of fish, and others target every species of fish. Picking the right way is up to you, as long as you are going charter fishing in Miami!
FISHING MIAMI FOR VARIETY!
Miami is home to a wide variety of beautiful fish species. When charter fishing in Miami sunny South Florida in and around Miami and South Beach, we all know the deep sea charter fishing in Miami is excellent year-round, and you can expect almost everything. But hold on, the Miami freshwater fishing has its share of exciting species as well. Home of the Everglades, quoted as the #1 bass fishing in FL for share catch.
And while it is a local Miami area it still shares trophy bass fishing lakes, it has several other species that may pique your interest. Miami fishing charters are also the home to mighty Asian Snakehead, a topwater giant that will demand your respect if you try. But let's also not forget about the hard-fighting Miami Peacock bass brought here from South America & more.
There isn't any place in the world to match the opportunity and measured accomplishments for anglers than Miami fishing. It may be the land of beaches, great food, and nightlife, but fishing is what keeps people coming back.
Know your Rules & Regulations
Charter fishing in Miami always includes a fishing license when in Saltwater by state law. Charter fishing in Miami in the freshwater is NOT allowed to retain the Florida fishing license, and all customers need to purchase a license separately. Your Miami fishing license is covered if you are fishing from a for-hire vessel – whether it's a Miami private charter or a Miami party boat.
The state also has specific size limits for all species of fish caught around Miami; this affects freshwater and Saltwater both. The captain will know the specific laws for each species; if not, you can download apps to assist you.
Again, if you're fishing on a Miami saltwater charter, you are included by the boat captain. If you plan on fishing from a canoe, kayak, or the bank in Saltwater or freshwater, you'll need to purchase a Florida fishing license.
Getting a Miami Fishing License
Out of the many states that sell licenses, Miami Florida is one step ahead; you can easily download an app called "FishHuntFL" and purchase a license that stays on your phone whenever you need it; it also alerts you when your license starts to expire. Additionally, you can add family members as well. You can read complete details on how much they cost and where to buy them in our Florida Fishing license guide.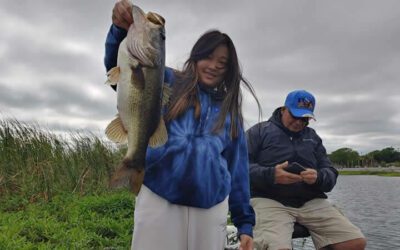 The Best Guided Bass Fishing in Florida Maybe you have done guided bass fishing in Florida, and perhaps you haven't. Perhaps you are a...
read more
Questions? Feel free to call us, Email us or use the chat us to speak to one of our specialists.
Questions? Feel free to call us, Email us or use the chat us to speak to one of our specialists.
Questions? Feel free to call us, Email us or use the chat us to speak to one of our specialists.
What are you waiting for?
Nearby Destinations for Charter Fishing in Miami
We also have great deals available on charter fishing in Miami with a Florida fishing guide in the following cities that match your search criteria.