Pahokee Rating:
Pahokee Rating - Read customer reviews, click to read
About Pahokee, Florida
Pahokee is a small city located in western Palm Beach County, Florida, along the east shore of the famous Lake Okeechobee. The town is mainly known for its outdoor activities and small-town charm. Pahokee Fl is located on the western edge of The Palm Beaches, where things are much different than on the East Coast beach towns. The farming communities extending to Belle Glade and South Bay together are known as The Glades and form a central agricultural hub.
The City was named after a Seminole word, which means 'grassy waters' in the Creek language. The local community refers to Pahokee as "The Muck," signifying the mineral-rich dark soil where sugar cane, citrus, and corn are grown. The city was founded after part of the Florida Everglades was drained in the early 20th century. It was incorporated as a city by the Municipal Government in March 1922 and is now called "The Grassy Water Gateway" of Palm Beach County.
The city of Pahokee is about an hour's drive from Jupiter, Boynton Beach, West Palm Beach, and other southern Atlantic coast towns of The Palm Beaches. It's the only city with direct access to Lake Okeechobee by marina. Pahokee Fl is an ideal destination for tourists, fishers, and environmentalists worldwide.
Popular Pahokee Fishing Tours

Instant Confirmation

  Angler's Top Choice

FREE Cancellation
Searching Availability...
Lake Okeechobee
Lake Okeechobee is Florida's largest freshwater lake and a world-famous bass fishing fishery. The city of Pahokee is right along the east coast of Lake Okeechobee, about 15 minutes from Belle Glade. The lake covers a total of 730 square miles and is nicknamed "Florida's Inland Sea." Despite being a tremendous fishery, it rarely reaches depths over 9 feet. Lake Okeechobee is loaded with trophy largemouth bass and panfish all year. Many creeks, rivers, and tributaries feed into Okeechobee and an incredibly scenic trail runs 110 miles around it.
Trophy Bass Fishing
Bass fishing on Okeechobee is some of the best freshwater fishing to experience in the United States. Largemouth bass inhabits almost every corner of Okeechobee, giving it the reputation as an iconic Bass fishery. Bass fishing is great here all year, but the spawning season is your best chance at catching giant bass. Spawning can happen as early as late November and run into early June. The lake record for the huge bass caught here is 15 pounds and 5 ounces. Wild shiners are the most popular way to catch enormous trophy bass on Okeechobee.
Crappie Fishing
Black crappies, also known as Speckled Perch, fall under the panfish family and are abundant here in the Pahokee Fl area. Crappie is delicious and relatively easy to catch, making a crappie fishing charter perfect for kids. Okeechobee is the best place to catch a large number of crappie in one fishing trip. Crappie tends to stay in shallow, calm waters with plenty of vegetation, making Okeechobee an ideal habitat for them. Anglers can catch crappie throughout the year, but winter is the best time. Live minnows are usually the go-to method of fishing for crappie here.
Great experience!
★★★★★
"
The rich sense of place fosters a deep connection to this town and lake. Its inhabitant results in dramatic fashion each time we visit.
"
CLICK TO WRITE A PAHOKEE REVIEW
Pahokee Fishing Trips
Pahokee fishing charters are most known for the chance to catch a huge Florida trophy bass. Other popular species caught during the fishing trip on Lake Okeechobee are crappie and bluegill. Your professional Pahokee fishing guide has in-depth knowledge of the area and knows the best spots holding fish. The city of Pahokee is the perfect place to access the waters of Lake Okeechobee and is within close distance to many significant areas along the Atlantic. Taking a fishing charter on Florida's largest freshwater fishery fills you with tranquility while exploring Florida's stunning nature.
Explore Palm Beach County
Palm Beach County stretches into Florida's rural center from the Atlantic coast, including the Everglades' northern edge. Palm Beach County, Fl has everything to offer, from tropical sandy beaches to rural Old-Florida areas, such as the city of Pahokee. Palm Beach County is full of cultural tours, Wildlife Areas, Art Galleries, and private fishing trips. The most popular activities Palm Beach County offers on the famous Lake Okeechobee near the city of Pahokee are airboat rides, bass fishing, and wildlife tours for snapping pictures of Florida alligators and endangered birds.
Top Pahokee FL Fishing Captains
Things To Do
Pahokee, Florida, has many things to do and explore, along with several popular events around Palm Beach County. Pahokee is a great place to take a fishing trip, a boat tour, and a hike. A few popular attractions near Pahokee, Florida, are Dupuis Nature Center, Jupiter Inlet, and Loggerhead Marinelife Center. Notable events in Palm Beach County, Florida, include the South Florida Fair, the Wellington Bacon and Bourbon Festival, Flavor Palm Beach, and Oktoberfest.
Pahokee Marina
The Campground and Pahokee Marina is a 125-site campground in the city. It's the perfect location for visitors and residents to see the lake and explore nature. At Pahokee Marina, you can hike on the rim of Lake Okeechobee, fish, bird watch, and more. The marina has unobstructed views of the beautiful grassy waters of Okeechobee. The campground offers full tent and RV hookups along the lake.
State Park
The State Park is a hidden gem located close to downtown and located on Lake Okeechobee's east side. Pahokee State Park features numerous campsites and Okeechobee lake access for anglers to fish from land. Amenities nearby include a boat ramp, marina, and dining options. Pahokee State Park is perfect for families to explore the scenic lake.
Lion Country Safari
Pahokee Fl is only 30 minutes from Lion Country Safari, a drive-thru safari park. The Safari park also has a walk-through amusement park covering 600 acres in Loxahatchee in Palm Beach County. This spot claims to be the first 'cageless zoo' for the general population to explore safely.
Riverbend
Riverbend is located in the city of Jupiter and is another excellent way to experience Old Florida vibes. Explore the waters by kayaking through the Loxahatchee River on Florida's first nationally designed scenic river, where you can see some otters, deer, and bald eagles in the area.
Okeechobee Fishing Reports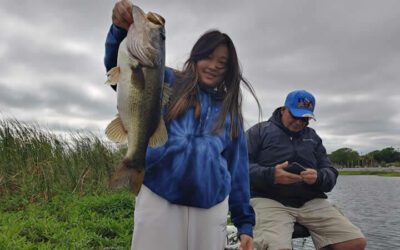 The Best Guided Bass Fishing in Florida Maybe you have done guided bass fishing in Florida, and perhaps you haven't. Perhaps you are a seasoned angler, or maybe you fish only...
read more
Questions? Feel free to call us, Email us or use the chat us to speak to one of our specialists.
Questions? Feel free to call us, Email us or use the chat us to speak to one of our specialists.
Questions? Feel free to call us, Email us or use the chat us to speak to one of our specialists.
What are you waiting for?
We also have great deals available in the following cities that match your search criteria.