Lake Rating:
Lake Rating - Read customer reviews of lake, click to read
Only Local Experts
Led by locals who love where they're from and what they do.
Private Groups
With intimate group sizes, you'll never get lost in the crowd.
Highest Standards
Every experience is reviewed for quality, uniqueness and is completely private.
Pricing?To get current pricing. Click on the AVAILABLE button on the pictures below. Then adjust the date, time, and the number of people and it will display the total price
Searching Availability...
About
Lake Osborne is a 356-acre lake in the city of Lake Worth in Palm Beach County, Florida. Lake Osborne is a well-stocked freshwater lake connected to Lake Ida. Both Lake Ida and Osborne are a part of the natural system of freshwater lakes located in Palm Beach County, west of the Intracoastal Waterway and the Atlantic Ocean. Osborne is only minutes from the West Palm Beach airport and the tropical Palm Beach Beaches.
The lake is bordered on the east by Lake Worth and the west by John Prince Memorial Park. The area surrounded by John Prince has a boat ramp and a fishing dock equipped with a fish feeder, both open to the public. There are also picnic pavilions, a campground, and public restrooms available at John Prince.
Lake Osborne is essential for transporting, storing, and processing stormwater and serving as a water supply for Palm Beach County.
Osborne is a popular spot for boating and fishing along with various shore-based activities. 
Lake Osborne offers an urban fishing experience where anglers can fish the productive spots around the sea walls of waterfront homes and along the park's tree-lined, grassy stretches. Palm Beach County is the perfect area for anglers to catch exotic species that can't be caught anywhere else in the United States, such as the butterfly peacock bass and the clown knife fish.
Lake Osborne Fishing
Most of the lake is surrounded by John Prince Park, providing plenty of places for bank access. Lake Osborne's shoreline surrounded by John Prince Park has been planted with bulrush, spike rush, pickerelweed, and other wetland plants to improve the marsh habitat previously hurt by human activities. The aquatic vegetation in Lake Osborne consists of spatterdock, cattail, and hydrilla.
There are nine fish attractors on the lake marked with buoys. Common fish species in Lake Osborne include largemouth bass, butterfly peacock bass, sunshine bass, clown knife fish, black crappie, bluegill, redear sunfish, catfish, and Mayan cichlids.
The largemouth bass found in Lake Osborne often weigh up to 6 pounds, but it's not uncommon to catch a bass in this lake that weighs closer to 10 pounds. The catch rate for bass in Osborne is higher than the statewide average.
This lake system located in Palm Beach is the furthest north spot in Florida anglers can experience catching the exotic butterfly peacock bass. Lake Osborne is one of the only places to catch clown knifefish in the United States. Live bait and artificials can both work for catching fish on Lake Osborne.
Lake Osborne Fishing Guides
Lake Osborne Fishing Charters
A Lake Osborne fishing charter provides anglers with the opportunity to experience Florida's most famous species, including trophy bass, sunshine, redear sunfish, catfish, and Mayan cichlids. Anglers from across the globe come to this water body for the chance at catching exotic fish such as peacock bass and clown knife fish that aren't found anywhere else in the United States.
Lake Osborne is a top freshwater fishery in South Florida; even on a windy day, your fishing guide will be able to find a spot sheltered from the wind that's holding fish. All of the lakes in the Palm Beach system with Lake Osborne as full of vegetation and active fish throughout the year, making any time a great time to catch a Florida trophy bass, black crappie, exotics, and more.
Boat Ramps and Regulations
John Prince has a public boat ramp and fishing dock equipped with an automatic fish feeder. Boat ramps to access Lake Osborne are at John Prince east of Palm Beach Community College, on the southern side of Lake Worth Road. There are no fish camps, marinas, or bait and tackle stores on the lake.
Fishing licenses are required to fish any Florida lakes or canals. Florida residents between 16 and 65 years of age need to purchase a freshwater fishing license and any nonresidents over 16 need a license.
Fishing Chairs
GPS & Fishfinder
Life Jackets
Catch and Release Allowed
Keep Fish Allowed within Laws
Boat Specs: 20+ ft
Boat Capacity: 4 People
All Fishing Equipment
Boat & Fuel
Photos
Heavy Tackle
Livebait
Artificial Lures
Spinning Rods
Baitcasting Rods
Left & Right Handed
Fly Rods (request only)
Braid & Mono Line
Top Species
Largemouth Bass
Anglers can find largemouth bass around the buoys used to mark the fish attractors, along with grassy edges, docks, and near hydrilla mats in the open waters of Osborne Lake. The hydrilla in Lake Osborne has become a popular spot for Largemouth bass to fan out spawning beds because these aquatic plants keep the water clear, allowing sunlight to reach the beds.
The spawning season for bass is from late November through April; February is typically a prime month to catch a spawning largemouth bass while on a Lake Osborne fishing trip. Anglers can catch an Osborne Largemouth bass on the most popular lures commonly used for basses, such as topwater baits, spinnerbaits, and plastic worms.
Clown Knife
Knife fish are hard fighting game fish most commonly caught on bait, usually small live shad. They can be caught throughout the day but are most active at night. They tend to be around more after heavy rains because of the current that gets created, so the rainy season May through June is the best time for Clown knife fishing.

Butterfly Peacock Bass
Peacock bass can be caught year-round but thrive in warm water, making the summer months the time they are most active. Schools of Butterfly peacocks are known to hit topwater lures on warm summer days. A popular spot is south of Lantana Road, near the sea walls and docks. 
Other species
Fishing the deeper waters under the Sixth Avenue Bridge with threadfin shad or cut shrimp at night is often productive for sunshine bass. Cichlids often live near the fallen trees of the lake. Redear sunfish and bluegill fishing are especially active while on a fishing charter during the Spring months.
Top Targeted Fish Species
Peacock Bass with Captain Dave
★★★★★
"
First off, before arriving to the dock, Dave Lauer was very communicative about when and where we were going to meet. He even called us the day before and told us what to expect. Out on the water, was an absolute blast! He was very knowledgeable about the species we caught and how to fish for them. He was very personable, and we would 10/10 recommend him to anyone looking to do a guided trip. We are from out of state, and hope to make it back to do another trip with Captain Dave again!
"
Walt Allison and walter Allison jr.
★★★★★
"
Let me first start off by saying are guide Capt. Dave Lauer was top notch. We booked 3 trips had Dave for all 3 trips. 2 On okeechobee n 1 On lake Osborn. We learned which in hind sight I already knew I should of book the trip in Jan or Feb. but on are first day in the first hr my son caught an 8.2 pound large mouth n I caught an 8 pound even. Plus plenty of 3,4, n 5 pounders. The trip on lake Osborn was slow. Something going on in the lake. Lots of dead fish but we were still able to catch are first peacock bass n first clown knife and a needle fish. Peacock bass fight tremendously. Biggest weighing 5 or 6 pounds. What a great trip. Will definitely use this service again. I personally recommend this out fit. Top notch service. All about our fishing experience n satisfaction. Dave went way above and beyond to make are trip a success. Which I might add it was. If u want to know if I'm experienced enough as a bass fisherman to make these bold statements about this trip just visit my fb page n look at my pictures of my New Jersey catches. Fishing is one of my passions. I wanted a 10 + pounder but didn't get it but I did get an 8 pounder and I don't know how many people can make that statement. I was told are pics were up on this website but I haven't located them yet. Again I personally recommend this outfit and my experience with Capt. Dave Lauer was to say the least was top notch. If ur planning a trip to fish Florida I implore u to get in touch with this outfit. I will request Capt. Dave Lauer again. Thanks again Dave. U made the trip of a father and son team a trip of a lifetime with memories n fish stories to share for the rest or are lives with are family. Again thank you.
"
Cody diehl
★★★★★
"
The day we went peacock bass fishing was the best! Wayne got us right on the fish and plus he had a fun loving personality! Wonderful combination for a great day of fishing!
"
CLICK HERE TO WRITE Lake Osborne REVIEW
Lake Worth Things To Do
Lake Worth Beach is a seven-square-mile city located between some of the most pristine action-packed waterways in Palm Beach County. Its charming downtown area is lined with palm trees and full of boutiques, art galleries, antique stores, and restaurants. Located across the Lagoon is a boater's playground that stretches into West Palm Beach, offering perfect shorelines, a fishing pier, and beachfront restaurants.
John Prince Memorial Park has everything anglers and their families could need from boat ramps, fishing piers, volleyball, and tennis courts, and grills on the campground.
Popular Attractions
The Lake Worth Beach Golf Club is a popular spot for golf lovers, which reaches up to 85 feet in elevation and provides some of the best views in the area. The Playhouse is a not-for-profit enterprise known for its various features of traditional and contemporary productions done both live and on film. Downtown Delray Beach is only 15 minutes from Lake Osborne and is famous for its great food, shops, galleries, and festivals along Atlantic Avenue.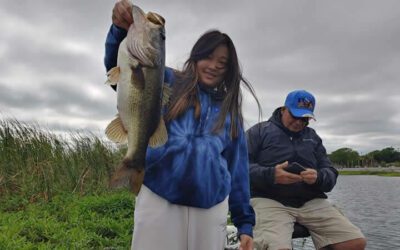 The Best Guided Bass Fishing in Florida Maybe you have done guided bass fishing in Florida, and perhaps you haven't. Perhaps you are a seasoned angler, or maybe you fish only...
read more
What are you waiting for?
We also have great deals available on the following lakes that match your search criteria.