Everglades Bass Fishing @ Mack's Fish Camp
Mack's Fish Camp has 5 generations of family hospitality offering boat rentals, fishing, camping, family events, private group trips, and professional photography available.
Home to hundreds of creepy creatures and watery wildflowers, the Everglades Mack's Fishing Camp is the perfect place for both entertainment and learning. Explore a forest of unspoiled wonders at Mack's Fish Camp, located in the heart of the Everglades see for yourself what makes the wetlands so wildly wonderful! "The Everglades is an attraction in Fort Lauderdale not to be missed." The hidden secrets of nature's own will develop your curiosity as you explore Macks Fishing Camp in Fort Lauderdale, Broward County.
Come on down let's go fishing!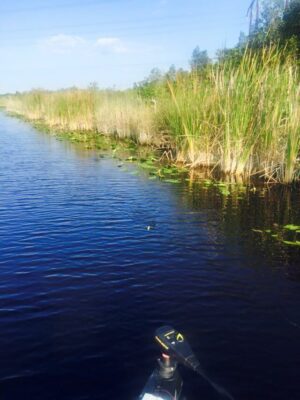 Bass Fishing Trips!
Everglades Bass Fishing trips, include everything along with tackle, all that is missing is you.
Trips are available for 2, 4, 6 & 8 hours of fishing and sightseeing. Reservation is a must, the trip needs to be scheduled in advance. We can generally accommodate you with as little as a couple of hours notice, so don't pass up the opportunity for a true Everglades experience. We can meet you at Mack's Fish Camp or arrange for pickup. The Everglades is indeed an angler's paradise and the perfect place to catch the trophy bass of your dreams. Whether you're a fisherman or just a naturist, this is a cool way to see the Everglades!
More About Mak's Fish Camp
Mack's Fish Camp is a renowned fishing resort located in the heart of Florida's wilderness, just a few miles west of Fort Lauderdale and North of Miami. The camp offers a unique experience for both novice and experienced anglers, with guided airboat tours.
The camp is situated on the banks of the Everglades, which provides ample opportunities for fishing and other water-based activities. The river of grass is home to a variety of freshwater fish, including largemouth bass, bluegill, and crappie, which are abundant throughout the year. Mack's Fish Camp's experienced guides know the best spots and techniques to catch these fish, and they provide guests with all the necessary gear and equipment.
Apart from fishing, Mack's Fish Camp also offers a range of outdoor activities, including kayaking, bird watching, and nature trails. Guests can explore the lush green forests and wetlands surrounding the camp and observe the diverse wildlife that inhabits the area.
Overall, Mack's Fish Camp is an excellent destination for anyone looking for a relaxing and adventurous getaway. Its beautiful surroundings, well-equipped facilities, and experienced guides make it a top choice for fishing enthusiasts and nature lovers alike.