February Lake Ida Fishing
Peacock bass are one of the most exciting species to catch in South Florida. A short drive to the Lake Ida Chain of Lakes can provide an urban experience like no other. Every adventure you embark on is unique and tailored to your experience. A February Lake Ida Fishing Charter is all you need for a great day on the water.
Warm sunny weather with light winds has created the perfect match for urban peacock bass fishing. Our local experts will take you on a tour through the endless canals of this beautiful fishery. When embarking on a Lake Ida fishing trip, you will get the chance at catching peacock bass, largemouth bass, and even clown knife fish.
The Lake Ida Chain of Lakes is alive and well with some big beautiful fish being caught. Stable South Florida weather has fired the fish up putting them in a feeding frenzy. Enjoy sitting back and enjoying this urban canal system while reeling in hard-fighting exotics.
Check out this February Lake Ida Fishing Report with our Local Experts:
Lake Ida Fishing with Captain Robert Miley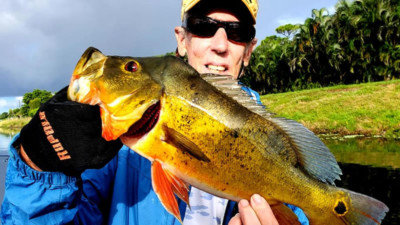 "I had the pleasure of fishing with Sandy and Jay. They are long-time repeats of mine but also great golfing buddies. Being South Florida natives, getting out fishing on the Lake Ida Chain is one of their past times. The peacock bass fishing has been fantastic this time of year.
After several cooler days here in Delray Beach, the water temperature on the chain dropped to 81 degrees. Fortunately enough that did not stop the bass from biting. Once the sun peeked through the clouds, it was game on.
Sandy and Jay had a blast catching peacock bass all trip long. They caught over 20 bass on this trip with a mix of both peacock and largemouth bass. Most of the bass caught were in the weight range of 4-5 pounds.
Truly can't beat it when the action is red hot like that. Sandy and Jay had a great time on the water and I am looking forward to seeing them out soon!" – Captain Robert Miley
Fishing with Captain John Larsen on the Lake Ida Chain of Lakes
"I had an afternoon fishing trip with some awesome clients, John and Decker. They were traveling from California looking to cash in on some peacock bass here in South Florida. The Lake Ida Chain of Lakes was a great match for them and it was on fire.
When fishing Lake Ida, the target species is always going to be peacock bass. One of the blessings about this fishery is that you can also catch largemouth bass, clown knife fish, cichlids, and tilapia to name a few.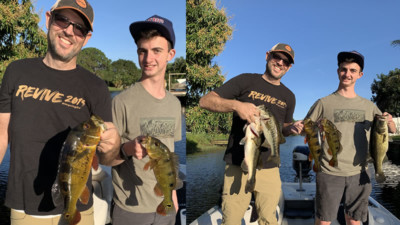 John and Decker started out the day catching largemouth bass in the early afternoon hours. As the sun lowered in the sky, the peacock bass started to aggressively bite. They caught about 7-10 largemouth bass, 6 peacock bass, and a handful of cichlids, and a tilapia.
Most of the fish were caught free-lining live baits along with the canal systems. The best tackle to get this job done was using a 10-pound braided line with a 12-pound fluorocarbon leader with a 1/0 owner mosquito hook.
John and Decker had a great time landing fish after fish. I am surely looking forward to our next adventure soon!" – Capt John Larsen
Now is the time to explore what South Florida is all about. Warm weather has made for truly perfect conditions to get out on the water. Late February has been a productive time to not only go fishing but also enjoy the sunshine here in Florida. Lake Ida is a fantastic fishery for all those looking to explore something magical.
Bring your whole family along for a fishing adventure of a lifetime along with this urban canal system. Our local experts will get you on some quality fish and show you an amazing time. We hope to share an experience with you on your next visit to South Florida!
Don't forget to follow us on Facebook, YouTube, Twitter and Instagram.
Learn More about Florida Peacock Bass Fishing