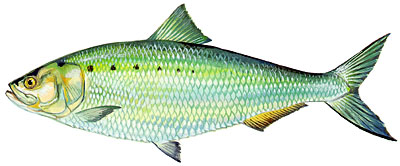 Common Namessapidissima) American shad
Description – Green or greenish blue with metallic luster on back; silvery sides; body compressed; upper jaw with a smaller or larger median notch; lower jaw not protruding beyond upper jaw, teeth missing in examples greater than 8 inches; adipose eyelid present, chest and abdomen with bony scutes; pectoral fin without a free axillary process; cheek deeper than long; sometimes with a few spots on sides behind shoulder spot.
Subspecies – None; very similar to Hickory shad (Alosa mediocris) which also occurs in the St. Johns River, Florida. Range – St. Lawrence River, Canada to St. Johns River, Florida. In Florida, it occurs only in the northeast, mostly in the St. Johns River and Nassau River.
Habitat – Anadromous; lives most of its life at sea
Spawning Habits – Most spawning occurs between late December and early April in the stretch of the St. Johns River from Sanford to Melbourne. American shad eggs are spawned directly into the river where they drift freely for 2-3 days. Juveniles leave the river when it cools in late fall or early winter. Juveniles mature into adults in the Atlantic Ocean and do not return to the St. Johns River until they are ready to spawn, two to five years later. In the St. Johns River and all other rivers below Cape Fear, North Carolina, shad die after they spawn.
Feeding habits – Plankton feeders, but strikes small bright spoons and flies.
Age and Growth – Two to four inches long when they leave the river (6 to 10 months). Size up to 30 inches.
Sporting Qualities – Historically the sport fishery was mostly a troll boat fishery with some spin casting from the bank. In recent times, fly fishing has become very extensive. Recreational fishing began in the early 1940s near Deland. The sport fishery is primarily located between Sanford and Melbourne.
Eating Qualities – Flesh good. especially smoked; roe is excellent.
State Record – 5.19 pounds – St. Johns River, Seminole County 2/15/90 St. Johns River, Volusia County 3/18/92 Largest on record – 13.5 pound