Fishing Charter in San Francisco CA
Briefly on San Francisco Ca
San Francisco, a diverse city with a rich history and remarkable monuments, is California's most acclaimed cultural and commercial center. Famous for the Golden Gate Bridge and Alcatraz, this US center of liberal activism is the birthplace of the United Nations. It's the location of many movements like the sexual revolution and peace movement, but it is also famous for the small fishing communities that appeared here in the early 1800s.
San Francisco Bay Area
The San Francisco Bay Area covers San Francsico City and the surrounding counties in the Northern California Region. The Bay stretches 13 miles across and goes as deep as 357 feet.
This region is known for its Victorian houses, cable cars, hundreds of hillside vineyards, and gourmet food. Before the arrival of the fishing communities, the Bay area covered around 800 square miles. Today, only a tiny portion of the original wetlands remains, but amoung some of the best bass fishing trips in the nation.

Instant Confirmation
  Angler's Top Choice
FREE Cancellation
Other Great Lakes with San Francisco Fishing Charters
Top San Francisco Fishing Charters Experience
The fishing charters are known for offering anglers exceptional fishing tours. Fishing next to famous monuments like the Golden Gate Bridge and Alcatraz island can be a joyful experience. You can also enjoy the San Francisco skyline while you wait for the fish to bite. Many popular San Francisco fishing charters at your disposal offer a half, super-half, or full-day trip and excellent services.
Visitors can charter the whole boat and not worry about tackle, rod, bait, and reel. Some even offer fish cleaning as part of the service so you can prepare your meal immediately.
You can spend a fantastic day fishing overlooking the Golden Gate Bridge to help you create lifelong memories. The possibility of seeing all the other sites is so much fun and accounts for a great trip.
Fishing Trip Possibilities
Premier sports fishing trips come highly recommended by anglers of all ages and skills. Fishermen can go out on private fishing charters with ten passengers on offshore boats. And four passengers on inshore fishing charters provide them with a more personalized experience.
Visitors can also opt for private charter fishing trips in the San Francisco Bay, out on the ocean, up the river, or inland bass fishing. Use the opportunity while visiting to teach your kids how to fish. It will be a fun and memorable experience for both you and your family.
Depending on the choice of your fishing adventure, you can catch fish like king salmon, sturgeon, halibut, striped bass, and trophy-size largemouth bass. You can also have the fishing experience of catch-and-release only for support of lifelong memories and longevity of the fishery.
What a Blast
★★★★★
"
Had a great day on the Delta with Capt Jared. He was awesome and very knowledgeable. Easy to get along with and very accommodating. Had an absolute blast!! Will definitely do this again and again!
"
Great experience!
★★★★★
"
My Husband and I wanted to do a San Francisco fishing charter but not in hte ocean as I get seasick easily. We choose Bass Online and it was AWESOME! We booked a half day trip online and it was immediately confirmed and they sent us info. This gave us a great day to remember for a lifetime!
"
Fun Trips
★★★★★
"
We had an amazing day on the Delta, we all caught our limit and Capt Jared was amazing. I would highly recommend this charter over any other. The boat was very, very nice, clean and comfortable. We will be returning again.
"
CLICK HERE TO WRITE A SAN FRANCISCO CA REVIEW
Fishing in the San Francisco Bay
Fishing is an integral part of the bay area lifestyle and tradition. The California scorpionfish, the Dungeness crab, and the Pacific halibut are some notable species swimming in San Francisco Bay.
Charter fishing is prevalent in this area, and passionate anglers are frequent visitors looking for an unforgettable experience. Some fish you can spot and catch on a San Francisco, CA fishing trip include rockfish, sturgeon, striped bass, king salmon, shark, lingcod, and halibut.
Salmon Fishing
A favorite summer fish species is the chinook salmon, better known as the king of the species. With incredible fighting energy, tasty meat, and attractive retail price, it's the most prized catch fish in San Francisco. Fishing charters in San Francisco advise heading out in the early morning hours when it is active and ready to bite.
Any fishing charter in San Francisco will tell you that San Francisco Bay is the best place for fishing salmon is the Salmon Highway. It starts from Marine County, goes through the Golden Gate Bridge, and concludes at the Carquinez Strait. Gulf of the Farallones is a trendy spot, but you can also try Half Moon Bay and Pillar Point Harbor.
Baiting
Downrigger trolling is one of the best techniques where a downrigger will have two lines to have better water coverage in different depths. Drift mooching is a practical technique for turning the boat motor off and drifting with the current.
Baits like herring are a top choice, but an important note is that they must be spinning if you are aiming to make a catch.
Striped Bass Fishing
Striped bass is the most common San Francisco fish species. Half-day striped bass fishing trips are not just for pros and enthusiasts but for those who wish to try fishing.
Striped bass is an easy fish to catch, but make sure to select the right season. Unlike salmon fishing, striped bass is an easy target in the morning and late afternoon. Top fishing spots for this species are Alcatraz Island, the Golden Gate Bridge south tower, the Berkeley flats, and the Racoon Strait.
Baiting the Striped Bass
Trolling is considered a well-known fishing technique for striped bass. They are a delicate fish species, so always use attractive bait. You may use a diverse selection of walking plugs, topwater poppers, and prop bait. Anglers may also use plastic grub or drop-shooting finesse worms.
Top Targeted Fish Species
Halibut Fishing
Salmon may be the king among fishes, but halibut is the most popular in San Francisco Bay. Reeling it in can be so much fun, and its large size and tasty meat will leave you in awe. Crew members of charter boats will advise you to go halibut fishing early in the morning or late in the evening.
Tides also affect when halibut is most vulnerable. The charter crew recommends going on a boat fishing trip two hours before and after low and high tides. Angel Island's south side, Crissy Field, the south end of Richardson Bay, and Berkley Flats are the best fishing charter spots for a half day of superb halibut fishing.
If you wish to go halibut fishing outside the gate, go for Muir Beach, Seal Rocks, or Stinson Beach.
Halibut Luring and Bait
When it comes to food, halibut is not a picky one. There is a diverse choice of live bait on offer. Go for salmon bellies and head, or try with squid, octopus, and herring.
Luring a halibut is similar to drawing salmon but combined with live baits. Jigs, artificial squid, and grubs are just some of the choices.
Local San Francisco Fishing Guides
Meet the team of San Francisco Fishing Guides, we know the best spots, baits, and techniques to give you the greatest fishing experience in the Ione area.
Fishing Season in San Francisco, CA
You must plan everything to enjoy your fish trip to the west coast's top fishing destination. Choosing the best season to fish and knowing when various fish species bite can make or break your trip.
Fishing Season
The fishing season, in most cases, depends on what you are looking to catch. Good catches are expected from January through August but can extend into fall and winter.
The San Francisco rockfish numbers are high between June and September. King salmon fishing is popular from May through October near coastal San Francisco. The striped bass bites well in summer and early fall, while April through August is the best time for halibut.
Can Sport Fishing Be Fun?
Sport or recreational fishing can be a hobby or a competition. Anglers do it for pure pleasure. Unlike commercial fishing, sport fishing is not popular for catching food or earning a profit.
Before you embark on a sport fishing adventure with a selected fishing charter in San Francisco, be sure that they are fully licensed, insured, and approved by the Coast Guard.
Fishing License in San Francisco, CA
Anyone over 16 must purchase a sport fishing license. If you don't fish much, start with a one-day sport fishing license for $17.54 and work from there.
Serious resident anglers can buy a fishing license for $55, while the one for non-residents is quite pricey. Be prepared to cash out $145.80 for an unforgettable experience.
The exception is when the license is included on a saltwater fishing charter in San Francisco.
Fish Cleaning
A beautiful day fishing trip ends with you taking the catch home and making a feast. Fishing is fun, but how about fish cleaning?
Do you know how to clean a striped bass, halibut, salmon, or any of the caught fish? If you don't, there are those that will help you learn how to do it.
There isn't a more enjoyable meal than the one you bring to the table. Fish cleaning may not be your thing, but why not show your family and friends that you can also excel in cooking a delicious meal?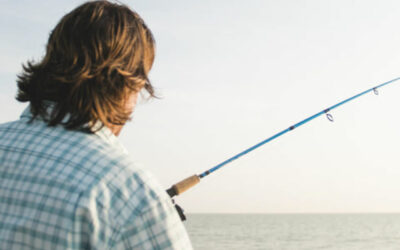 Are you the type of angler that is always searching for a new fishing adventure? Look no further than Lake Guntersville, a renowned fishing destination in the heart of...
read more
What Else to See in San Francisco, CA
One thing is for sure; you will never be bored on a fishing charter in San Francisco. History has left many landmarks worth visiting and exploring. You've seen them in movies and read about them, but now it's your chance to see them and go back in time.
The Golden Gate Bridge
Completed in 1937, it represents the progress and power of the US, setting the design criteria for suspension bridges worldwide. During its famous days, it was the longest and tallest suspension bridge and the most photographed bridge globally.
An iconic San Francisco sight, this must-see landmark can be viewed from several spots. Baker Beach gives visitors a front-seat view of the bridge while dipping their toes in the Pacific Ocean. Take your picnic basket and make it a day to remember.
Construction Challenges
Many challenges followed the bridge construction. Despite the efforts of the chief engineer Joseph B. Strauss to keep the workers safe by inventing a movable safety net, there were unfortunate man casualties. The frequent storms, fog, and running tides caused many obstructions.
The Naming of the Bridge
The Golden Gate Bridge got its name from the 300-foot-deep water stretch linking San Francisco Bay and the Pacific Ocean, the Golden Gate Strait. Captain John C. Fermont, a soldier and presidential candidate named the trench in 1846 after the Bosphorus Golden Horn in Istanbul. As he put it in his memoirs: the Pacific opening is "a golden gate to trade with the Orient."
The Famous Alcatraz Island
Located just off the shore of Fisherman's Wharf, Alcatraz is a rocky California island occupying an area of 22 acres. It is a former seabird habitat. Its original Spanish name was Isla de Los Alcatraces or the Isle of the Pelicans.
The Turbulent Alcatraz History
Alcatraz is known for its rather turbulent history. The US government purchased the island in 1849 and marked it as the location of the first California lighthouse.
What was a peaceful haven for birds turned into the home of many rebels and famous criminals.
Things began started in 1861 when Alcatraz became a military offenders' residence. It witnessed turbulent historical events when native Americans claimed the island several times.
Alcatraz's "Golden Era"
The years between 1934 and 1963 were the "golden era" when some dangerous historical figures occupied Alcatraz. Everyone has heard of Al Capone, Robert Stroud, and George Kelly.
There were several attempts by prisoners to escape, which was virtually impossible due to the Bay's current. Still, many did try, and only a few succeeded.
Visit the Mission Neighborhood
The Mission neighborhood is known for several things: street art and murals. Walk its streets and admire the art reflecting the local community's history and culture. If you are after some sun, visit Dolores Park, which tends to get crowded on sunny weekends.
Haight Ashbury
Home to the Grateful Dead and Janis Joplin, iconic singers from the 1960s and 1970s, Haight Ashbury reflects on the hippie culture. A part of the city's identity, the area is filled with hippie street art and memorabilia.
Cable Cars and Crooked Street
Cable cars are a recognizable and iconic landmark and should always be considered when on a fishing charter in San Francisco. It remains the last cable car system that is manually operated. Established between 1873 and 1890, the cable system had 23 cable car lines, of which only three remain today. The cable cars are considered a national historic landmark.
Mainly used by tourists, it's considered one of the most significant tourist attractions in San Francisco. They usually take the cable car to Lombard street, where they hop off and get to walk down the most crooked street in the world. This is a delightful and fun experience for every tourist that visits San Francisco.
Twin Peaks
If you want an astonishing 360-degree view of San Francisco, Twin Peaks should be on your must-visit list. No, we are not referring to the series, but the two 1000-foot hills rise above San Francisco. They offer a breathtaking view of the Golden Gate Bridge, Alcatraz, Market Street, Bay Bridge, and the downtown skyscrapers.
Turning in the opposite direction will offer you a view of Golden Gate Park and the Pacific Ocean. During a clear night, see how the city below sparkles in all its beauty.
Questions? Feel free to call us, Email us or use the chat us to speak to one of our specialists.
Questions? Feel free to call us, Email us or use the chat us to speak to one of our specialists.
Questions? Feel free to call us, Email us or use the chat us to speak to one of our specialists.
Facts About the Bay Area
Home to more than seven million people, this area was once occupied by Gold Rush prospectors. It didn't go unnoticed by Spanish missions either. It consists of nine counties and is known for its high-tech industry, lavish lifestyle, and liberal politics.
In the 1900s, San Francisco Bay was the place of business for the top commercial fisheries. With time, the nature of fishing altered and progressed significantly. Locals could enjoy feasting on salmon, sturgeon, shrimp, oysters, and sardines.
Marine Wildlife
Considered an ecological habitat, it's home to very diverse and, in many cases, endangered wildlife. One can find a low number of salt marshes in California in the Bay area.
Several of the many shorebirds that see refuge in the bay fall in the endangered category. Some include the California clapper rail, the snowy egret, and the California least tern.
Where Sharks Reside
Yes, that's right, you can see the shark in San Francisco, CA! Most people dislike sharks, but they are a great tourist attraction. The waters of the San Francisco Bay abound with the great white shark, but that's not all. Eleven different shark species also reside here.
For those with adventurous spirits, you may want to go on a shark fishing trip with your friends in Monterey Bay and the Farallon Islands. Although sharks don't often enter San Francisco Bay, you might be one of the lucky ones to see them.
If you are wondering how to organize a "shark hunt," contact any fishing charter in San Francisco. All of them are experts in shark fishing in the San Francisco Bay area and even offer custom tackle kits for the fishing experience.
The Legacy of Fisherman's Wharf
Fisherman's Wharf is a neighborhood in that Italian immigrant anglers settled in the 1800s. Making this San Francisco, CA area their home, the Italian fishers made their living from fishing the San Francisco waters.
Considered the center of the San Francisco fishing fleets, you can enjoy the view of fishing boats with scattered nets and traps all around.
These Italian families mark the history of Fisherman's Wharf by creating delicious seafood recipes. The caught fish was prepared for their families and sold in the seafood restaurants down the waterfront.
The ancestors started a fishing tradition that the descendants very quickly adopted. They decided to continue running these restaurants and honor the family legacy.
Fisherman's Wharf Attractions
Fisherman's Wharf is a frequented tourist attraction in San Francisco, CA, and is the location of Pier 39. Stretching from Ghirardelli Square to Pier 35, this San Francisco Bay historic jewel has much to offer. Visit one of the many museums there, like Ripley's Believe It or Not or the San Francisco Maritime Museum.
Musee Mechanique is a one-of-a-kind attraction that not many tourists know about. It's an interactive museum that welcomes you to play and enjoy one of the world's largest antique arcade games for a few quarters. The entrance is free, so anyone can go in and have a blast.
If you are not into museums, go shopping at the Cannery Shopping Center or try one of the historic recipes passed on through generations in one of the fabulous waterfront restaurants.
What are you waiting for?
Conclusions
If you have never taken a fishing charter in San Francisco, now is the perfect moment!
Whether you are in for the remarkable monuments, the museums, the shopping, or are passionate about fishing; you'll have a fantastic day. Join the US for a San Francisco fishing charter crew and embark on a boat trip.
When selecting the fishing charter in San Francisco, be sure they are approved and licensed by the Coast Guard and have full insurance. If fishing is new to you, enjoy the boat trip and savor the beauty of San Francisco and the Bay. If flying into Sacramento, we also have a charter service available.
After experiencing a fishing charter in San Francisco we also have great deals available in the following cities that match your search criteria.