There is a slew of exciting towns and cities within driving distance of the San Francisco Bay Area. One of these is Oakland, a metropolis with more than one million population; Oakland is California's eighth-largest and the region's most populous city.
You'll find a vibrant downtown district in Oakland with numerous art galleries, clubs, restaurants, and walking trails. The city of Oakland is also well-known for its immaculately preserved Victorian architecture.
Is there anything in Oakland for nature lovers? The good news for those who crave outdoor adventure in the warmer and cooler months is that this is the place for you. Many beautiful lakes may be found in Oakland, including Lake Temescal, Lake Chabot, and Lake Merritt.
Prepare for your forthcoming trip by perusing our comprehensive facts about Oakland lakes.
The Best Lakes to Visit in Oakland
Regardless of the time of year, these lakes in Oakland provide stunning views and a variety of leisure activities, including boating, kayaking, camping, and many fishing spots. You can go for a walk, pitch a tent, have a picnic, rent a boat or rest on the banks.
We've assembled the top 4 Oakland CA fishing lakes. Whether you're seeking an alternative to crowded beaches or a quiet place for camping, you'll surely find it here!

Instant Confirmation
  Angler's Top Choice
FREE Cancellation
Great experience
★★★★★
"
We used them for our Corporate Events, Team Building, and Large Parties! They are reliable and fair in every way!
"
Great time!
★★★★★
"
Quality fishing experience! Captain Jared did a great job. Lots of bass caught, easily the highlight of my boys' vacation. Will do it again!
"
Bass fishing
★★★★★
"
What an awesome experience! Captain Jared did a fantastic job showing us the ropes - he was patient in explaining/showing everyone how to reel in the fish!
"
CLICK HERE TO WRITE A OAKLAND CA REVIEW
Lake Temescal
Location
A small reservoir located in the Oakland hills and northeast Oakland is known as Lake Temescal. This lake is the right choice for those searching for a cool place to go hiking and bicycling, as well as great fishing opportunities, picnicking, and swimming.
An almost-hidden treasure in Oakland, California, Lake Temescal, may be found just adjacent to the Highway 24/13 intersection near Montclair.
The lake is encircled by thick vegetation and serves as a refuge for wildlife. At least 200,000 people visit the park annually – it's open from 5 am to 10 pm daily.
What Can You Do Here?
Lake Temescal offers many walking routes, fishing opportunities, seasonal waterfalls, picnic areas, and a pool area with shallow water ideal for toddlers splashing all around the lake.
What's more, the dam has been shut down, making it the perfect swimming place. There are picnic tables and a large grassy area next to the sand beach where guests can eat and rest.
Fishing in Lake Temescal
The lake is filled with rainbow trout and catfish during the winter months. Bluegill, red-eared sunfish, and largemouth bass are several species that call the area home.
Lake Chabot
Location
Since its completion in 1874, the East Bay has relied on Lake Chabot as its primary source of drinking water and irrigation. But in the 1960s, this lake was opened to the public as a place to swim and boat.
At the southernmost tip of Oakland, Lake Chabot is a reservoir in Lake Chabot Regional Park, also home to Anthony Chabot Regional Park.
Almost all of the reservoir is located in the unincorporated hamlet of Castro Valley, California. East Bay MUD owns the lake and surrounding land, which it leases to the East Bay Regional Park District.
Top Targeted Fish Species
What Can You Do Here?
Renting a canoe or boat is one of the many options available at Lake Chabot Marina & Café. In addition to picnic spots and a grassy play area, there are horseshoe pits and routes for running and hiking, as well as seasonal lake and fishing trips on the tour boat "Chabot Queen."
Alternatively, you can bring your family and kids along for a picnic, as there are several picnic areas and playgrounds.
Fishing in Lake Chabot
Chabot is a large lake, and it is perfect for fishing in Oakland CA, because of all the piers surrounding it. In addition, the lake's annual spring fishing derby can be participated in if you visit in the warmer months.
Trout and catfish are present in Lake Chabot, which covers 315 acres. Anglers can also catch fish like bass and crappie. Another attraction is the spring fishing derby – a well-attended tradition. Plus, the park has several fishing piers.
Lake Merritt
Location
The "jewel" of Oakland, California, Lake Merritt, is a 155-acre lake located east of the city's downtown area. As an estuary and a waterway, it links to the bay area.
Lake Merritt has a 3.4-mile diameter and a land area of 155 acres. The depth varies depending on the amount of water filtered from the estuary and rainfall.
What Can You Do Here?
Residents and visitors of Lake Merritt have access to a wide variety of recreational opportunities along the beaches that are preserved in pristine condition.
Activities such as watching birds, yoga, biking, running, and barbecuing are just a few of the many fun things that can be done around Merritt Lake.
E-scooter, boat rentals, and kayaking are also available for guests to rapidly navigate the lake's perimeter. Finally, to keep the kids happy and active, there is a new modern and child-safe playground.
If you like bird watching, thousands of migratory birds use Lake Merritt as a stopover point, including Canadian geese, egrets, cormorants, scaup, and pelicans.
In 1870, the lake became the first wildlife reserve in North America after its natural significance was recognized.
In addition, the Pacific Flyway, a critical migration path for birds along the West Coast, passes through this area.
Local Oakland Fishing Guides
Meet the team of
Oakland Fishing Guides
, we know the best spots, baits, and techniques to give you the greatest fishing experience in the Oakland area.
Fishing in Lake Merritt
When you go fishing in Merritt Lake, you will have the opportunity to catch a mixed assortment of fish species due to the size and diversity of the lake.
Stripers, bat rays, and gobies are common fish that hang out in the southern channel of Lake Merritt, which is also home to other fish species.
Lake Anza
Location
Lake Anza is a recreational swimming reservoir within the enormous Tilden Regional Park, located in Berkeley, California – more precisely, the Berkeley Hills. This park is named after the nearby city of Berkeley.
C.L. Tilden Park Dam was finished in 1938, and the lake was produced as a result. Nearby, there are open fields and woodland hiking routes. Swimming is only permitted during the warmer months in the park's surrounding recreational areas.
What Can You Do Here?
Tilden Regional Park and Lake Anza are located near each other. Therefore, you are permitted to go swimming here; nevertheless, you are responsible for being aware of the water quality designations.
The color green denotes that the amounts of bacteria are acceptable and within the safety criteria parameters. A yellow light indicates bacteria levels exceeding permitted thresholds on beaches. When you see a red light, it means that the beach is closed, and no one is allowed to go into the water.
Public restrooms, a sand beach, picnic areas, volleyball courts, a trail that circles the reservoir, and plenty of parking spaces are available at this park. In general, it is a peaceful, tranquil, and great place.
Visit the park's botanical gardens for a relaxing stroll. Another fantastic location for a round of golf is the Tilden Park Golf Course. In addition, the lakes' surrounding paths can be explored by those who prefer to exercise on foot.
Fishing in Lake Anza
Residents of Lake Anza include bluegill, channel catfish, sunfish, and largemouth bass. The lake's nine acres can be a fishing spot all year round.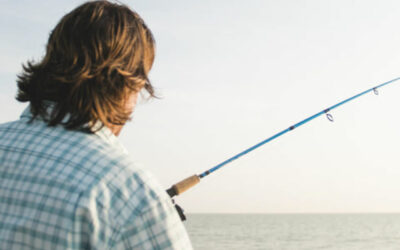 Are you the type of angler that is always searching for a new fishing adventure? Look no further than Lake Guntersville, a renowned fishing destination in the heart of...
read more
Fish Species in Oakland
If you want to know more about common fish species in California, check out this list.
Rainbow trout
Only the rivers and lakes of western North America are home to rainbow trout. Nevertheless, these fish have been widely dispersed across North America due to their widespread appeal.
Their coloration is exquisite. Colors and patterns can change according to the environment, age, and spawning conditions. It's common for them to be between 20 and 30 centimeters long and weigh about 8 pounds.
In addition, it's essential to know that they can only survive in clean water.
Striped Bass
The striped bass is one of the few fish species living in salt and fresh water without any problems.
However, even though stripers are not the fastest swimmers, they are graced with long tails and excellent maneuverability and can keep their heads above water in fast-moving, turbulent waters.
In tumultuous water, striper bass like to ambush prey that has been disturbed and bewildered. You will most likely catch striped bass on hot evening nights.
Smallmouth Bass
When introduced to new waterways, they can become invasive because of their ability to hunt various animals. They can live up to 15-18 years if left alone in the wild.
Although they typically weigh between 2 and 5 pounds and measure 10 and 20 inches in length, they can grow much larger.
When introduced to new waterways, they can become invasive because of their ability to hunt various animals.
Redear Sunfish
Some people refer to redear sunfish as shellcrackers. In addition to being excellent fighters on ultra-light tackle, redear sunfish like to eat a variety of baits like other sunfish. As a result, catching a redear is more of a challenge than with most other types.
Telescopic fishing poles are used to catch most fish, with small hooks, corks, and split shots as weight.
Fishing Charters in Oakland
Many excellent options are available if you're up for a fishing trip with your family and friends. Some of these include freshwater and saltwater excursions; we go sport fishing on one of the many famous local lakes or reservoirs for trophy bass or other species.
Wrapping Up
You won't pick the wrong lake no matter which one you go to – whether you plan to spend the whole day on an Oakland, CA, fishing charter or you want to explore the stunning landscape around these lakes.
Every single one of them provides an experience that lasts a lifetime; get in contact today!
Questions? Feel free to call us, Email us or use the chat us to speak to one of our specialists.
Questions? Feel free to call us, Email us or use the chat us to speak to one of our specialists.
Questions? Feel free to call us, Email us or use the chat us to speak to one of our specialists.
FAQ
Can you catch fish in the bay?
Regarding fishing in bays, San Francisco Bay is the crown jewel of the surrounding area. Because of the abundance of life in these waters, fishing in San Francisco Bay is what anglers dream of when they cast their lines.
The bay allows anglers to fish for various species, ranging from stripers and sharks to salmon and white seabass. The Sacramento area has more plentiful bass.
Can you fish at Lake Chabot?
Anglers and boaters can enjoy the lake's boating and fishing opportunities yearly.
For more than 90 years, fishing was not permitted on Lake Chabot. However, in the 1960s, the state legislature concluded that establishing a local fishery and other forms of enjoyment on Lake Chabot would be in their best interest.
Where can I fish in Oakland?
Lake Chabot has many fishing spots where you can angle. If you have all your fishing licenses, you can try to catch fish between Raccoone Point and Indian Cove in Chabot.
What are you waiting for?
Nearby Destinations for fishing in Oakland Ca
Outside of fishing in Oakland Ca, we also have great spots in the following cities that match your search criteria like Morganton Ga.