GROUP FISHING CHARTERS & FISHING TRIPS
BASS Online Fishing Outfitters is capable of any size party and very experienced in servicing large family reunions, industry groups, and corporate fishing trips and excursions. We have handled many successful organizations with the best fishing trips as large as 500 anglers.
Arranging everything you need is what we do, no need to hire an additional event planner, but we work with them to make the process seamless if you already have one. We handle everything from video, photographing, and transportation to trophies for your event. The additional competition is always fun for the people in the organization.
If your organization wants to set up corporate fishing trips like a tournament, we use official weigh-in scales supply and award trophies to the winners plus have a great time then we need to talk!
Planning a Group Fishing Trips
If you will be coming to Florida, Texas, or Pennsylvania on business or a reunion and have not booked your fishing charters? Maybe think about enjoying a day trip relaxing with some beautiful scenery and fisherman, instead of rushing off to a theme park or some event where you will end up standing in line. We have plenty of options, great reviews, and fish activities for many species, one of which makes sport fishing easy.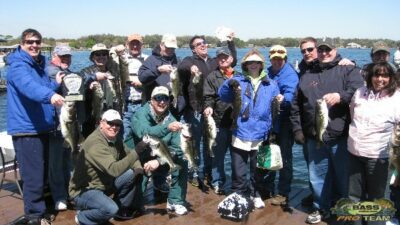 The Fishing Experience Matters
Maybe taking a party day trip is more your speed, great for families and different corporations needing activities to do. All tours have plenty of great success, and we have references and thousands of reviews from anglers, passengers, local people, and groups. So before you settle for a fishing guide service, consider hiring the largest company in the United States specializing in groups.
We are the nation's largest outfitter and largest provider of fishing trips in the United States. We offer what we offer and what we do to guarantee you hassle-free fishing trips experienced by Anheuser Busch, Disney, ESPN, Pfizer, IBM, Burger King, Office Depot, Microsoft, and Shell Oil, among others that like to fish. Here's a list of past Fishing clients and Corporate trips.
Options for Charter Boats with Large Group
You have three options when looking for a fishing boat for your large party: either a drift boat, also known as a party charter boat where everyone fishes from the same boat. Pontoon boats, which carry 8 to 10 people, split up the charter organization and guests among several conventional boats that can host 2 to 4 people each. There are advantages to each fishing boat option, and it all comes down to cost and what fishing experience or team-building function you are trying to accomplish.
If you have children or women in your party who are not anglers at heart by splitting up, they can elect to do tours part of the day while the hard-core guys and fishing machine types can use whatever fishing techniques they want, and all clients, anglers, employees are happy.

Making Clients Happy?
Another option is that a fishing boat works in the morning and afternoon, which performs well for groups. Some clients like the idea of fishing trips, but getting up at 5 AM doesn't work for them. With an afternoon and morning shift, you can provide people with options and experience different fishing spots.
Another option for your large organization team-building fishing charter is splitting the party up into smaller boats and creating mini-events where you can strategically align fishing boats with a crew together. Hence, the charter has the best customers, and plenty is accomplished onboard from the water's edge. It's not always about the best fishing, but an excellent time for all is our responsibility.
Depending on the adults attending, and the limit of clients and customers, we will help you find the best waters that fit the people and time slot you prefer. We can also create games and challenges for each charter fishing boat to help make it a great day. Our crew, captains, and mate are all trained on service; one capt guides an angler to learn something new, have a laugh, or yes, catch a big fish, we all win!
Equipment for Group Fishing Charters
Working hard on the group fishing charters is a guarantee; whether it's birthday parties, sport fishing charter for Marlin, Walleye, or Striped bass, our effort, and technique are the same. Maybe bottom fishing, fly fishing, or saltwater fishing for Spanish mackerel, the fish species doesn't matter. We have an expert captain to charter on almost any spot you would like.
We say that but understand there are some waters, one with limitations, but we will do our best, and you never have to worry about the fishing gear. Our rods are worked hard on the fishing charters, but we upgrade and change them, so you never have to worry about the equipment state.
Big Fishing Excursion
For groups, 20 people are more extensive; you may want to rent out the whole boat. You can get the entire boat for your organization for a special occasion kind of day. Family reunions, bachelor parties, and bridal parties are great examples of particular circumstances where our experienced captains are very accommodating. Call us, tell us what you need beforehand, and make sure we know it's for a private event and your expectations; they are happy to customize the trip that fits your needs.
When taking your large organization out on the water, there are many options. Whether you're fishing, cruising, or touring, it's a day well spent together on the water that matters.
Where To Go For Large Group Charters
Certain parts of the country can't handle big groups or boats. But in most top destinations in the United States, large events on the water can happen; chances are we can find a vessel that can accommodate your numbers.
In New Smyrna Beach, Miami Beach, Tampa, Palm Beach, Lake Erie, and Lake Fork, there are many great Adventures as options. We can run two trips a day in any of these locations and are known for giving guests perfect trips. If you're in Fort Lauderdale, we have an 85′ vessel that accommodates up to 60 passengers.
We also have a 55′ vessel that can carry up to 40 passengers and is great for those families with young kids. This boat is excellent for private parties, bachelor parties, family reunions, and extensive organization gatherings. These are only available for private trips; just let us know how many people, and the captain will accommodate your preference and needs.
Book Large Group Charter Boats
No matter what the occasion, booking large charter boats is difficult. It's always nice to have a large organization together fishing, but sometimes challenging to find activities. Whether it's work-related or family, going fishing is an excellent way to bond and make new memories. Spend a day on the water; get away from it all.
Find a charter for your large party today with BassOnline.com & iOutdoors.com; a customer support staff is standing by, ready to help. We'll help you to make sure you're finding the perfect trip for your party.
Things we can do for your group trip:
These are just a few of the Group fishing options we can provide for you. Call us today and discuss setting up your family reunion, organizations, or Corporate fishing trip.
1. Bus Transportation to Fish
– We can arrange for bus transportation for the day, including picking your organization up at your hotel, bringing you to the lake, and taking you back to your hotel.
2. Fish Boats
– We offer the latest bass boats, complete with a professional guide, safety gear, licensed, insured, and quality tackle.
3. Catering
– We arrange to have a caterer bring out sit-down lunch, we also have a great barbecue lunch, or we agree to have a restaurant host you on your way back to your hotel after your fishing spots.
4. Tournament Trips
– We set up your organization charter like a tournament with a weigh-in station. Each boat with a guide can fish, with the option of fishing with live bait or artificial lures. This function is a great way to promote TEAM work between groups and friends.
5. Fish Trophies
– We can also have your organization charter set up to present trophies. All awards can have your company logo or family's name, date, and a photo of the winner holding their trophy fish.
6. Fish Full Day, Super-Half, and Half Day Trips
– We can arrange the trip to fit into your meeting schedule. We are also available to fish a half-day in the morning or afternoon or a full-day charter with a break for lunch; the option is yours.
7. Fish Accommodations
– We can also set up accommodations. We have corporate rates at over 100 hotels in Florida. Rates that are very competitive and will save you money.
8. Photo and Video
– We can additionally arrange for your trip to be videotaped and photographed. We are providing you with memories that will last a lifetime.
9. Fishing License
– Partipaians going on saltwater charters, the boat's license covers all passengers. Participants going on freshwater charters, either in FL, GA, PA, TX, AL, AR, or CA are required to have a local fishing license. From a group perspective, we can make this easier, by using online tools and mobile access for convenience.
Call us today and let us help you set up your next organization fishing charter: additional corporate fishing trips, families reunion, or company getaways. GO GREEN; it will be an excellent experience for everyone!
We offer organization fishing trips in over a hundred locations, some of which are the St Johns River, Harris Chain of Lakes, Lake Toho, Lake Okeechobee, Everglades, and Miami South Beach Peacock bass.
For additional needs in Group, Saltwater Fishing Trips contact our sister company at iOutdoor.com