Toho Artificial Bait Fishing
Lake Toho in Kissimmee, Florida, is an excellent bass fishing destination. While traveling to Central Florida and wanting to experience what Kissimmee truly offers, get out bass fishing on this beautiful lake. Wildlife and nature are something you have to explore yourself. Our experienced captains and local experts will put you on some of the best Toho Artificial Bait Fishing in Central Florida.
Captain Brent Nelson is one of the BEST for catching Florida largemouth bass on artificial baits. He works very hard to ensure you are in the right location and using the proper techniques to catch the bass. Three days in a row, he went out on Lake Toho and caught them up on various baits.
When visiting Florida, understand and be prepared to endure changing weather. It is our rainy season down here, and you can get wet. Don't worry; it always passes quickly, and most of the time, the weather forecast is not entirely accurate.
Captain Brent had the pleasure of fishing with Steve and Travis on his first day on Lake Toho. They were traveling from Virginia and wanted to experience what Lake Toho had to offer. Most mornings, you can catch some nice bass immediately on artificial, and then the bite slows down to where it will begin to produce on wild-caught live shiners.
The artificial baits that were the most productive were a Bass Assassin die-dapper, speed worms, and the fat-job. If you are patient with these baits, you will have success. The incredible grass structures on Lake Toho hold fish close to the bank and in open water. You can enjoy some great fishing if you love to throw artificial baits.
Steve and Travis caught 25 Florida largemouth bass. The biggest fish weighed right around 5 pounds 10 ounces. Steve caught a 5.4-pound largemouth on the die-dapper. Captain Brent is looking forward to fishing with these extraordinary gentlemen again.
After this fantastic fishing trip, Captain Brent had the pleasure of fishing with Mark, Jenifer, Brian, and Eric Davidson. They were a family looking to have fun catching bass on Lake Toho. When you have more than two people on the boat, throwing artificial bait can be challenging.
Wild-caught live shiners were the most effective bait on this fishing trip. You should use this technique if you love catching bass and enticing bigger ones. This fantastic group and family caught 16 plus fish weighing up to 5 pounds. It is incredible to explore what bass fishing offers here in Kissimmee, and Captain Brent is looking forward to fishing with them again.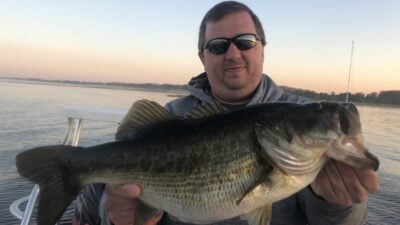 Weather can sometimes turn off a fishery, but Lake Toho is a very stable lake. Even with bad weather, Captain Brent produced another fantastic fishing trip. He had the pleasure of fishing with the Warnecke Family. They were traveling from Ohio to enjoy Florida.
On this trip, the artificial bite slowed down, but if you moved into the main lake, you could find some decent fish. Rattle Traps are the most effective bait to throw in open water. Wild-caught live shiners were the most effective on this fishing trip. This fantastic family managed to boat 17 fish in their quick trip, weighing up to 6 pounds.
Lake Toho Artificial Bait Fishing will improve as the summer rolls in. Let's get you hooked up if you are visiting or live local to this fantastic fishery and have never experienced it. You can most certainly catch a fish of a lifetime. Don't be discouraged by weather or summertime heat when fishing in Central Florida; Lake Toho will still have you catching quality largemouth bass. We're only one click away from a fishing adventure worth remembering. Captain Brent looks forward to seeing you on the water next time you take a Lake Toho Artificial Bait Fishing trip.
Come Experience Kissimmee and Catch Yours Today…
If you enjoyed this post about Toho Artificial Bait Fishing, you might also enjoy this fishing report.
Don't forget to follow us on Facebook, YouTube, Twitter, and Instagram.
[fusion_text]

About Capt Brent Nelson grew up in North Georgia and loved all things outdoors from a very young age. Always wanting to share his love of fishing, nature, and wildlife with others, he pursued a career as a licensed captain and is now certified through the U.S. Coast Guard and carries a Sea Tow endorsement. #1 Lake Toho Artificial Bait Fishing with Brent has been blessed to have fished in Various Bass Fishing Clubs, Fishing Tournaments, and Charity Events over the past 27 years, helping and preparing him to gain guide experience.