Tampa Rating:
Tampa Rating - Read customer reviews, click to read
Complete Guide to Fishing in Tampa Fl
Tampa is a city along the Gulf Coast of Florida located on Tampa Bay. This area is the heart of Florida's Gulf Coast, known for its sunshine, blue skies, and sparkling clear water. The Tampa Bay area is Florida's most diverse travel destination full of waterfront dining, world-class chefs, nightlife, family fun, and a century of Cuban culture. Visitors to the area often make a point to visit the historic Ybor City, famous for its dining and nightlife.
Tampa is the largest city in what is known as the Tampa Bay area that surrounds the bay on the west coast of Florida. The metropolitan cities that make up the Tampa Bay area include Tampa, St. Petersburg, and Clearwater. Tampa Bay is the eighteenth largest metro area in the United States, with over three million people. Tampa is a central business hub with numerous cultural offerings and incredible fishing.
The area has something for every kind of angler, from largemouth bass to fishing the coastal waters to taking a fishing trip out in the open ocean miles from shore. The fishing in Tampa is excellent year-round, with specific species thriving during different seasons.
Popular Nearby Tampa Fishing Locations

Instant Confirmation

  Angler's Top Choice

FREE Cancellation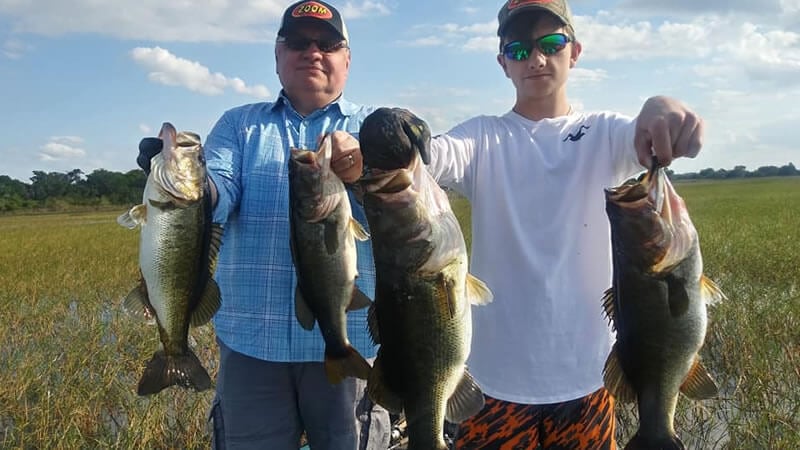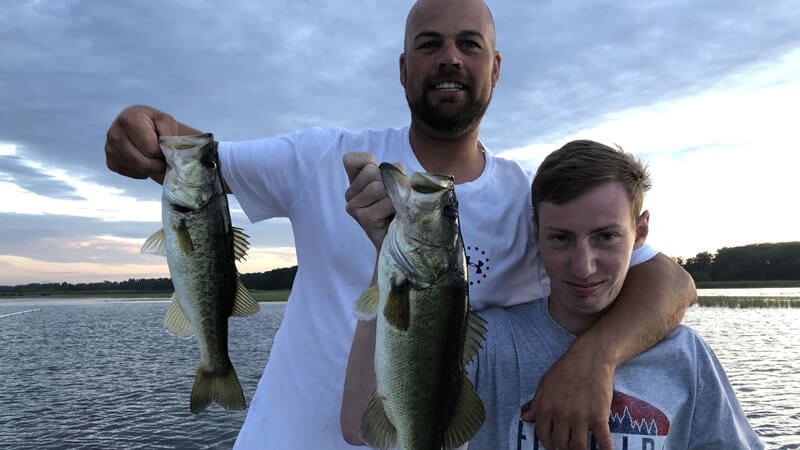 Happy Dad
★★★★★
"
Captain Bill was awesome! He made us feel right at home on his boat and in no time we felt like he was one of our longtime fishing buddies. Oh, he also put us on the fish and was very helpful and patient with great advice for our success. When I go back for another trip with my dad I am definitely going to request him again. Sincerely Alan
"
CLICK HERE TO WRITE A REVIEW
Fishing in Tampa Bay
Tampa Bay is Florida's largest open-water estuary, extending over 400 square miles. The bay is rightly referred to as the crown jewel among anglers from all over the world, inhabiting over 200 different fish species. The Gulf of Mexico's beautiful clear waters feeds into the bay. Tampa Bay has a healthy, massive ecosystem that's home to the state's most popular fish.
There is such a wide variety of aquatic life living here that it's common to catch several different species during one fishing trip. Flats fishing in Tampa Bay is some of the finest fishing available in Florida, with many of the state's most famous game fish calling this area home.
Freshwater Fishing
Florida's largemouth bass is why the Sunshine State was put on the international Sportfishing map, and Tampa is full of productive reservoirs and bass fishing lakes. The most targeted freshwater species in Tampa are largemouth bass and crappie. Other commonly caught fish in Tampa's fresh waters include alligator gar, bluegills, various sunfish, tilapia, and grass carp.
Florida largemouth bass is known to grow bigger and fatter than any other bass species. Tampa Bay is only a short distance from some of the best Florida bass fishing lakes. Just north of Tampa is Lake Tarpon in Tarpon Springs, a clear, beautiful lake known for its big bass.
Freshwater Fishing Charters
In the clear, productive local lakes, a Tampa Bay fishing charter provides anglers with their best chance at a Florida trophy largemouth bass. Freshwater fishing charters are an excellent year-round option for fishermen of all skill levels. Primarily for families with young kids or anyone prone to seasickness but still wanting a day on the water catching Florida fish, freshwater fishing trips are the best option.
Your professional bass fishing captain comes equipped with all gear and tackles you will need for a successful fishing adventure in Tampa. Most importantly, your fishing guide comes with knowledge of all the best spots holding fish to help you get your personal best bass. The best trophy bass fisheries nearby are Lake Tarpon, Winter Haven Chain of Lakes, Lake Toho, and the famous Lake Okeechobee.
Your captain is a local expert who has spent many years learning these fish's habits and determining the best techniques to land a trophy in these waters. A freshwater fishing charter in Tampa comes with constant action and a high chance of catching a trophy while experiencing an outdoor paradise filled with wildlife.
Best Local Freshwater Fishing Locations
The Edward Medard Reservoir in Hillsborough County has some of the best freshwater fishing in the Tampa area for largemouth bass and sunshine bass. Edward Medard Reservoir was initially known as the Pleasant Grove Reservoir and is a 770 acre; man-made lake regularly stocked with sunshine bass.
The Reservoir is known for its irregular bottoms, which is why the fishing is so good. Some areas of the Edward Medard reservoir will drop off to depths reaching 33 feet. The depth and irregular bottom make for a perfect bass habitat.
Lake Tarpon is known as the best trophy bass fishing location in the Tampa Bay area. Lake Tarpon is rated as one of the top ten bass lakes in Florida by the Florida Fish and Wildlife Conservation Commission. The fishing here is excellent year-round, but some great fishing can be done here throughout the summer months during the warmest times of the day, especially at the points and offshore structures.
Saltwater Fishing
Tampa Bay Inshore
Tampa Bay is known for its shallow waters and sandy bottoms. The water depth of the bay averages only about 12 feet. The shallow waters and tidal mudflats provide an ideal habitat for various wildlife that live in the large grass flats and mangrove wetlands.
Most anglers who come on an inshore fishing trip in the Tampa Bay area are after the "Big 3", Tarpon, Snook, and Redfish. Most anglers come to the shallow flats to experience catching these popular game fish on light tackle. Other commonly caught species are Trout, Grouper, Snapper, Jack Crevalle, Cobia, Mackerel, Lady fish, flounder, and sharks.
Taking a Tarpon fishing charter in the Tampa area is among the most exciting adventures to experience in the bay. The tarpon fishing is excellent year-round but from May 1st to about the third week in July is when tens of thousands of giant spawning tarpon pour in. Tarpon migrates in such large numbers into Tampa Bay every year, with Anna Maria Island, located on the south end of the bay, being the epicenter of tarpon fishing in Tampa.
Top Targeted Fish Species
The Big 3
Tampa Bay has consistently proved its reputation of being one of the richest tarpon fisheries along the Gulf Coast of Florida. Anglers can catch tarpon here throughout the year, but the fishing is much more productive during the spawning season. The tarpon fishing season in Tampa Bay is typically from April to August and sometimes starts as early as March.
Tampa Bay in the summer season is well-known for being a strong tarpon fishery. From May to July, the tarpon is exceptionally abundant and active. These months are the peak of the tarpon migration, and when the fish generally range between 80 and 140 pounds. It's not uncommon to catch one weighing close to 200 pounds in the summer in Tampa Bay.
These three months are the best time to book a tarpon fishing trip. A tarpon fishing trip in May, June, or July means sight fishing for massive tarpon schools, a dream come true for most saltwater anglers.
The shifty snook is known for being flexible in finding a habitat to thrive in. Anglers can catch them anywhere from mangroves, docks, jetties, seawalls, and beaches while fishing in Tampa Fl Bay. Snook is among Florida's staple game fish and thrives in almost all parts of the bay. Anglers can catch snook throughout the entire year, but Spring, Summer, and Fall are when they are most active and abundant.
Night-fishing for snook during the summer is a highly productive alternative to avoid the intense Florida heat. Snook are nocturnal feeders and very active at night; they typically will be lurking near the dock lights. Snook fishing on the Tampa Bay beaches is prevalent among shore anglers. Snook will start to spawn in May, giving anglers their highest chance of catching a big one.
Redfish are known as the king of the Tampa Bay shallow flats. Redfish are certainly on the list of skinny-water favorites in Florida to many local anglers. They are actively chasing down lures and flies that resemble crustaceans any day of the year. Redfish are known for having unparalleled stamina and a real personality. Typically a redfish caught in the Tampa Bay area measures about 15 to 35 inches.
Tailing redfish can be seen throughout the year in very shallow areas under 3 feet deep, full of grass flats. Redfish in Tampa Bay will remain active even in the winter months. Redfish are still tailing the shallows during this time, but it's more common to find them in waters between 4 and 8 feet deep in the colder months. Redfish typically school in the same places where anglers catch Snook and Trout.
The monster bull reds are more likely to gather a few miles off the coast and near channels.
Other Inshore Species
Spotted Seatrouts are the most abundant sportfish lurking throughout Tampa Bay. They make for great eats and live in the bay's shallow flats throughout the year. During the cooler months, they drift into deeper waters up to about 15 feet. Sheepshead is the most popular winter fish of Tampa Bay. A Tampa fishing charter during the winter will likely come across some of these fun, delicious fish.
Sheepshead is best targeted from January through March underneath docks, bridges, and in the nearshore reefs. Sheepshead in Tampa Bay ranges from 1 to 5 pounds. Flounders are also excessively numerous here in Tampa Bay. It's not uncommon to catch them in the double digits on a Tampa fishing charter. Flounders are incredibly fond of colder water and usually grow over 20 inches.
Local Tampa Fl Bass Fishing Guides
Meet the team of Tampa Bay fishing guides, we know the best spots, baits, and techniques to give you the greatest fishing experience in the Tampa area.
Offshore Fishing
An offshore fishing trip in Tampa gives anglers a chance to explore the beautiful waters of the Gulf. The offshore waters of the Gulf are extremely rich in bait and attract the most popular pelagics and predatory fish. Some of the same species can often be caught on nearshore reefs as far offshore trips; the main difference is the size.
Common offshore species include Amberjack, Spanish mackerel, goliath grouper, snapper, cobia, and mahi-mahi. An offshore fishing charter can mean traveling at least 20 to 30 miles out into the open ocean or staying relatively close to shore; this mostly depends on the length of the trip booked and the customers' preference. The further from the coast you travel, the bigger the fish will be.
Offshore Species
A Florida grouper is often the most sought after fish on a Tampa deep-sea fishing charter. Other popular big catches include White Grunt and Black Sea Bass.
Sea Bass is a hard-fighting ocean fish species, prevalent among deep-sea fishing charters in Tampa's offshore waters, weighing an average of about one and a half pounds here. Anglers catch Black Sea Bass in the Gulf of Mexico both inside and outside of Tampa Bay. Fishing captains can find black sea bass schools on Tampa Bay and the Gulf's natural limestone bottoms. Black Sea bass is considered a delicacy and is featured in fine restaurants all around the Tampa Bay area.
The best chance at catching a pelagic trophy in the offshore waters of Tampa Bay is in the summer. Surface feeders that thrive throughout the summer months are King mackerel, Permit, Barracuda, and Mahi Mahi. The best chance at landing one of these fish is on a full-day charter, usually 10 to 12 hours long, fishing waters from 60 to 100 miles out.
Popular bottom fish abundant in Tampa Bay are Red Snapper, Gag Grouper, Amberjack, Cobia, Goliath Grouper, and Flounder. The colossal bottom fish live in the deepest waters of the Gulf on wrecks and reefs, but their small cousins may live closer to the shore.
Tampa Bay is also known for its shark fishing. Bull, Blacktip, Hammerhead, and tiger sharks all dominate the area's waterways.
Methods
Offshore fishing in Tampa Bay consists of a combination of both trolling and bottom fishing. While on bottom fishing charters, your captain will still have your troll on your way to the fishing area. Species caught while trolling include Mahi Mahi, Sailfish, King Mackrel, Wahoo, Barracuda, and Cobia.
Bottom fishing the reefs and wrecks could involve various techniques such as still fishing, drift fishing, casting, or jigging. Fish species caught near the seafloor include Grunts, Porgy, Grouper, and Snapper. Small live baits work best for heavily fished areas. Dead bait such as sardines, pinfish, mullets, or frozen squid works well for Grouper and Snapper.
Saltwater Fishing Charters
Going out with a local Tampa fishing guide is the most comfortable and convenient way for anglers to get the full experience of Tampa's beautiful waters and incredible fishing. A Tampa fishing charter is ideal for avid anglers, the novice, families, and solo fishermen. Whatever saltwater species you are interested in targeting or technique you want to use, a professional captain in Tampa is ready to go.
From full-day adventures to half-day excursions or a night fishing charter, an experienced guide is prepared to give you a grand tour of Tampa's best fishing spots. Your local captain is fully equipped with everything you need for a successful day on the water, whether it's hunting the inshore grass flats on light tackle or going after a monster fish on a deep-sea fishing charter in the Gulf.
Tampa fishing in the ocean is excellent all year, and there will be productive fishing spots your guide knows about whenever you are in the Tampa Bay area.
Tampa Bay and Gulf of Mexico Fishing Locations
One of the best fishing spots in Tampa Bay is the Sunshine Skyway Fishing Pier. The fishing pier is two miles long and full of opportunities to catch tarpon, snook, grouper, cobia, Spanish mackerel, sheepshead, and pompano. The Sunshine Skyway Fishing Pier is open all day, every day. There are daily admission fees, which may vary; visitors can find information on the Florida State Park website.
Along the mouth of Tampa Bay is Bishop's Harbor, one of the best fishing spots for inshore species like redfish, trout, and snook. The harbor contains shallow grass flats and mangrove shorelines full of these game fish species. This spot is usually most productive during the last few hours of an incoming tide.
Another Tampa Bay fishing hot spot is Fort Desoto, County Park. The park is on the list of one of Tampa's top fishing locations because of its two easily accessible fishing piers located on the Gulf of Mexico and Tampa Bay. The Gulf Pier provides open water access for anglers to catch saltwater species such as king mackerel, Spanish mackerel, and sharks with heavy tackle.
The Bay Pier is a sheltered spot best for families or any anglers to catch saltwater species such as snook, redfish, and trout on light tackle.
Current Local Tampa FL Fishing Reports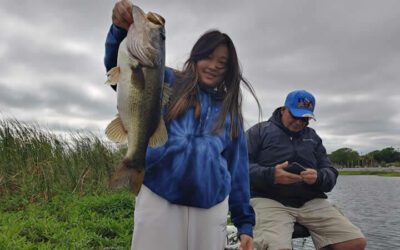 The Best Guided Bass Fishing in Florida Maybe you have done guided bass fishing in Florida, and perhaps you haven't. Perhaps you are a seasoned angler, or maybe you fish...
read more
Area Things To Do
A vacation in Tampa Bay is always an adventure with plenty of things to do while you aren't on a fishing charter. Whether you get your adrenaline pumping on a roller-coaster at Busch Gardens or explore the Tampa Riverwalk, you're in for an exciting time. The Bay area is full of cultural activities, fast-paced attractions, outdoor adventures, and some of Florida's best breweries. Between Tampa and its nearby cities like St Peterburg and Clearwater, you and your family will never be bored.
Popular Attractions
Some of the more popular attractions that get your blood flowing in the Tampa area include Empower Adventures of Tampa Bay, Laser Ops Extreme Gaming, Adventure Family Motorsports, and Adventure Island. Other fun attractions in the area are Tampa's Zooquarium, Westchase Golf Club, Tampa History Center, The Florida Aquarium, Straz Center for the Performing Arts, and Al Lopez Park.
Food and Drink
The cuisine here is as rich and unique as their fishing. The city is full of culture and culinary diversity. There are many waterfront restaurants and bars to sip on some local cocktails. There are also many dining options ranging from fine-dining to a farm to table restaurants. You can enjoy anything from fresh seafood to authentic Spanish dishes here while fishing in Tampa Fl.
Some of the best breweries around the area are Cigar City Brewing, Ybor City Breweries, Coppertail Brewing, Zydeco Brew Werks, and Rock Brothers Brewing. Some popular local restaurants are Council Oak Steaks and Seafood, Hard Rock Cafe, Jackson's Bistro, and The Rez Grill.
Questions? Feel free to call us, Email us or use the chat us to speak to one of our specialists.
Questions? Feel free to call us, Email us or use the chat us to speak to one of our specialists.
Questions? Feel free to call us, Email us or use the chat us to speak to one of our specialists.
What are you waiting for?
Nearby Destinations while fishing in Tampa FL
We also have great deals available fishing in Tampa Fl and the following cities that match your search criteria.