Captain Rating:
Top Rated Captains - Rated by REAL customer reviews, click to read
Instant Confirmation
No Waiting - Get an instant online confirmation that your trip is scheduled!
Angler's Top Choice
Our Captains are NOT available anywhere else, only Top Choice Guides work here!
FREE Cancellation
Canceled due to bad weather or bad health? We'll help reschedule or refund.
USCG Credentials

This captain has successfully passed an enhanced check by US CoastGuard and is Bass Online verified legal
Child Friendly

We look forward to the opportunity to teach children to fish. We carry all of the appropriate safety gear and ensure that our boats are a clean and safe environment for children all ages.
Disability FriendlyProvides Fishing Access for Anglers with Disabilities. Select an area below to book you next trip!
If anyone can make the fish bite for you, it's Capt Joe Gruny. Capt Joe provides personalized fishing experiences in and around Central Florida. Choose from various family-friendly outings, from trophy bass fishing to crappie fishing and local sightseeing.
Make yourself comfortable aboard his 22' Ranger bass boat, powered by a 250 HP Mercury engine. With a maximum cruising speed of 55 knots, this craft will have you fishing in no time. His boat has GPS, a fishfinder, and an ice box to keep your cold drinks and food. Capt. Joe provides an option to use live bait or throw artificial lures. He has 7' spinning rods, baitcaster right and left-handed, and open-face spin cast reels.
No matter your skill level and what experience you hope to have on the water, Capt. Joe can provide your perfect Florida bass fishing experience on Headwaters Lake or the Everglades.  Capt. Joe is a reputable fisherman with over 20 years of experience fishing these waters. He loves putting people on fish and does his best to cater to everyone on board.
Up to four anglers can fish in comfort, targeting a variety of your favorite species. Children of all ages are welcome and will especially enjoy fishing with Joe. Anglers looking for more of a challenge might prefer throwing artificial lures or target trophies with livebait.
Bottled water is served on board, and you are welcome to bring your alcohol (please, no glass containers).
Fishing Chairs
GPS & Fishfinder
Life Jackets
Catch and Release Allowed
Cooler, Ice, Bottled Water
Boat Specs: 22+ ft
Boat Capacity: 4 People
All Fishing Equipment
Boat & Fuel
Photos
Light Tackle
Heavy Tackle
Livebait
Artificial Lures
Spinning Rods
Baitcasting Rods
Left & Right Handed
Fly Rods (request only)
Capt Joe's Fishing Options – Book Online
WHAT CUSTOMERS ARE SAYING ABOUT CAPT JOE
Best day ever!
★★★★★
"
My husband and I had a great time fishing with Capt Joe. He was very knowledgeable and friendly. He made our experience very pleasurable. I would highly recommend Joe. We will be booking again soon.
"
Florida Headwaters is an amazing fishery
★★★★★
"
Capt Joe Gruny really knows his stuff, he took my wife and I for a 6 hour trip to Headwaters Lake in Fellsmere. The morning shiner bite was awesome where my wife caught several in the 5lb range. We fished artificial baits in the afternoon and the fishing was just as good. Amazing fishery and Capt Joe was great, knows the lake well and knew how to put us on them. He also introduced me to the legend Roland Martin to start the day off, very memorable experience
"
3 day trip at headwaters lake with captain
★★★★★
"
Captain joe grunt guided me on headwaters lake for largemouth bass. Fishing was incredible! Joe put me on fish from the first stop to the last. We fished for 3 days & we stopped at 10 am Because I was worn out! I highly recommend captain joe gruny!
"
Best fishing with Capt Joe
★★★★★
"
We went out with Capt Joe and had an awesome time. Rebooked with him 2 days later next month. Planning another trip too! He knows where to go and what the fish are biting.
"
Amazing Morning!
★★★★★
"
Had a great morning with Capt Joe Gruny at Stick Marsh! His expert knowledge and experience took us to the best spot we've been at this year in Florida. The bass were lively and hungry! Beautiful fish - beautiful morning!! Can't wait to go with him again! We already reserved a time next week. Thank you Joe for an amazing morning fishing with my Dad!!
"
Caught fish each time
★★★★★
"
Went fishing with Capt Joe several times, Caught fish each time. I like fishing Lake Istokpoga and Lake June. Capt Joe has a really nice boat and equipment, which made it nice that we didn't have to bring our own.
"
CLICK HERE TO WRITE CAPT JOE A REVIEW
Current Joe Fishing Reports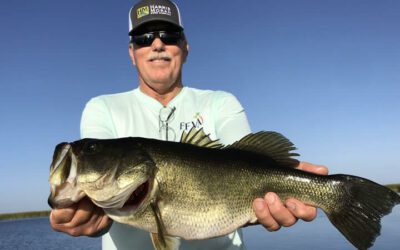 Current February Okeechobee Report Lake Okeechobee is one of the most infamous lakes to explore when it comes to bass...
read more
What are you waiting for?
Other Nearby Local Experts