Captain Rating:
Top Rated Captains - Rated by REAL customer reviews, click to read
Instant Confirmation
No Waiting - Get an instant online confirmation that your trip is scheduled!
Angler's Top Choice
Our Captains are NOT available anywhere else, only Top Choice Guides work here!
FREE Cancellation
Canceled due to bad weather or bad health? We'll help reschedule or refund.
USCG Credentials

This captain has successfully passed an enhanced check by US CoastGuard and is Bass Online verified legal
Child Friendly

We look forward to the opportunity to teach children to fish. We carry all of the appropriate safety gear and ensure that our boats are a clean and safe environment for children all ages.
Disability FriendlyProvides Fishing Access for Anglers with Disabilities. Select an area below to book you next trip!
Capt Brian Brown is a full-time bass fishing guide, he is also your goto Crappie fishing guide on Lake Okeechobee.  He has over 20yrs of experience, Capt Brian can help you understand the movements of fish, understand how to read your electronics. As well as helping you choose the proper tackle to use for your next fishing trip.
So, if you are ready for a fun day on the water with great fishing tips thrown in, Capt Brian could be the guy for you. We know he would love the opportunity to share the boat with you all while experiencing a few good laughs. All while learning new fishing strategies and maybe even catch some trophies bass or crappie along the way.
Captain Brian is a Coast Guard licensed Captain with First Aid and CPR credentials required by ALL guides. To book a trip with Capt Brian on Lake Okeechobee fill out the request form!
Species Capt Brian catches
Fishing Chairs
GPS & Fishfinder
Life Jackets
Catch and Release Allowed
Cooler, Ice, Bottled Water
Boat Specs: 21+ ft
Boat Capacity: 4 People
All Fishing Equipment
Boat & Fuel
Photos
Heavy Tackle
Livebait
Fly Fishing
Spinning Rods
Baitcasting Rods
Left & Right Handed
Fly Rods (request only)
Braid & Mono Line
Capt Brian's Fishing Options – Book Online
WHAT CUSTOMERS ARE SAYING ABOUT CAPT BRIAN
Absolutely Had the Best Fishing Trip
★★★★★
"
Once again had an incredible trip with Captain Brian. This was the fourth trip down fishing with and with me and my oldest son Carson and the first for his little brother Preston. We caught 32 bass with 17 of them being over 4#'s and P.B.'s for all three of us. I caught an 8#10oz, Preston 8#12oz, and Carson 9#10oz. We can't wait to get back down again for another shot at a 10# or bigger!
"
Best Bass Time
★★★★★
"
Capt. Brian knows the lake and how to put you on the fish. My wife and I caught many bass 16-18" with some larger 5 - 6 lbs as well.
"
Enjoyed the adventure
★★★★★
"
Excellent boat, a fun time will do it again!
"
Capt Brian Brown is the man
★★★★★
"
Capt Brian Brown is the man. He put us on the bass and we had a ball. Thanks Brian, Mike Gray-Richmond Virginia
"
Okeechobee with Captain Brian Brown
★★★★★
"
My father-in-law and I fished Okeechobee with Captain Brian Brown. It was a fantastic experience. We are both pretty experienced anglers and Captian Brian put us on fish early and often. It was a great atmosphere on the boat. Captain Brian was knowledgeable and a pleasure to be around. I would book this trip anytime. BassOnline was accommodating when we needed to make changes to our itinerary. I don't know how you could beat this experience with any other service.
"
Had a great experience
★★★★☆
"
Had a great experience. The two guides I had, Captain Brian Brown and Captain Bobby were excellent. Very knowledgeable friendly and always helpful. They both made it the best of a bad fishing trip. I was only able to catch 10 fish in 3 days of fishing. I found out that fishing at Lake Okeechobee has been bad for the past 2 years. Due in part to the eradication of some vegetation, water temperature, wind etc. Even though it was not a good fishing trip, it was a great experience being able to be on the Big O and spending time with the guides. I will be coming back down again but, probably going to another Lake, hopefully with the same 2 guides. (Restaurants not very good. The best was Sonny's BBQ)
"
CLICK HERE TO WRITE CAPT BRAIN A REVIEW
Current Captain Brian's Fishing Reports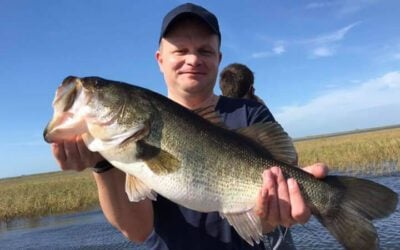 March Lake Okeechobee Fishing Forecast March is a prime month to explore what Lake Okeechobee Bass Fishing has to...
read more
What are you waiting for?
Other Nearby Local Experts