Lake Rating:
Lake Rating - Read customer reviews of lake, click to read
Pricing?To get current pricing. Click on the AVAILABLE button on the pictures below. Then adjust the date, time, and the number of people and it will display the total price
Searching Availability...
Lake June in Florida During Winter
Lake June in Florida, previously called Lake Stearns, is a 3726-acre natural freshwater lake located on the western side of Lake Placid in Florida. The lake is a kidney-shaped water body located off U.S Highway 27 with two coves on the northeast and northwest and a maximum depth of 40 feet.
The entire western shore of Lake June in Florida is bordered by Lake June in Winter Scrub State Park. There are two public parks on the northeast cove's shores, Lake June Park Sports complex on the southern end of the cove and H.L Bishop Park on the cove's northern end. The Lake June Park Sports Complex has softball diamonds, picnic tables, a beach to swim, and a public boat ramp. Bishop Park has picnic tables, a fishing dock, and a public boat ramp.
Lake June is a popular spot for recreational activities such as water skiing, ski boats, and jet skiing. However, the lake is favored by anglers for its incredible Florida fishing, being primarily abundant in largemouth bass, crappie, and bluegill.
Trip Core Details
Region: Florida, Sebring
Duration: 4, 6, 8, & 12 hrs
Cancellation: 12 hrs in advance
Weather-Related: Full refund
Instant Online Confirmation
Includes All State Taxes
What's Included:
All Fishing Equipment
Professional Captain
Boat & Fuel
Cooler & Ice
Bottled water
Photos
What's NOT Included:
Florida Freshwater Fishing License for those ages 16+
Live bait if desired is also additional and is purchased the morning of the trip. (optional)
Food or Specialty beverages
Fishing Chairs
GPS & Fishfinder
Life Jackets
Catch and Release Allowed
Keep Fish Allowed within Laws
Boat Specs: 20+ ft
Boat Capacity: 4 People
All Fishing Equipment
Boat & Fuel
Photos
Light Tackle
Heavy Tackle
Livebait
Artificial Lures
Spinning Rods
Baitcasting Rods
Left & Right Handed
Fly Rods (request only)
Braid & Mono Line
Lake June Fishing
The kidney-shaped lake is the third-largest in Highlands County, consisting of 3,739 acres of water. Lake June in Florida is a year-round fishery with extra productivity during the spawning months. During the spawning months, anglers sight fish for bedding bass along the shoreline of the lake. Two canals connect Lake June to two area lakes. It's bound for Lake August on the southern end and Lake Carrie on the northern end.
Largemouth Bass
Lake June has a great mixture of vegetation that provides the ideal protection for bedding bass and plenty of chances for an angler searching for a Florida trophy largemouth bass during the spawning season. Like other Florida lakes, the spawn in Lake June is driven by water temperatures and the light-dark cycle, coming in waves. Lake June, Florida, is a well-known FWC Trophy Catch lake, holding over twenty-four bass exceeding 8 pounds and released back into the lake since August 2013. The largest bass on record was 11 pounds 3 ounces in January 2015.
Panfish
Along with being an excellent bass fishery, Lake June is home to quality Black Crappie (Specks), Shellcrackers (Redear Sunfish), Bream, Bluegill, and Pickerel catfish. The fishery is full of baitfish such as shad, shiners, and Florida chubs. The fishery consists of an ideal environment for excellent deep-water fishing for crappies, bass, bluegills, and a nice sandy bottom with an abundance of healthy shallow-water vegetation.
Techniques
Swim jigs are the primary lures on almost all Florida lakes during the spawn and work great on Lake June in Florida. Other techniques include soft plastics, spinnerbaits, and live shiners, which are the baits of choice, providing the best results.
The bass holding along the grass edges will often take crankbaits, swimbaits, hard jerk baits, soft plastics, and live bait.
HOME OWNER
★☆☆☆☆
"
WOODEN SWIM IN IT OR EAT A FISH FROM IT
"
A Small Slice Of Nature
★★★★★
"
Stopped off a while at the state park after a great day of fishing in Lake Placid. I like exploring new natural areas and enjoyed this experience and the lake area. The park has a small shelter and a restroom.
"
Enjoyed the adventure
★★★★★
"
This small state park is well worth a visit to learn about the unique flora and fauna of central Florida.
"
CLICK HERE TO WRITE REVIEW
Hiring A Local Expert
If thinking of fishing Lake June in Florida, then you really need to consider a Lake June fishing guide are local experts who know the lake's habits and safe navigation. This lake is historically known to be hard for anglers to locate fish as they tend to move shallow and deep unexpectedly. Your captain will provide a lot of local information to help you learn about the area and catch more fish the next time you fish by yourself.
Highlands County Boat Ramp
There are two public boat ramps in the coves on the northeast; HL Bishop in the Sports Complex located on the south side of the cove has a fishing pier, softball diamonds, picnic tables, and a swimming area. The other boat ramp is opposite the park on the north side of the northeast cove.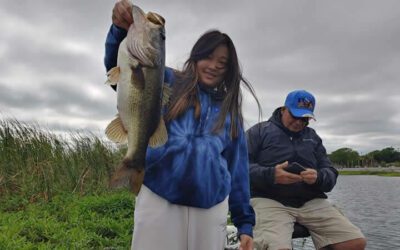 The Best Guided Bass Fishing in Florida Maybe you have done guided bass fishing in Florida, and perhaps you haven't. Perhaps you are a seasoned angler, or maybe you fish only...
read more
Area Things To Do
There is plenty of family fun adventures in the surrounding area of Lake June in Florida. The parks in Highlands County are among the most popular attractions for visitors looking to be close to nature. Picnic tables, a fishing dock, and scenic walking trails full of wildlife make it a favorite spot. Other popular activities include shopping, dining, the casino, a winery, airboat rides, and golf.
Popular Attractions
Some of the most popular attractions nearby include Wet Dogs Brewing, Sugar Sand Distillery, Caladium, Placid Lakes Country Club, the Clown Museum, and Bo David's Restaurant and Bar.
Lake June in Winter Scrub Preserve
The Winter Scrub Park is a quiet 845-acre preserve located on the west side of Lake June in Florida, about 10 minutes from Lake Placid, Florida, and 30 minutes from Highlands Hammock Park in Highlands County.
The preserve protects sand scrub, one of Florida's most endangered natural communities. The area consists primarily of scrub, bayhead, and scrubby Flatwoods. This preserve is best for visitors seeking a remote location to experience the wilderness, bird-watching, and study nature.
Visitors can hike the white sugar sand fire lanes, fish from the lakeshore, walk a half-mile nature trail, or launch a lightweight canoe or kayak into Lake June. This is very similar to lakes like Lake Oconee, where the park has a picnic area with shelter and tables but no grill.
The park's natural experience is exceptional; some of the state's most imperiled species live here.
Wildlife
The preserve is home to some of Florida's rarest and endangered plant and animal species. A few of the species seen here are the Florida scrub-jay, scrub lizard, mouse, gopher tortoise, Eastern Indigo snake, Ospreys, and Bald Eagles. White-tailed deer, black bears, and bobcats are occasionally spotted.
What are you waiting for?
If Lake June in Florida is not quite what you are looking for, we also have great deals available on the following lakes that match your search criteria.