Lake Rating:
Lake Rating - Read customer reviews of lake, click to read
Pricing?To get current pricing. Click on the AVAILABLE button on the pictures below. Then adjust the date, time, and the number of people and it will display the total price
Searching Availability...
About Lake Placid, Florida
Lake Placid is the southernmost town in Highlands County, about 20 minutes from Sebring, Florida. Lake Placid was formerly named Lake Stearns and is one of the most beautiful small towns in Florida. It is a charming little spot located between the major cities of Sarasota and West Palm Beach. It sits in the center of Florida, only a two-hour drive from either coast and the state's most popular attractions. Orlando's major parks are 100 miles away, and the big city of Miami is 145 miles southeast of Lake Placid.
America's Most Interesting Town
Lake Placid, Florida, was named America's most interesting town by Reader's Digest in 2012. The interesting area of Lake Placid is known for its cultural, recreational, and educational pursuits. The town has two nicknames, "The Caladium Capital of the World" and "Town of Murals." This part of Florida is known as the Caladium Capital of the World because it grows 95 percent of the world's caladium bulbs, drawing thousands of visitors with its annual caladium festival.
The expanse also holds the Lake Placid Tower, a closed observation tower over 270 feet tall and rests 142 feet above sea level. The Lake Placid Tower was previously called the Placid Tower, Happiness Tower, or Tower of Peace.
Lake Placid, Florida, is an excellent town to visit throughout the year with its moderate temperatures, sunny days, and plenty to explore.
Trip Core Details
Region: Florida, Sebring
Duration: 4, 6, 8, & 12 hrs
Cancellation: 12 hrs in advance
Weather-Related: Full refund
Instant Online Confirmation
Includes All State Taxes
What's Included:
All Fishing Equipment
Professional Captain
Boat & Fuel
Cooler & Ice
Bottled water
Photos
What's NOT Included:
Florida Freshwater Fishing License for those ages 16+
Live bait if desired is also additional and is purchased the morning of the trip. (optional)
Food or Specialty beverages
Fishing Chairs
GPS & Fishfinder
Life Jackets
Catch and Release Allowed
Keep Fish Allowed within Laws
Boat Specs: 20+ ft
Boat Capacity: 4 People
All Fishing Equipment
Boat & Fuel
Photos
Light Tackle
Heavy Tackle
Livebait
Artificial Lures
Spinning Rods
Baitcasting Rods
Left & Right Handed
Fly Rods (request only)
Braid & Mono Line
Fishing Lake Placid Fl
Lake Placid, Florida, is full of pristine freshwater lakes full of recreational water activities such as swimming, sailing, boating, and incredible fishing. The lake area is full of stately cypress and beautiful lake views perfect for picnics and hiking in Florida.
Lake Placid is in the lake-intensive center part of the state, offering 27 clear freshwater lakes with some of the best fishing in Florida. This southern portion of Central Florida, also known as "The Ridge," is one of the most scenic areas of the Sunshine State. The beauty of these waterbodies and the rolling hills have spurred the popularity of experiencing a Lake Placid guided charter. 
Species
With all the freshwater lakes nearby, there are plenty of productive places holding fish. Lake Placid, Florida, is home to various game fish, including largemouth bass, bream, catfish, bluegill, crappie, redear sunfish, and blue catfish.
Placid Lake is most known for holding famous Florida largemouth bass, with six to eight pounders caught regularly. The most popular panfish plentiful here are bluegills, shellcrackers, and crappie, which provide excellent eating.
Guided Charters
Visitors travel worldwide to experience catching fish in the many thriving waterbodies of Central Florida, especially Lake Placid. This fishery is known to be consistent year-round. Its peak is during the spawning season, which goes from November into May. Fishing with a professional captain provides the opportunity to become familiar with the nearby towns and appreciate the Florida ecosystem while heading straight to all the best spots. Your guide will have everything you need for a successful day on the water, including all gear, tackle, and local knowledge.
Lake Placid Fishing Guides
Great town to visit
★★★★★
"
The town, the people, ambiance, and atmosphere are wonderful. The local scenery is exquisite. In general, the people are warm and friendly making Lake Placid a very nice place to visit. And the fishing is out of this world, so many lakes and places to go!
"
CLICK HERE TO WRITE REVIEW
Area Things To Do
After fishing any of the areas lakes, head to the countryside for any daily essentials and explore the many things to do in one of America's most interesting towns. Some ideas for fun things to do with the family include golf, seeing the murals, festivals, shopping, dining, and plenty of wildlife areas. There are over 100 nearby lakes and creeks for kayaking, canoeing, water skiing, swimming, scuba diving, and more.
Nearby City Fun
Lake Placid's nearest neighbor, Sebring, has its International Raceway and offers plenty of events, dining, shopping, and recreational fun. Other popular attractions here are the Children's Museum of the Highlands, Henscratch Farms, and Highlands Hammock State Park.
Popular Places
Enjoy the area's unique ecosystem at Archbold Biological Station, as well as a historically good time at the Depot Museum, home of the red caboose, and local history artifacts displayed by the Lake Placid Historical Society. The Archbold Biological Station is a research institute surrounded by 5,192.63-acres estate near Lake Placid. The Biological Station consists of an extensive Florida scrub area, a scientifically exciting and highly threatened ecosystem.
Popular Events
The annual Grape Stomp is in August, hosted by Henscratch Farms Vineyard & Winery. A Saturday Morning Market takes place on the second Saturday of each month, October through March. The annual Caladium Festival has held at the end of July.
Parks
The town of Lake Placid currently has eight parks. The largest Park is the Lake June Sports Complex, which has baseball, softball, soccer, football fields, and picnic pavilions. Lake Placid's beach has four sheltered picnic areas in the sand, grass areas for blankets, and a boat ramp. The two serene parks nearby are Stuart Park and John's Park. They are in the downtown area, and both offer something unique. Stuart Park is more famous for small events and parties in the community. This Park has plenty of shade, walking paths, shuffleboard courts, and a barbecue pit. John's Park is more of a "relaxing" park, offering a shaded walking path with benches. Johns Park is quiet and an ideal place to relax, read a book and enjoy nature.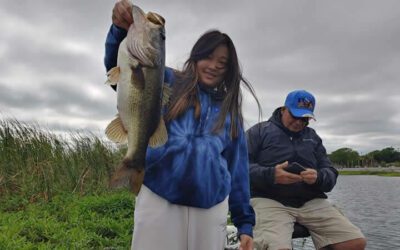 The Best Guided Bass Fishing in Florida Maybe you have done guided bass fishing in Florida, and perhaps you haven't. Perhaps you are a seasoned angler, or maybe you fish only...
read more
What are you waiting for?
We also have great deals available on the following lakes that match your search criteria.