Current February Okeechobee Report
Lake Okeechobee is one of the most infamous lakes to explore when it comes to bass fishing. Being the largest lake in Florida, you never know what you will catch and the size of that catch. Lake Okeechobee bass fishing is a highlight of what you can experience when traveling to Florida. Be sure to invite the whole family out for an action-packed day on the water. Enjoy this Current February Okeechobee Report with our local experts and professional fishing captains.
One of the most important aspects of fishing Lake Okeechobee is getting out with a local expert. Whether you plan to visit Okeechobee, Clewiston, or Belle Glade, every location can pose endless waters to fish. Understanding and having knowledge of these waters is critical to your success on your fishing trip. Our local experts have spent years determining the best techniques and areas to fish.
When fishing Lake Okeechobee, you can use either artificial baits or live bait. If you are searching down a giant or trophy largemouth bass, live bait is the way to go. When looking to have a lot of rod bending fun, be sure to ask to throw artificial baits. Each captain and trip comes fully equipped with artificial baits.
Check out how the fishing has been in this Lake Okeechobee Bass Fishing Update:
Fishing with Captain Mark Shepard out of Clewiston, FL:
"Every day that I get to share my passion with a client is special. This trip was a very special one because I got to spend and have the honor to fish with a wonderful family. I had the pleasure of fishing with Jerry and his two sons Ian and Jeremiah. They were 11 and 14 years old and came out to explore Lake Okeechobee out of Clewiston, FL.
Being Florida natives, they wanted to get out on the water and see what Lake Okeechobee can do. Rainy, overcast skies, and funky weather made the fishing conditions quite interesting. Even with these factors, bass fishing was active.
No giants made it to the boat but a lot of quality males were caught. All the action was caught on light tackle and artificial baits. I was impressed with how well these young men were able to cast and fish. There was a lot of quality bass in the 3-4 pound range
Everyone on board had a fantastic time on the water. Jerry made memories that he will never forget. I am looking forward to landing more quality bass with this wonderful family next time!" – Captain Mark Shepard
Fishing with Captain Mark Rogers out of Okeechobee City, Florida:
"Okeechobee City, FL is a beautiful place to explore and visit. It is one of the largest towns surrounding Lake Okeechobee. As a result, you can find a comfortable place to stay before your fishing adventure. Fishing out of Okeechobee City is much different than all the other destinations. From the structure to the scenery, it provides you a whole different feel.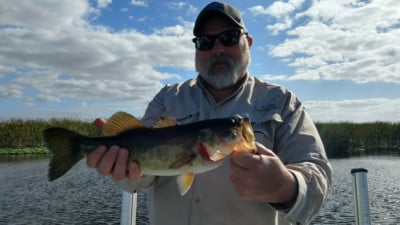 I had the pleasure of fishing with Rich and his Father. They were traveling from Massachusetts looking to cash in on some bass fishing on Lake Okeechobee. Calm winds allowed for a beautiful morning of fishing. Before finding our spot to set up, I showed them around this amazing fishery.
We anchored up and started catching bass right away. We did not come across any giant fish but the action was steady all trip long. Cool water temperatures made the bite slower than normal but that did not stop the bass from being caught.
Rich and his father caught over 15 largemouth bass on their fishing trip. The biggest bass weighed in at 4.5 pounds. Several other fish in the 2-pound range were caught as well. They both enjoyed spending time together while catching Florida largemouth bass.
I am looking forward to getting the opportunity to fish with this Father and Son duo again in the near future!" – Captain Mark Rogers
Fishing with Captain Joe Gruny out of Okeechobee City, Florida: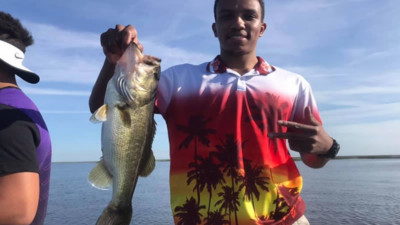 "Some of my favorite trips are the ones that I get to show the client Lake Okeechobee or any fishery for the first time. Lake Okeechobee especially is one that is exceptionally beautiful to show the clients around. Every year and every month this lake changes making it exciting for the clients to explore.
I had the pleasure of fishing with Edward and his three sons during this current February Okeechobee report. They were traveling from North Carolina on vacation and wanted to get out fishing. This was their first time getting out on Lake Okeechobee. They were in search of some big bass but unfortunately, it just was not their day to land one.
Family fishing is not about catching big bass but about spending quality time with each other. We pulled up on this one reed head and spent most of our time catching fish after fish from it. Edward and their sons caught over 15 largemouth bass and landed 4 nice catfish. All the action made for a successful day on the water with the biggest bass weighing over 3 pounds.
I had a blast fishing with Edward and his family and I am looking forward to having the opportunity to do it again!" – Captain Joe Gruny
Fishing with Captain Mark Rose out of Belle Glade, Florida:
"The Full Moon was in full effect on this fishing trip. Big girls were moving into the shallows and my clients got on some super quality largemouth bass in their quick 4-hour fishing trip. Some trips you catch large numbers and others, the numbers are low but the quality is high.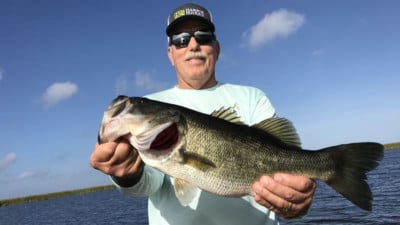 I had the pleasure of fishing with Paul and Susan who were traveling from West Palm Beach. It is always a blast to get out on the water with Florida natives that know what this time of year and conditions can bring. The proper moon phase and beautiful weather was the perfect recipe for landing some big bass!
Paul and Susan explore Lake Okeechobee out of Belle Glade, Florida, which is the closest location to Palm Beach, Florida. Utilizing wild-caught live shiners, they had the luxury of landing over 10 largemouth bass. Paul and Susan caught two largemouth bass weighing in at 5 and 6 pounds.
What a day on the water for both of them and they are most certainly looking forward to coming back to get on even more bass in the future!" – Captain Mark Rose
Come Visit Florida and Catch Yours Today..
Whether you are looking for larger bass or quality numbers, Lake Okeechobee is a wonderful destination to visit. Words can't describe how beautiful this fishery actually is. From the moment you step aboard to the time you get off, your senses will open up. Lake Okeechobee Bass Fishing is a must experience for all those that love the great outdoors.
Our local experts and guides would love the opportunity to show you around all the locations you can fish at. They get excited when new anglers and travelers hop on board. You never know what you will get the chance to experience and see when embarking on a Lake Okeechobee adventure!
We hope to see you on the water next time!
Current February Okeechobee Report Locations & Trips:
Book your Okeechobee City Fishing Trip Here! 
Explore a Clewiston Fishing Trip Here!
Book your Belle Glade Fishing Trip Here! 
If you enjoyed this post about Okeechobee Fishing, you might also enjoy this fishing report from the same area.
Don't forget to follow us on Facebook, YouTube, Twitter and Instagram.