Complete Guide to Okeechobee Lake Fl
Okeechobee Rating:
Ft Lauderdale Rating - Read customer reviews, click to read
Off the beaten path for travelers and vacationers looking for a destination with outdoor attraction and a small-town feel, welcome to Okeechobee Fl. It is a place that is very boating friendly and well known for its fishing, and not always recognized for all the other activities around the waterways.
The spectator wildlife which can be done on any one of the many levees to see birds like the osprey, egrets, snail kite, of course, numerous alligators, the occasional turkeys and hogs in the surrounding areas. Take friends with you, visit the local fishing pier, go on a hike. Hikers love the Florida National scenic trail that travels the top of the
Herbert Hoover Dike
.
Okeechobee is one of those destinations in the country you have to experience, a town in South Florida, and many say Central Florida. West of Palm Beach, east of Sarasota, and South of Orlando. The city of Okeechobee is considered the headquarters for Lake Okeechobee because it's the biggest of the small towns, especially compared to the lake's east side in Pahokee. If you continue to drive south, Belle Glade, where you can also find some great campgrounds. The one on Torry Island is the only region of Okeechobee to provide a basin or island inside the levees and host camping. It's a visitor's dream trip includes camping, hiking, and offers airboat, boaters, and anglers; everyone accesses like no other place, then this may be for you.
About Lake Okeechobee
Variety providing Lake Okeechobee-which means "big water" in the Seminole Indians-is the second largest freshwater lake wholly within the inland sea of the United States. It is located in south-central Florida (south of Orlando and north of Everglades National Park) and is commonly described as Florida's "liquid heart." It is considered the heart or center of the state, but the Everglades ecosystem historically pumped life-into the water like the heart pumps blood in the body.
The second-largest freshwater lake in the United States is Lake Okeechobee. The lake circumference is 730 square miles and is connected to Florida's coasts via the human-made Okeechobee Waterway. The lake is 30 miles in width, east to west, and 33 miles vertically from south to north.
Built-in 1937, the Okeechobee Waterway was developed by the Army Corps of Engineers for flood control after two floods caused by hurricanes destroyed the lake's areas. A series of 5 locks help boats through the 152-mile long waterway control the water level. The canal depth of the waterway is approximately eight feet, and the width of the canal varies from 80 to 100 feet.   Read More
Popular Okeechobee Fishing Tours

Instant Confirmation

  Angler's Top Choice

FREE Cancellation
Searching Availability...
Things to do near Okeechobee Fl
Florida National Scenic Trail
An overlay on the Florida path route around Lake Okeechobee (Okeechobee East and Okeechobee West), the Lake Okeechobee Scenic Trail provides mostly paved cycling and walking routes around the entirely of the borders of the lake. They are naturally on top of the famous Herbert Hoover Dike.
Caloosahatchee River Access to Lake Okeechobee
Upriver, en route to the Big O, the Caloosahatchee flows through the towns of Fort Denaud and LaBelle, historic burgs that time has left behind. At LaBelle's pretty, oak-shaded riverfront park, and for over 50 years the cracker-style Swamp Cabbage Festival. Residents have plied these waters on cross-state travels since the Calusa and Seminole tribe's time, for which the river is named.
The river takes an entirely different direction than the Kissimmee River – both literally and figuratively – once you head west of Alva. The building of Fort Myers saw Alva slip into oblivion, and the city remains the biggest on the Caloosahatchee today.
Florida Relies on Okeechobee for Success
Understanding why Florida is deemed as the Fishing Capital of the world? It all starts with Lake Okeechobee! The lake is quite iconic given its largemouth bass fishery, which extends so many water miles. Fishermen are trying to concur such a vast water body could be quite tasking given its immense diversity and quality of vegetation and habitat.
To begin with, Okeechobee size requires visitors to possess a vessel of some sort and a map for a variety of reasons. Boats offer entrance to the center and all other entry waterways on the east, west, south, and north sides. This shall be of great help as you'll be able to navigate your way through the large water body quickly. Read on to discover a considerable variety of waterway activities available.
Two fabulous days
★★★★★
"
Thoroughly enjoyed our two days with Captain Mark. We were both total novices with bass. We used artificial worm, fluke, poppers and live bait, under the guidance of a very knowledgeable and patient captain. Caught lots of very decent sized fish and had so much fun. The banter was great and the day went so quickly. Will definitely book again. Thank you so much!
"
Great experience
★★★★★
"
Learned so much on this trip, guide knew all the tips and techniques for catching large fish. Would definitely book another trip in the future!
"
CLICK TO WRITE A OKEECHOBEE REVIEW
FAVORITE REGION LOCATIONS ON OKEECHOBEE
The vastness of 730 square miles of Okeechobee lake Fl may mean that it's stuffed with varieties of wildlife and fish, but how do visitors know which location to choose. Is the state of one destination better than another around Lake Okeechobee? Lake Okeechobee waterway and surrounding areas have a lot to offer; below, we cover each location to help you.
OKEECHOBEE
Okeechobee Fl is a small city, but the largest city situated at Lake Okeechobee's very north tip. It provides a significant entrance via Kissimmee River to the bass-filled basin and also the incredible speckled perch in the river known as crappies. If you have a boat and are a newbie you are going with your friends and family, Okeechobee might be an excellent spot to start. It also has an immense amount of campgrounds located nearby for travelers and visitors wanting to stay in town.
SOUTH BAY
The bay bottom area spans between Grassy Island and Torry Island. This area is one of Lake Okeechobee's most praised spots for its big water bass fishing, a place with a heart to experience with loved ones. Towns like these are rear, the birds, the alligators, connection to the everglades, and level of attraction is so unique. Being on the inside of the levees provides relatively calm fishing waters, almost its own basin, and the perfect spot for vacationers, really everyone who lives in South Fl to enjoy Lake Okeechobee's best campgrounds where you can catch catfish, largemouth bass, or crappies from shore or boat.
CLEWISTON
Clewiston is another fantastic area for a trip, with excellent city history, very accommodating to anglers, boaters, and travelers. It is located at the extreme opposite end of Okeechobee. You'll enjoy content regarding Sugar Cane history, the Okeechobee waterway, Lake Okeechobee scenic trail, so get a guide to this area and experience the heart of old Florida. Additionally, the site hosts a city pier, great boating, hiking, and a world of wonders for fishermen.
Top Okeechobee FL Fishing Captains
TOP 3 FISH SPECIES IN LAKE OKEECHOBEE
Home to the most popular freshwater species in Florida. Lake Okeechobee has always been the largemouth bass focus; others would be the catfish and speckled perch. According to the local fishermen, these are some of the reasons Lake Okeechobee gained prominence.
The famous largemouth bass inhabits almost all corners of the lake. It is a carnivorous freshwater species distinguished by how big the lower jaw is and how it increases even beyond the edge of its eye.
Moreover, this mouth provides the ability to eat shad, shiners, speckled perch, and even a bird—reasoning why they easily are attracted to a vast range of lures and live baits. So, you can always get them if you have worms and crawfish.
FINAL THOUGHTS
The largest lake in all of Florida will always be Lake Okeechobee, and it is widely known for its tranquility, serenity, and varieties of fishes. Don't let the fishing allow you to overlook history; it's quite an expedition to explore this unique water body's circumference surroundings.
Current OKeechobee Fishing Reports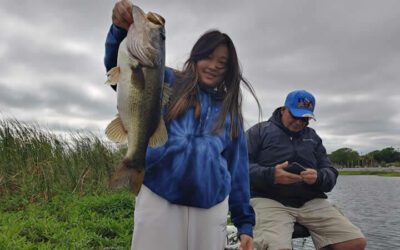 The Best Guided Bass Fishing in Florida Maybe you have done guided bass fishing in Florida, and perhaps you haven't. Perhaps you are a seasoned angler, or maybe you fish only...
read more
Questions? Feel free to call us, Email us or use the chat us to speak to one of our specialists.
Questions? Feel free to call us, Email us or use the chat us to speak to one of our specialists.
Questions? Feel free to call us, Email us or use the chat us to speak to one of our specialists.
What are you waiting for?
We also have great deals available in the following cities that match your search criteria.