Ft Myers Rating:
Fort Myers Rating - Read customer reviews, click to read
Fort Myers is a town on Estero Island, located in the heart of the Caloosahatchee River, between Estero bay and Charlotte harbor. This area of southwest Florida is one of the best fishing grounds and is covered with beautiful beaches. The vibrant town was once a remote fishing village surrounded by crystal clear waters, sandy beaches, and an abundance of wildlife. Fort Myers fishing is ingrained into the island's roots and fiber.
Fort Myers, Florida, has many fun opportunities for people with all of its nearby cities, including Sanibel and Captiva. Around the corner from Fort Myers are Matlacha pass, San Carlos Bay, and the Island, where the Pine Island Sound travels through the range of barrier islands, offering prime Fort Myers fishing spots. While the warm gulf waters are teeming with saltwater fish, Fort Myers fishing also offers lakes, canals, backwaters, and rivers. There's a network of bays, mangrove islands, and tidal creeks riddling the coastline where trout, snook, grouper, redfish, sharks, and snappers call home.
Fort Myers Fishing
Fla is good all year round, and the diversity available on a Fort Myers Fishing Charter is incredible. The captain can target grouper, wahoo, and Cobia offshore, or seek out redfish, trout, snook, and many more with just a short boat ride on your Fort Myers Inshore fishing adventure. Anglers from across the globe come every tarpon season from April through June to catch the silver king. Fort Myers Beach is a fisherman's paradise with offshore, coastal, and freshwater fishing opportunities. You can explore the backwater flats, piers, bridges, and expansive shoreline, and you can venture offshore for deep-sea casting and trolling, or experience a Florida trophy bass.

Instant Confirmation
  Angler's Top Choice
FREE Cancellation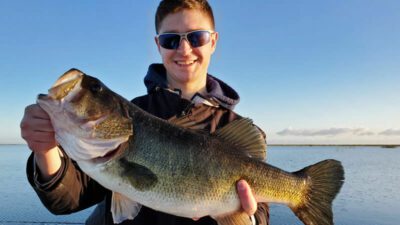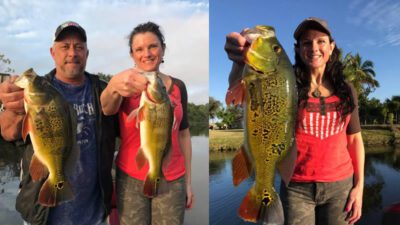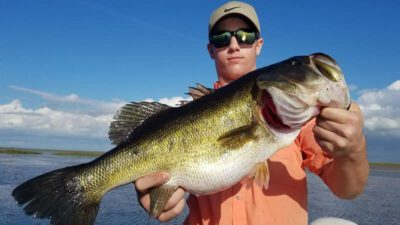 Freshwater Fishing Charters
Freshwater Fishing adventures with a captain are available throughout the area and good year-round, with the Caloosahatchee River leading off hundreds of miles of canals. Lee County is also full of natural and manmade lakes loaded with fish. Ft Myers is a short drive to some of the best crappie and trophy bass fishing in the state, located about an hour from Lake Trafford and Clewiston, the southwest end of famous Lake Okeechobee. Fish commonly caught here include largemouth bass, crappie, catfish, shellcrackers, and bluegill. Your captain can take you to the honey hole holding whichever fish you hope to target during your fishing charters.
Saltwater Fishing in Ft Myers Beach
Inshore Fishing Charters
Fort Myers Beach holds many of the most productive spots in the state. Numerous world-record fish have been caught in the waters of Lee County, earning its reputation as a "fisherman's paradise." Fort Myers beach inshore fishing is good year-round with opportunities to catch red drum, snook, tarpon, sheepshead, spotted seatrout, jack crevalle, snapper, and more on your fishing trip. Inshore charters explore mangrove shorelines, flats, beaches, bridges, piers, docks, and inlets. The reality, the captain, the angler, and all people on the trip, realize Southwest Florida fishermen have some fun sport fishing in one of the best states.
Fish the flats and backwaters on light tackle for Snook, Tarpon, and Redfish. Winter fishing is the high season to go on the back bay flats. Inshore excursions mean the captain and fisherman hunting the snook lurking the mangrove islands, huge trout cruising the oyster bars, and schools of redfish tailing on the grass flat for fun. It's not uncommon to catch a backcountry slam involving redfish, snook, and tarpon all in one day on a Fort Myers fishing charter.
Offshore Fishing Charters
Species caught offshore in the Gulf of Mexico include gag and goliath grouper, bonito, barracuda, permit, blackfin tuna, shark, cobia, and king mackerel. The captain will go fishing about 20 miles off the coast, you can explore the open ocean floor for Snapper, Amberjack, and Cobia. As you go further out between 30 and 75 miles offshore to deeper waters, you'll catch bigger reef fish. The reefs are full of enormous snapper, grouper, and amberjack. Sanibel Island and Pine Island are both popular areas of the Ft Myers coast to battle big fish on your trip.
This southwest part of Florida is known to have some of the best grouper fishing in the state. The captain suggests the best time to plan your fishing trip and catch a goliath grouper over the wrecks and reefs in the Gulf of Mexico is in April and May.
Top Targeted Fish Species
Fort Myers Fishing Charters
Going on a charter with a captain is easily the best way to have a productive fishing experience on the water. You can explore the Gulf of Mexico, covering more ground and getting to the spots almost guaranteed to hold fish. Florida fishing trips are the perfect private expedition for solo fishermen, couples, a family outing, or groups. The Gulf Coast is known for its clear waters and sea life. You will probably come across manatees, dolphins, turtles, manta rays, and numerous native birds on a local fishing charter.
The number of species you can target and different areas to experience during a fishing excursion is numerous. During your Fort Myers Beach fishing charters, you can be going after deserving targets that include pompano, black drum, shark, sheepshead, snook, tarpon, and flounder in the back bay shallows. Seekers in the deep blue will come across marlin schools, sailfish, king mackerel, mahi-mahi, and large tuna or experience a shark fishing charter on the Gulf of Mexico. A saltwater fishing charter in Ft Myers is a great way to see the surrounding barrier islands or venture for prime targets in mangrove islands, rivers, or open oceans.
Take a freshwater charter to have your best chance at catching your personal best trophy largemouth bass. Your charter service is done by an experienced captain who knows all the best spots for the fish you aim to catch. Expect to reel in fish right and left as the charter's captain takes you to the richest areas the laid-back town has to offer.
Meet the team of local Ft Myers fishing guides, we know the best spots, baits, and techniques to give you the greatest fishing guides in Fort Myers.
Fishing
★★★★★
"
Had a great day fishing with my dad over the last couple of days. Bass online & iOutdoors took us out bass fishing and saltwater fishing. The first day catching Peacock bass down near the everglades. Lost count how many fish. We then went in the bay inshore fishing for redfish and snook and caught 8, which we were really happy with. The easy booking process, very professional and we will use them next time down in Ft Myers for sure!
"
CLICK TO WRITE A FT MYERS REVIEW
Fort Myers Fishing Seasons
January is best for trout and redfish on the flats and back bays. Look for tripletail floating around objects during your charter, making for an excellent light tackle fishing experience.
February is when the snook becomes more active, and the trout is still good. It's an excellent time to plan a fishing charter near the reefs for huge black drums, spotted sea trout, and sheepshead.
March, the cobia become abundant near the reefs. Permit and Red Grouper can be found while on an offshore fishing charter.
April is the beginning of tarpon season as they start to move into the back bay areas and Fort Myers Beach. The Gag Grouper, Permit, and Cobia move nearshore making for good topwater action on the flats.
May is the peak for tarpon fishing here, with large schools within a few miles of the coast. May is the best time for anglers to catch snook along the beaches.
June is the best time for a shark fishing charter on the flats. It's an excellent time to catch Snapper, Grouper, and Cobia on an offshore trip.
July is best around piers and jetties early in the morning or in the evening. Tarpon starts migrating north but is still available in the waters of Fort Myers beach.
August is when the snook travel towards the backcountry areas, making it an excellent time to plan a flats trip.
September, it's best to look for shady areas and deep pockets where the water is cooler. Here, you can catch Snook, Trout, and Redfish on your charter.
October is the month for huge redfish as they spawn in the river mouths and inlets. October is the best month to sight fish the flats on your Fort Myers fishing charter because of the shallow tides. The offshore Cobia starts returning as well.
November is still incredible for the redfish as their spawn continues. Anglers can catch big trout and snook on the flats during inshore fishing adventures.
December is prime time for inshore fishing in Fort Myers. Your captain can guide you onto the flats for great Redfish, Snook, and Trout fishing.
Area Things To Do
Top Attractions
The most popular attractions for some family fun include Manatee Park, the River District, Butterfly Estates, and Lakes Regional Park. Fort Myers Beach has an activity for the whole family including beaches, breweries, parks, and sporting events.
Fishing Tournaments
In August, the offshore Grouper Grapple Fort Myers Fishing Tournament offers prizes along with helping military veterans. Families can catch the Kid's Fishing Tournament on the 4th of July, where your child can compete for the biggest catch.
Sanibel Island and Cayo Costa
Sanibel is known for its fishing-friendly shoreline, beautiful houses, docs, and clear water, making Sanibel Island fishing a scenic and action-packed experience.
Cayo Costa is a state park and protected barrier island just west of Fort Myers, only accessible by boat or kayak. Cayo Costa's nine miles of untouched beaches and pristine waters offer incredible fishing.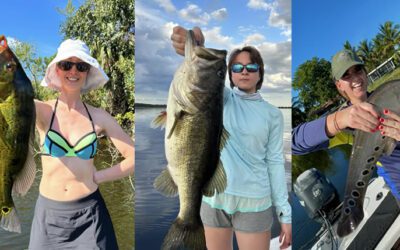 Fishing is a rewarding but sometimes lonesome and challenging sport. You enjoy the serenity and the chase, but you usually lack companions,...
read more
Questions? Feel free to call us, Email us or use the chat us to speak to one of our specialists.
Questions? Feel free to call us, Email us or use the chat us to speak to one of our specialists.
Questions? Feel free to call us, Email us or use the chat us to speak to one of our specialists.
What are you waiting for?
We also have great deals available on Florida fishing guides in the following cities that match your search criteria.