Captain Rating:
Top Rated Captains - Rated by REAL customer reviews, click to read
Instant Confirmation
No Waiting - Get an instant online confirmation that your trip is scheduled!
  Angler's Top Choice
Our Captains are NOT available anywhere else, only Top Choice Guides work here!
FREE Cancellation
Canceled due to bad weather or bad health? We'll help reschedule or refund.
USCG Credentials

This captain has successfully passed an enhanced check by US CoastGuard and is Bass Online verified legal
Child Friendly

We look forward to the opportunity to teach children to fish. We carry all of the appropriate safety gear and ensure that our boats are a clean and safe environment for children all ages.
Disability FriendlyProvides Fishing Access for Anglers with Disabilities. Select an area below to book you next trip!
Capt Rick Mitchell is a full-time Naples fishing guide. Rick played college football at Bowling Green State University and commissioned as a second lieutenant in the US Army. After twenty-five years of active duty service, Rick and his family moved to Naples, FL where he has been guiding since 2011.
Rick has fished all over the country while in the military. When he is not fishing he is very active with the local fishing clubs and at the professional level with the FLW Costa / BFL series and the American Bass Angler Southern Division.
Rick is literally on the water every week preparing for a fishing guide or professional tournament. He is very proficient with the various fishing techniques in Southwest Florida (artificial, shiners, and saltwater) and will cater to all your needs. The main lakes that I focus on are Lake Okeechobee, Golden Gate Canal System, Lake Trafford, and the Everglades.
Capt Rick likes to start early but is open and flexible to your scheduled start time. Also offers a trip in the morning and afternoon. Included in all trips, is the boat, fuel, cooler, ice, bottled water, and all tackle & equipment necessary for fishing. The trip ends when your ready; having a great time, let's continue.
Capt Mark is knowledgeable in light tackle, as well as flipping, pitching techniques in all the surrounding waterways. Kids, veterans, pets, and disabled anglers are more than welcome to join my adventures.
I love to share my passion and knowledge with you, all while putting you on fish. Living and fishing in the areas provide me the ability to have a superior experience on Okeechobee. Contact me below with any questions you may have.
Species Capt Rick catches
Fishing Chairs
GPS & Fishfinder
Life Jackets
Catch and Release Allowed
Cooler, Ice, Bottled Water
Boat Specs: 22+ ft
Boat Capacity: 3 People
All Fishing Equipment
Boat & Fuel
Photos
Heavy Tackle
Livebait
Fly Fishing
Spinning Rods
Baitcasting Rods
Left & Right Handed
Fly Rods (request only)
Braid & Mono Line
Capt Rick's Fishing Options – Book Online
WHAT CUSTOMERS ARE SAYING ABOUT CAPT RICK
Peacock Bass in Golden Gate
★★★★★
"
We had a great time fishing with Rick in Naples for Peacock Bass! We went out with Rick two times over the Christmas break. We caught a bunch of fish and look forward to going out again next year. Rick was great at communicating before the trip and made sure we had everything we needed. His boat and equipment were excellent. Thanks Rick!
"
Smallmouth fishing
★★★★★
"
I had a fun day fishing for smallmouth bass on Friday. Rick was great at setting me up to succeed and thank you for fitting me in at the last minute. See ya again next year!
"
Inshore mania
★★★★★
"
Rick took my two teenage boys and I out 3/22/21 from Goodland towards the Ten Thousand Island area. We caught and released a snook on the first cast and the action remained all day despite the wind. Rick kept us on fish all day. Snook, barracuda, jacks, mangrove snapper, blue runners, red fish, a shark and I'm sure I'm forgetting a couple. Great day!!!
"
CLICK HERE TO WRITE CAPT RICK A REVIEW
Current Captain Rick Fishing Reports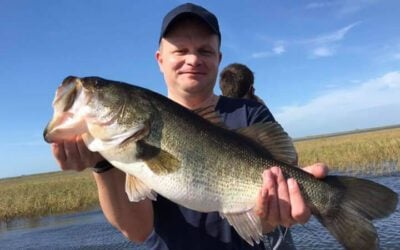 March Lake Okeechobee Fishing Forecast March is a prime month to explore what Lake Okeechobee Bass Fishing has to...
read more
What are you waiting for?
Other Nearby Local Experts