[fusion_builder_container hundred_percent="yes" overflow="visible"][fusion_builder_row][fusion_builder_column type="1_1″ background_position="left top" background_color="" border_size="" border_color="" border_style="solid" spacing="yes" background_image="" background_repeat="no-repeat" padding="" margin_top="0px" margin_bottom="0px" class="" id="" animation_type="" animation_speed="0.3″ animation_direction="left" hide_on_mobile="no" center_content="no" min_height="none"][fusion_blog number_posts="3″ cat_slug="southwest-florida-region" exclude_cats="" title="yes" title_link="yes" thumbnail="yes" excerpt="yes" excerpt_length="20″ meta_all="yes" meta_author="no" meta_categories="no" meta_comments="no" meta_date="yes" meta_link="yes" meta_tags="yes" paging="yes" scrolling="pagination" strip_html="yes" blog_grid_columns="2″ layout="medium" class="" id=""][/fusion_blog]
[/fusion_builder_column][fusion_builder_column type="1_1″ background_position="left top" background_color="" border_size="" border_color="" border_style="solid" spacing="yes" background_image="" background_repeat="no-repeat" padding="" margin_top="0px" margin_bottom="0px" class="" id="" animation_type="" animation_speed="0.3″ animation_direction="left" hide_on_mobile="no" center_content="no" min_height="none"][fusion_title size="2″]Resent Southwest Florida Fishing Reports[/fusion_title]
[/fusion_builder_column][/fusion_builder_row][/fusion_builder_container][fusion_builder_container backgroundcolor="" backgroundimage="" backgroundrepeat="no-repeat" backgroundposition="top left" backgroundattachment="fixed" bordersize="1px" bordercolor="#e5e4e4″ paddingTop="2px" paddingBottom="0px"][fusion_builder_row]
[fusion_builder_column type="1_1″ background_position="left top" background_color="" border_size="" border_color="" border_style="solid" spacing="yes" background_image="" background_repeat="no-repeat" padding="" margin_top="0px" margin_bottom="0px" class="" id="" animation_type="" animation_speed="0.3″ animation_direction="left" hide_on_mobile="no" center_content="no" min_height="none"][fusion_recent_posts layout="default" columns="4″ number_posts="4″ cat_slug="everglades-fishing" exclude_cats="" thumbnail="yes" title="no" meta="no" excerpt="no" excerpt_words="22″ strip_html="no" animation_type="0″ animation_direction="down" animation_speed=""][/fusion_recent_posts]
[/fusion_builder_column][/fusion_builder_row][/fusion_builder_container]


| Lake Okeechobee | Lake Trafford | Alligator Alley | Golden Gate Canals | Caloosahatchee River |


Capt. Mark Rogers is a full time guide, specializing on Lake Okeechobee and large-mouth bass in the Everglades and is known very versatile, Captain Mark Rogers has over 30 years of fishing experience. Growing up in southern California where his dad introduced him to fishing. He learned about deep water, clear-water reservoirs and started tournament fishing at age of 14 years old. Shortly after that, his family moved to Naples Florida. He learned about Florida fishing, by going all the state's major lakes and now have over 22 years experience fishing Florida. He worked his way up the tournament ranks to fishing the Professional levels of FLW and the Bassmaster Elite Series. He competed at that level, the highest and most prestigious in Bass fishing, for 8 years. In between tournaments, he began guiding on a Professional level and have done it now for over 10 years. More recently, he thrilled to be able to enjoy guiding on a full-time basis in the Southwest Florida region. He is a very adaptable angler and enjoys saltwater fishing as well. He is always ready to take people out on the water to catch fish and have a good time. Let's go fishing!
You can read more about Capt Mark and visit his website at Naples Fishing Guide or Lake Okeechobee Bass Fishing
Naples * Cape Coral * Ft Myers * Punta Gorda * Venice * Sarasota * Bradenton * St Pete * Tampa * Florida West Coast Fishing Reports
Florida Freshwater Fishing Reports are brought to you by Wildlife Foundation of Florida!

Click below on the region of the map you wish to find more fishing reports!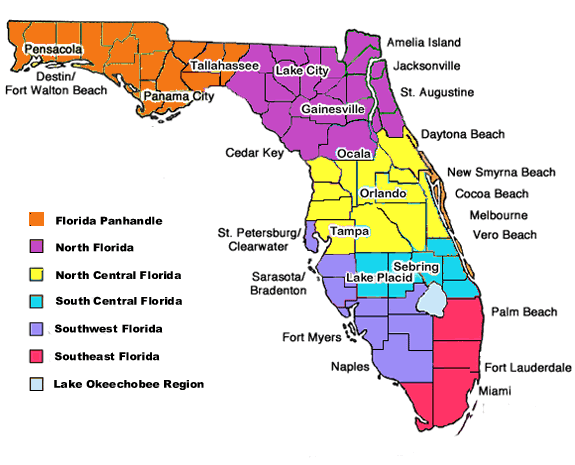 Click below on the region that you wish to find a fishing guide!
Southeast | Southwest | Okeechobee | Central | North | Panhandle