Lake Okeechobee Fishing Guides
We are not a booking service where no one fishes…but the complete opposite. A group of Lake Okeechobee fishing guides that have gotten together as a TEAM, under the best conditions to provide you with the finest service Lake Okeechobee fishing guide industry has ever seen. We specialize in working with experienced bass anglers, who are looking for prime waters and new techniques, but also novice bass anglers who are out for a true fun learning experience. We will provide everything you need for that big day, reliable equipment and boats for your enjoyment. The finest bass fishing guides in the country on "Lake Okeechobee," you have come to right place Florida's largest, Lake Okeechobee largest and #1 rated guide service in Florida… Florida's only audio fishing reports sponsored by the Wildlife Foundation of Florida and TEAM members of largest fishing guide service Florida Fishing, so why shouldn't you!
Lake Okeechobee Fishing Guides
Palm Beach * Ft Myers * Boyton Beach * Boca Raton * Fort Lauderdale * South Beach * Miami * Naples * Sarasota * Vero Beach * Okeechobee * Ft Pierce * Stuart * Cape Coral * Weston * Davie

Lake Okeechobee Fishing Guides
Lake Okeechobee Fishing Guides

Click below on the region of the map you wish to find a fishing guide!
South Florida Fishing Guides | Southwest Florida Fishing Guides | Okeechobee Fishing Guides | Central Florida Fishing Guides | North Florida Fishing Guides | Florida Panhandle Fishing Guides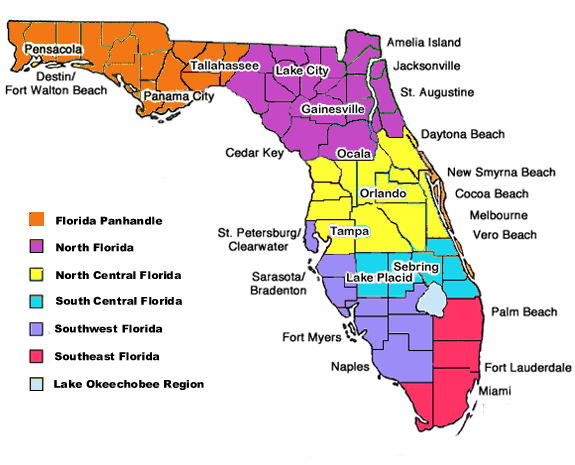 We are continuously adding new guides to this page. If you have went with a guide before and he is not listed please call the office for details and contact information. If you are a bass fishing guide in the North Florida Region please contact us by using this contact form!
Average rating:
3 reviews
Nov 29, 2015
Best Fishing Guides on the Lake!
Have been taking guides trips on Okeechobee for 10 years now. I have went with many of the other guide services (that claim to be the best) you may be looking at...I found BASS Online about four years ago and have had the best trips and experience every time out.Don't waste your time elsewhere....take it from me there is no guide service that compares!
WOW, Danny thanks for the valuable comments. Always good to get feedback from someone that's been there and done that!
Oct 29, 2015
Bass online thumbs up
Captain Dave Lauer made my first trip to lake Okeechobee the best. We hit a spot right away and we were on the fish for 6 hours. Catching 3 to 4 pounders almost all day was unbelievable. we were laughing all day. Dave is a very good guide and a great guy to just learn from, it had been 15 years since I last fished and he made me feel so comfortable. I am already planning a trip back in January. Thanks Dave for making my first trip memorable.
Hi Greg, Thank you so much for writing and calling in today! Looking for forward to fishing with you in January 2016 Lake Okeechobee.
Jul 11, 2014
Only PRO service to go with...
This was about my 14th fishing trip to Florida. I have fished Okeechobee several times, the phosphate pits near Tampa, and one trip prior to his to Toho. I can honestly say that this was the best fishing trip that I have ever been on. I have caught large fish in the past or caught quantity fish on trips but never have I been on a trip where both occurred. We were catching bass when no one else around us was….this can only be attributed to the fact that Captain John Leech knew where and how to get us on fish.
This was to be a special trip with my uncle and his 14 year old grandson. It was to be a reward for a young man working hard to make good grades and who loves to fish. This was his first Florida fishing trip and as much as he has talked about it , I am sure it will not be his last. He is still talking about the trip, as well as his grandpa and myself are, days later.
Though we did catch the fish and the trip was a great success, none of it would have been possible without all the help from Lori in reservations, she is awesome to work with, and Captain John who knew where to put us to optimize our opportunity to catch fish and who had to put up with all our mistakes in catching fish. So to both of them, the three of us send our heartfelt thanks for an unforgettable trip.

To anyone reading this and wondering which pro service to go with, use Bass Online, you will not regret it.
Larry, thank you so much for the 5* review and your business!